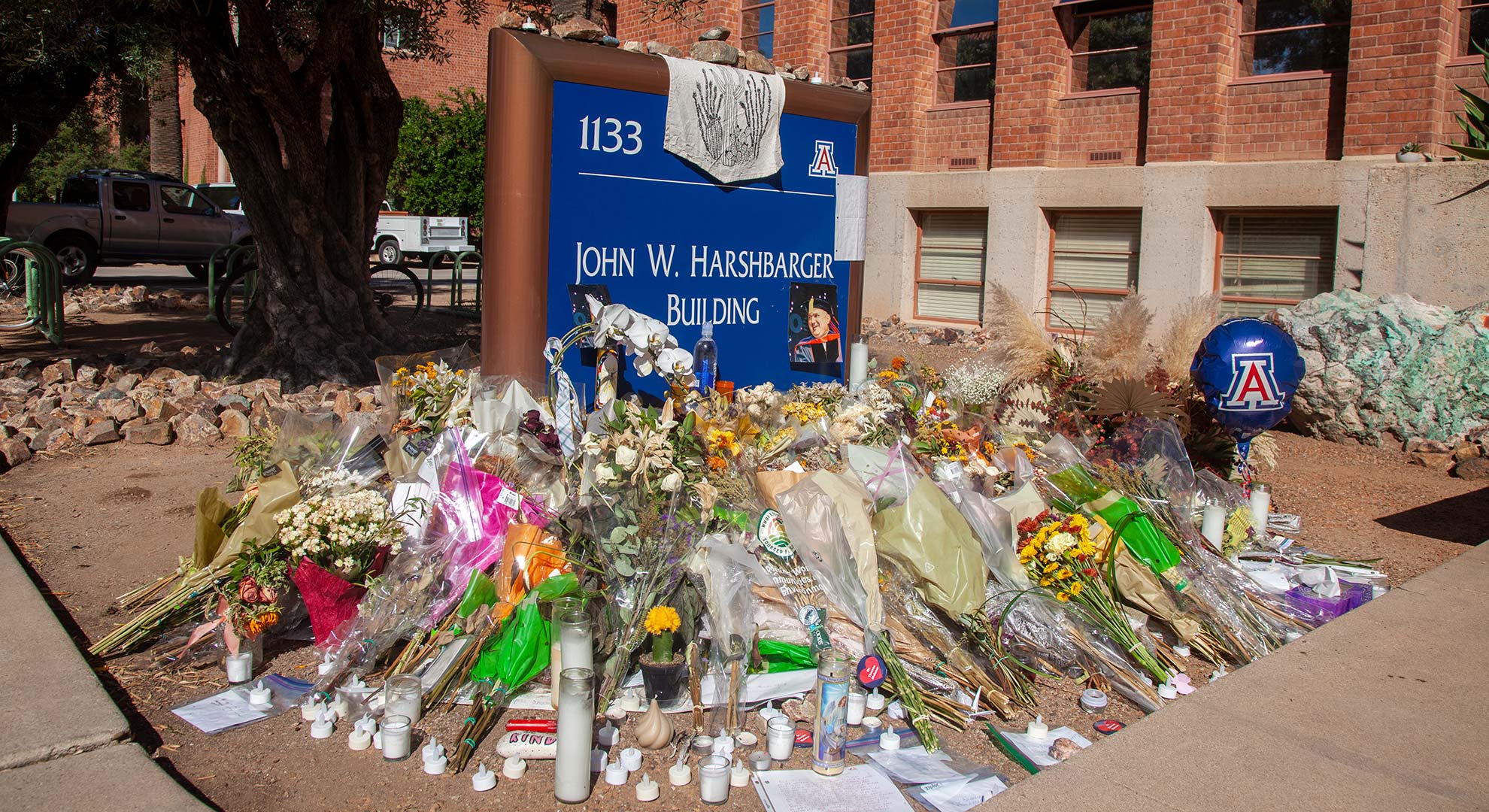 Flowers, candles and letters lay in front of the Harshbarger building sign following the murder of Professor Thomas Meixner on Wed. Oct. 5, 2022 at the University of Arizona. Meixner was killed by a former student on campus.
Paola Rodriguez/Arizona Public Media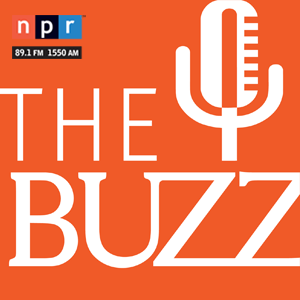 Graduate hydrology student Abigail Kahler began her morning on Oct. 5 by attending a memorial for the loss of her classmate who passed away just weeks before. Later that day, University of Arizona professor Dr. Thomas Meixner was shot and killed in his office.
She never expected the day to go the way it did.
"It took a while to kind of backtrack and realize those were gunshots that we heard," Kahler said. "Even when that occurred to me as a possibility, I said we can't… no, no… we cannot take one more thing. It's too much."
It was not until it was too late that Kahler, along with Hydrology students Danielle Tadych and Justin Headley, realized what happened and now carry regrets of what could have been done to prevent the shooting.
"What if I had gone to class that day? Could I have done something?" Tadych said. "It's been really hard to work past those things."
Tadych enrolled in Professor Meixner's water quality class after hearing about the possible threat that was posed through department meetings she was able to sit in.
"One of the main consensus [of the meetings] was [that] everyone be on the lookout; let's stay vigilant," Tadych said. "That classroom is a central classroom and Tom was in it."
But, even within the meetings, details of what was happening were still confusing.
"The Hydro[logy] side was extremely confused, trying to figure it out, and then other professors just couldn't talk about it," Tadych said. "They should have been able to say, 'hey, my life is in danger right now and so is potentially other people'… but they couldn't do that. All they could do was say, 'this student was expelled, and look at the reasons as to why a student would be expelled.' That is all we can communicate."
While she never felt like the suspect, Murad Dervish, was targeting her, Tadych was worried that she would be around other people he wanted to get to. Eventually, her partner gave her a weapon to keep just in case. However, on Oct. 5, Tadych decided to stay home and work remotely.
Headley was in class with Meixner that day.
"I spent a lot of the first couple days feeling guilty," Headley said. "I was right there with [Thomas Meixner] minutes before he was killed. If I had just done things a little differently, if I had decided to walk down this hallway instead of that then maybe things could have been different and I could have stopped it."
The shooting happened months after Dervish had been expelled for harassing and threatening staff members in the Harshbarger building.
Kahler knew very little of what to expect.
"We weren't clear on the threat from the beginning," Kahler said. "I never felt fear for myself in the months leading up to this, because I didn't know how bad his threat was."
The only communication sent to students was an email sent in February earlier this year. The email sent to Hydrology and Atmospheric Sciences students told them to call the University of Arizona Police Department if they see Dervish on campus and to report any interactions they may have with Dervish to the Dean of Students. The email also shared that classes taking place in Harshbarger room 110 would be moved and door combination codes to all department code-locked doors would be changed "out of an abundance of caution."
Read the email that was sent to Hydrology and Atmospheric Sciences students.

View at Google Docs
|

Download File
"They were presented as an abundance of caution… But, at that moment, moving classes out felt like a big measure to take," Kahler said.
AZPM reached out to both the University of Arizona and the UA Police Department for separate interviews and both declined the offer.
Not long after moving classes, the new classroom had to be evacuated.
"As we were trying to learn statistics, we got another tip, sort of just word of mouth by someone that Murad Dervish is back on campus, and he's trying to find out where the new classrooms are," Headley said. "We had to pretty much run from that classroom."
Headley is a non-traditional student. He found his way to the UA after being stationed at the Davis-Monthan Air Force Base. He spent 10 years serving as an F-16 crew chief and later in weather forecasting. His love for science and fieldwork is why he made the switch.
However, this was not Headley's first time being in close proximity to a school shooting. Before his service, he was enrolled in a community college near Virginia Tech when the shooting happened in 2007, though he had previously been a student there from 2003-06.
"It still deeply affected me and, in hindsight, I think it affected me a lot more than I realized," Headley said.
Now he always plans for the worst.
"What's in this classroom that I can use as a weapon? What can I barricade the door with?" Headley said. "That time when we thought Murad Dervish was on the loose and trying to find us in class, I was standing guard by the door ready to just jump on him if it came down to that."
Almost one month after the shooting, the students are slowly getting back to their routines from before Oct. 5. However, that does not stop the emotional weight that they are still processing.
"This is a long process," Kahler said. "The more time I take for my personal healing and balance and connecting with my community, the more my academic work is piling up. All of our faculty are being so supportive and saying, 'take your time.' But I know I have to make my own decision for when I can't give myself that time anymore, and I just have to do my work so that it doesn't make its own crisis."
Since the shooting, Tadych believes that even though the university could have done more, in the end, there are deeper systemic issues with the police department.
"The investigatory work should have been the responsibility of the police, not the university," Tadych said. "That's the main failure here…Even though they were doing the minimum, that should show that there is something very wrong with the system. How could this have happened if we have all these systems in place?"
Headley still goes to work in Meixner's lab every day to continue Meixner's mission of making the world better through biogeochemistry.
"I think spending time with my friends and just the community is a more important thing," Headley said. "I do want to stress it's not just the students who are upset. The faculty are devastated also. It's not just students helping students. It's students helping faculty [and] faculty helping students. This has brought us all a lot closer."
This interview went much longer than what we were able to air in The Buzz. AZPM wants listeners to have a chance to hear it in full. It contains details about what these three and others went through not just on the day of the shooting but for months before and in the month since. If you're sensitive to talk that details the shooting or the harassment that people in this department went through before, please take care when listening.
Full interview
How are such tragedies prevented?
The shooting has led to increased attention on safety on the University of Arizona campus. The university has hired an outside consultant to assess how the events leading up to the shooting and after were handled and how similar situations can be addressed better in the future.
One framework that is used in a number of places, including K-12 schools in Arizona, is the Comprehensive School Threat Assessment Guidelines, an evidence-based model for schools to use in conducting threat assessments of students.
The author of the guidelines, Dr. Dewey Cornell, said that the work to stop a shooting starts early on.
"Prevention really has to start long before someone shows up with a gun," Dr. Cornell, a professor at the University of Virginia said. "Prevention has to start when you detect threatening behavior, threatening statements, you have a person with a grievance, and then you begin a whole series of processes to try and de-escalate and diffuse the situation. And I have to say, that works 99.9 percent of the time and we don't hear about it."
Dr. Cornell said that, if concerns about the Family Educational Rights and Privacy Act were the cause of any limitations for the University of Arizona or any other school where an act of violence took place, then the law was being misinterpreted.
"FERPA is very clear that safety takes priority over confidentiality," he said. "After the terrible shooting at Virginia Tech in 2007, one of the big concerns was whether FERPA had prevented folks from sharing information and realizing the gravity of the situation and taking appropriate protective action. The U.S. Department of Education came out within a matter of months pointing out that, no, FERPA does not prevent people from taking reasonable preventive action."
Ultimately, he said that there is only so much groups such as the University of Arizona or UAPD could have done and that the problem is in other parts of the governmental system.
"Our mental health system and our criminal justice system are woefully deficient when it comes to dealing with this kind of case, and I'm talking hypothetically here about cases I've dealt with at the University [of Virginia]," he said. "In those cases, the University Threat Assessment Team and administration have very limited options."
He said that a university's limits end with protective orders and no-trespass orders, but the ability of public bodies such as law enforcement to detain someone and force them into mental health treatment can happen only in very specific circumstances.