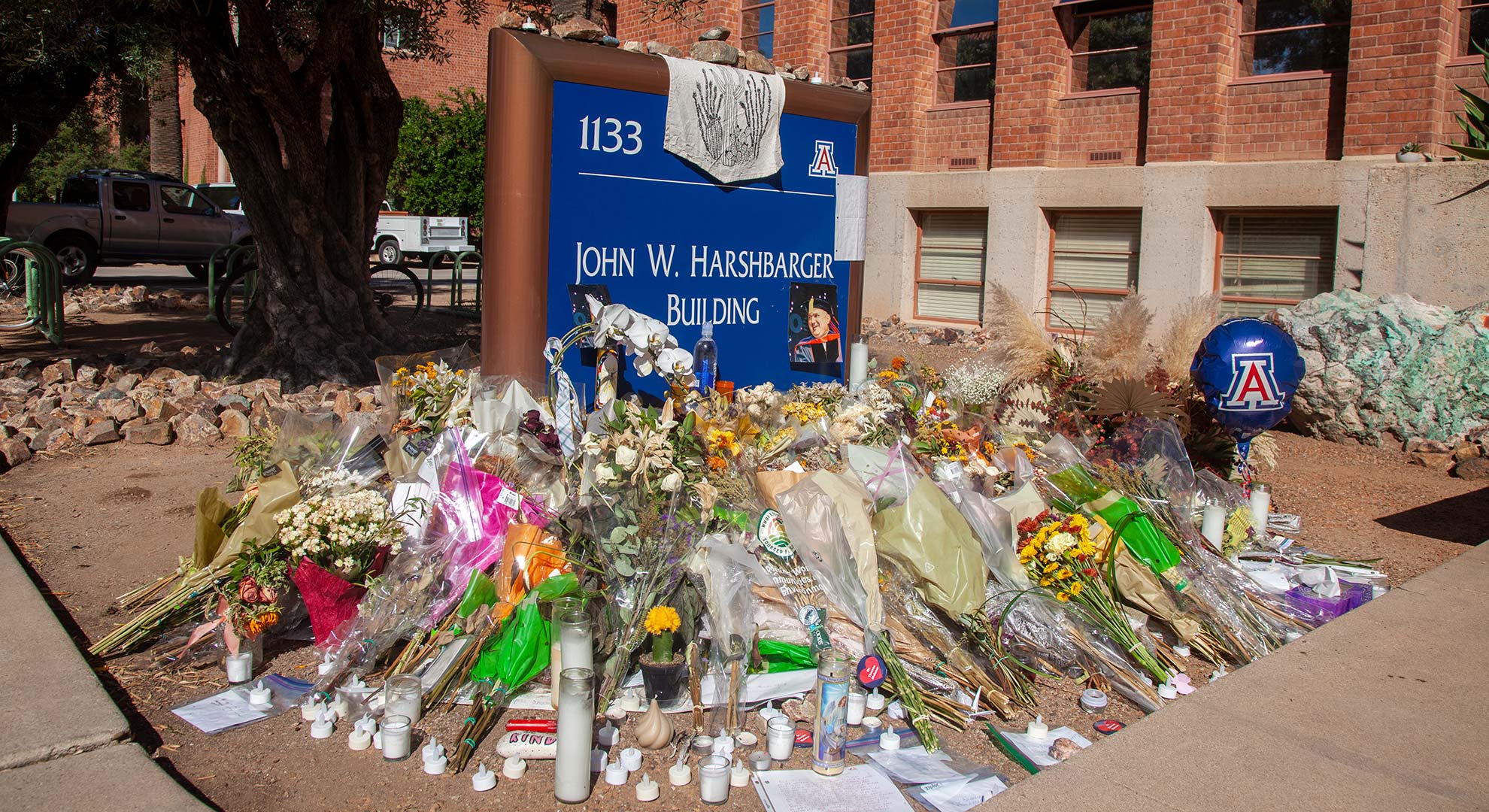 Flowers, candles and letters lay in front of the Harshbarger building sign following the murder of Professor Thomas Meixner on Wed. Oct. 5, 2022 at the University of Arizona. Meixner was killed by a former student on campus.
Paola Rodriguez/Arizona Public Media
The University of Arizona has announced new campus safety strategies following the deadly on-campus shooting that happened in October.
The changes include:
A partnership with the University of Arizona Police Department to conduct an up-to-date security assessment of buildings, including a Building Emergency Plan

Installation of fire and safety compliant locks to classroom doors and expanded keyless access

Expanding criminal background checks to include all graduate assistants/associates

Automatic registration for UAlert, an emergency messaging system

Online active shooter preparedness training for students, faculty and staff, including in-person trainings for departments and units.
UA received scrutiny after the murder of hydrology and atmospheric sciences department head Thomas Meixner. The university was aware of the threat from former student Murad Dervish prior to the incident, yet some faculty, staff and students have come forward saying there was not enough support leading up to the shooting.
The suspect, Murad Dervish, had been a teaching assistant, but he was dismissed because of his conduct. Dervish was then banned from university property in February 2022. He had previously served a prison sentence for elder abuse and a weapons charge. Dervish allegedly killed Meixner in the October shooting.
In the days after the shooting, UA President Robert Robbins said the university was hiring an outside firm, PAX Group, LLC, to look at campus safety. The review would include an examination of how the university handled threats in advance of October 5th.
At the time, Robbins said the report would be ready in 75 days. In his letter to the campus, Robbins said the report would be out soon but did not give a specific timeline.