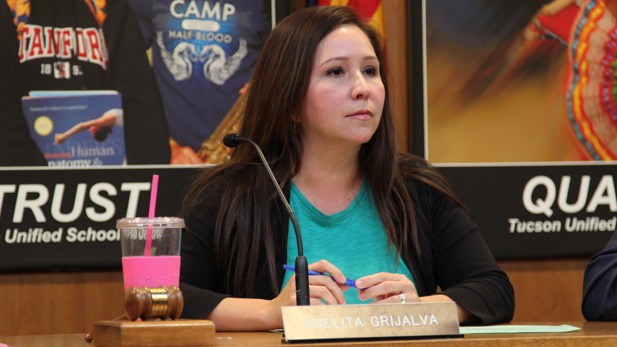 Adelita Grijalva, president of the Tucson Unified School District governing board. (2013)

Fernanda Echavarri
After a 4-1 vote, Adelita Grijalva will be taking over as Chair of the Pima County Board of Supervisors. She will be the first Latina elected in that role.
Grijalva, a native Tucsonan, will be replacing District 3 Supervisor Sharon Bronson, who has served as chair multiple times since her election in 1996.
"I'm honored and excited for this opportunity," Grijalva said in a press release. "I appreciate the support from Vice-Chair Rex Scott and Supervisor Dr. Matt Heinz and promise to continue to work hard for our community."
Grijalva says she hopes to work with community members to focus on issues facing Pima County like affordable housing, education, safety, climate and water.
District 1 Supervisor Rex Scott was also elected as Vice-Chair, a role that Grijalva filled for two years. Prior to her role, Grijalva served on the Tucson Unified School District governing board for 20 years and most recently as president of the board. Grijalva was elected as the District 5 supervisor in 2020, a position that is held for four years.

District 4 Supervisor Steve Christy nominated Bronson to continue in the role, but failed in a 2-3 vote.