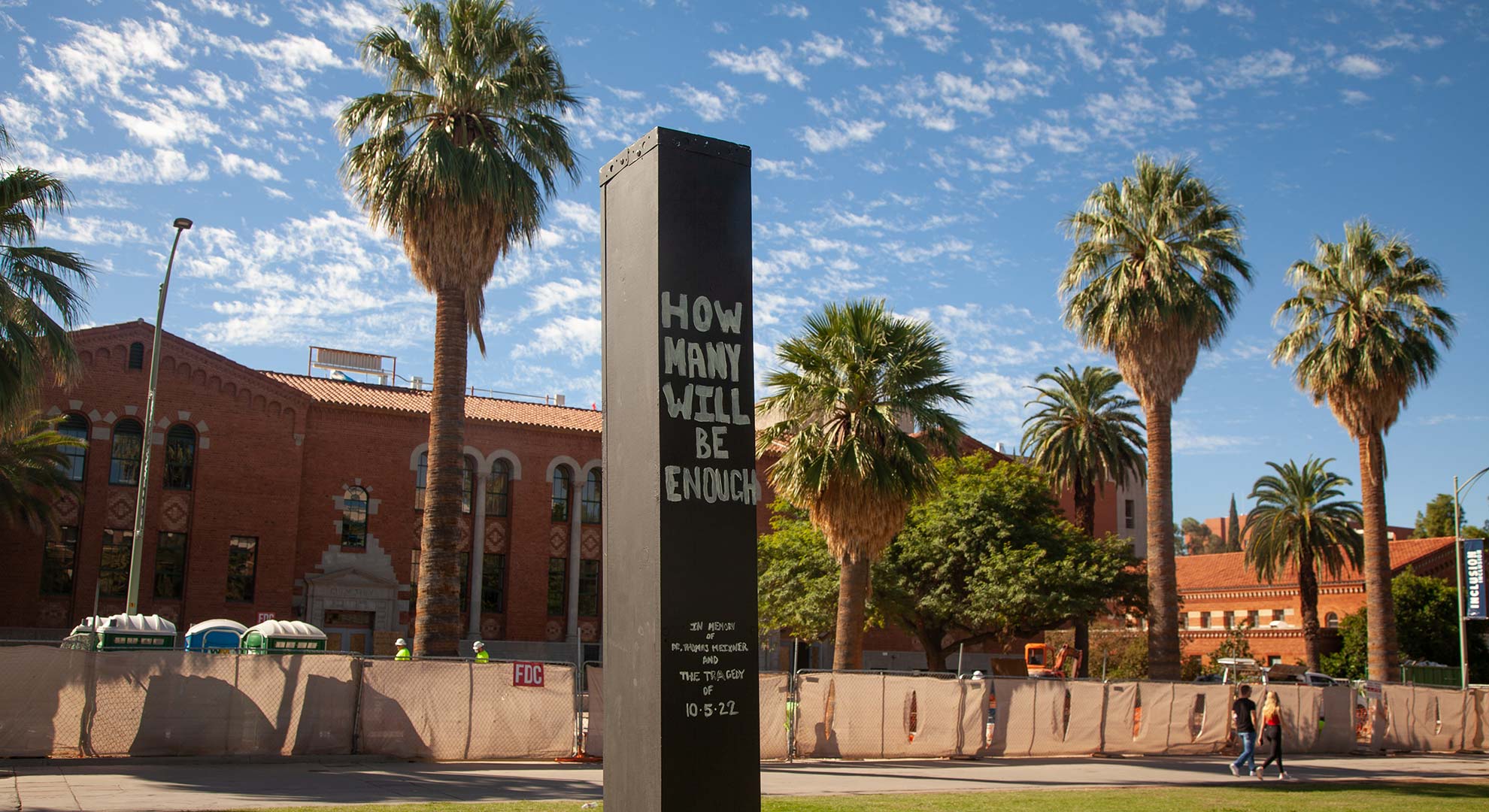 A black pilar that says "How many will be enough" stands in the middle of the University of Arizona Mall one week after the killing of Professor Thomas Meixner on campus. A few days prior university officials held a candlelight vigil where the pilar stands.
Paola Rodriguez/Arizona Public Media
While the University of Arizona community awaits the results of a university-commissioned investigation into the shooting death of professor Thomas Meixner in his office on the UA campus, the UA Faculty Senate completed and released an interim report of its own about the incident and the interactions that faculty, staff, and students in the Department of Hydrology and Atmospheric Sciences had leading up to it.
Read the Interim Safety Report.

View at Google Docs
|

Download File
AZPM's Paola Rodriguez joins the program to further discuss her reporting on the report.
Before the report was released, AZPM followed up with Hydrology and Atmospheric Sciences students Danielle Tadych, Abigail Kahler, and Justin Headley to see how they were doing and what they thought of new security changes that were announced in January. We last spoke with them in November on The Buzz one month after the deadly shooting.
AZPM also spoke with one of the victims who was allegedly harassed by the shooter. The student is still fearful so we agreed to protect their anonymity.

The student met alleged shooter Maurad Dervish in the fall of 2021 when they were enrolled in a class together. At first, the student did not think much of their interactions until Dervish's behaviors became "obsessive", the student said. Allegedly, he would find excuses to interact with the student, despite them turning him away.
"I thought it would just kind of stop because normally people get the message, but he just kept going," the student said.
He would look at them from across a room, wait outside of classrooms the student was in, and even follow them to their car, the student told AZPM.
"I couldn't go to class anymore, because I knew he would know exactly where I was."
Most of their interactions were in person, where the student could not escape. However, when Dervish could not find them, he would email the student. In total, the student said Dervish asked them out on a date upwards of 30 times.
In emails that the student shared with AZPM, Dervish would find ways to make conversation. He would ask them questions pertaining to class because he knew that the student would answer anything academic. The student told us they felt obligated to answer those as they were peers. However, in the same email chains, he would then ask them out again.
In one instance, after discussing finals, Dervish asked the student to get celebratory drinks with him. The student said they had work and Dervish continued on to tell them about his winter break plans to visit Estes Park in Colorado to see the hotel that inspired the 1980 Stephen King horror movie "The Shining."
"I was just looking at maybe going to Estes Park Colorado and seeing the hotel that was the inspiration for the movie The Shining and thought of you. 'All work and no play makes Jack a dull boy, all work and no play makes Jack a dull boy!' But I'm not saying you're dull, far from it actually. Goodnight, I hope we can see each other sometime soon."
Following his expulsion, Dervish would say things like, "Hey if you're gonna go to class today, maybe we could get a piece of pizza after? But you have to pay now that I don't have a job!" Eventually, the student stopped responding to his emails altogether, but that did not stop Dervish. He would continue in his alleged attempts saying "where are you?" and "you don't like me anymore?"
The student did not come forward about their interactions with Dervish until after he was expelled. After an incident where an argument ensued between Hydrology and Atmospheric Sciences Department Head Dr. Thomas Meixner and Dervish regarding a grade he received, the student felt that the only way to be safe was to comply.

"I switched into survival mode," the student said. "I'm not going to make him upset. I'm not going to make him angry in any way. If that means that I have to respond to these emails, I will. Because I don't know what this guy is capable of."
When the student did come forward and begin telling people what happened in February 2022, they said that it made the situation worse.
"You could see these people cared about what was going on, but nobody knew what to do."
The student first told an advisor, who then filed a report with the Office of Institutional Equity because the staff member is a mandated reporter. The student says they received two follow-up emails from the Office of Institutional Equity, but they felt the emails did not offer any support besides informing the student that the office was a resource. The student mentioned that they did not know what the Office of Institutional Equity was or what they could do, and, to the student, the office did not make it clear what they could do either.
Right after, the student filed their first police report. They were then advised by a UAPD officer to block Dervish's email. But that did not work. The emails were still delivered to their inbox, but, the emails would arrive as grayed out with a message saying the sender is blocked.
The student says they continued to send a UAPD officer the emails but received minimal follow-up. In total, they filed five police reports.
The Dean of Students office would later issue a no-contact order to protect the student. But, allegedly, that did not stop Dervish from continuing to make contact.
In one of the two Zoom meetings that the student had with a UAPD officer that had been assigned to their case, they asked the officer if a no-contact order for the entire department was possible. When the officer said no, that was when the student felt they had no support.
"I said, "So you're not going to do anything until somebody gets killed. Are you?' Verbatim and this particular Sergeant just looked at me."
That incident is also recounted in a faculty senate report that investigated the university's response prior to the shooting. The report did not cite a transcript of that exchange, just the student's recounting of the story. The student also told us, to the best of their knowledge, the Zoom meeting was not recorded.
Throughout this time, the student did not tell their family until multiple police reports were filed.
"I didn't want anybody to worry about me," they said. "I think that was also a big factor as to why I didn't tell anybody sooner…I was more worried about the safety of others and advocating for that."
Similar to the targeted faculty, the student felt like they were alone.
"It is very isolating. Nobody can truly understand what you're going through to the extent of what you're going through unless they live it themselves."
The student would later learn that they were not alone. Department faculty were experiencing alleged harassment from Dervish and the student sought support from them, even protection.
"One of my professors carried around bear spray and protected me at our departmental conference. That was, quite frankly, more than UAPD did."
Dervish eventually stopped in April 2022, six months after the alleged harassment started. But the student still lives in fear. They said they still sleep with a baseball bat, look over their shoulders, do 360s, and are still jumpy.
On Oct. 5, 2022, the day of the deadly shooting, the student was out of town. They were about to take off on a flight to Phoenix when they received texts about the shooting from peers.
"I went into shock," the student said. "I was alone on this plane crying into a random woman's arms. I'm trying to tell her that something is wrong, but I can't get the words to come out… I have friends texting me that they love me. 'Oh, he's jiggling the doorknobs.' It was very real. That was the longest flight of my life."
When the student landed in Phoenix and began their drive back to Tucson, that was when they received a call that Meixner was killed.
"The only thing that kept me calm that night was… a really big storm and I was driving right into it," they said. "It was kind of symbolic in a way because I knew right when I got back home it was just going to be a storm."
For months, the student and faculty pleaded for help. Now, they will have to live with what happened for the rest of their lives.
"I've had to grieve along with navigating so much pain, and trauma from having put so much time into making sure that our department wasn't forgotten…and nobody listened… Knowing that you knew that this would happen, it is the absolute worst 'I told you so' ever."