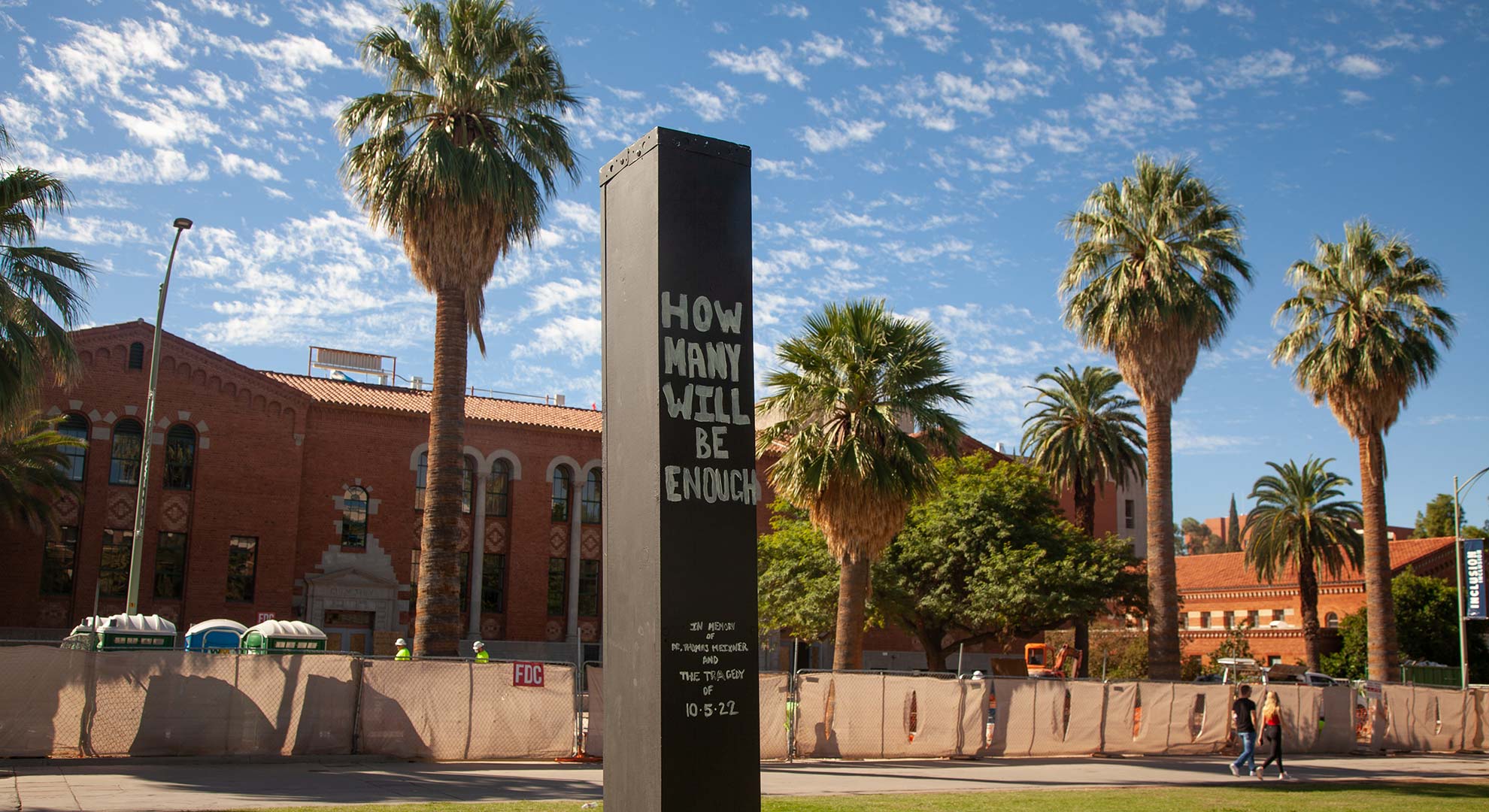 A black pilar that says "How many will be enough" stands in the middle of the University of Arizona Mall one week after the killing of Professor Thomas Meixner on campus. A few days prior university officials held a candlelight vigil where the pilar stands.
Paola Rodriguez/Arizona Public Media
The General Faculty Committee on University Safety for All that created a scathing interim report that condemned institutional deficiencies at the University of Arizona is disbanding after one month of the report's release. Members of the Committee unanimously chose to conclude their inquiry for two reasons: university leadership "stonewalling" access to information and relevant UA departments and "concerns that Committee members might experience negative consequences for serving on the Committee."
The committee was created to investigate the university's response to events leading up to the on-campus murder of Hydrology and Atmospheric Sciences Department Head Dr.Thomas Meixner. The committee released an interim report in February that outlines how different university departments were aware of threats being made by suspect Murad Dervish to faculty and a student ahead of the shooting. In their findings, the members identified three key issues:
a fragmentation of safety-related responsibilities and lack of a central risk oversight system
institutional neglect of a known chronic problem of distrust
excessive bureaucratization of safety-related services
However, since the release of the report, the committee wrote to the Chair and Vice Chair of the Faculty Senate "that certain recent statements and actions of the University leadership have materially impacted our ability to complete our inquiry." This caused them to unanimously agree to conclude their inquiry.
Read the committee's letter.

View at Google Docs
|

Download File
"Stonewalling" and fear of "negative consequences"
One of their concerns was UA's immediate response to their report where a spokesperson wrote to AZPM saying:
"It is not the comprehensive and exhaustive review that the University commissioned its outside safety and security experts, PAX Group LLC, to conduct following the October 5 tragedy. Rather, it represents the work of a subset of faculty that has reached sweeping conclusions based in large part on misleading characterizations and the selective use of facts and quotations…"
AZPM never received a response from the university regarding what specifically was misleading in the faculty-led report. The Committee shared in their letter that, due to the university's lack of response, they feel that members "might face negative consequences."
According to their letter, when members informed University leadership of these concerns, they were redirected to "connect with PAX to share information, questions, concerns, and ideas." The group contacted PAX's co-founder and principal Phil Andrew twice to schedule a meeting. Andrew has not responded to their inquiries.
Specifically, members reached out to Senior Vice President and Chief of Staff of the University Jon Dudas and the university's Threat Assessment Management Team.
When members contacted Dudas asking him what may be incorrect in their report and their concerns regarding "hard and soft forms of retaliation," according to their letter, Dudas said that "under the circumstances, it was not appropriate from him to 'engage in fact-finding or disputing.'" Dudas redirected members to contact PAX.
Members never received a response from a Threat Assessment Management Team representative. Instead, they received an email from external security expert Steve Patterson, who was contracted by the university to work with TAMT regarding the assessment of campus security. In his response he said:
"Thank you for reaching out and sharing your thoughts/questions regarding the recently released faculty-led Committee on Safety for All Interim Report. As President Robbins has repeatedly shared with the community, the University has engaged independent, third-party, nationally known security experts (PAX, LLC) to fully review the circumstances leading up to the tragic killing of our colleague, Dr. Meixner, as well as to review our overall campus safety and security. Every member of the University community can connect with PAX to share information, questions, concerns, and ideas. Thank you again for your outreach and we look forward to the next steps."
According to its letter, the committee claims that Patterson's passage regarding PAX is identical to the response they received from Dudas.
As a result, the committee says this raised "concerns regarding the independence and professionalism of the external experts selected by the University Leadership."
UAPD Chief: "We are stronger than our critics"
In a University of Arizona Police Department February Newsletter obtained by the committee, Chief Paula Balafas responded to UAPD employees about the report calling it "critical of UAPD, OIE, DOS, HR, and several other U of A work divisions." In it, Balafas assures employees that, "President Robbins and members of the Executive Leadership Team have been quite strong in their response to this report."
Balafas concludes her newsletter saying, "We are stronger than our critics."
The committee disagrees saying that their report is not critical of UAPD or other units, but rather "critical of institutional deficiencies that established 'an administrative culture that consciously and consistently disregards employee and students' safety concerns.'"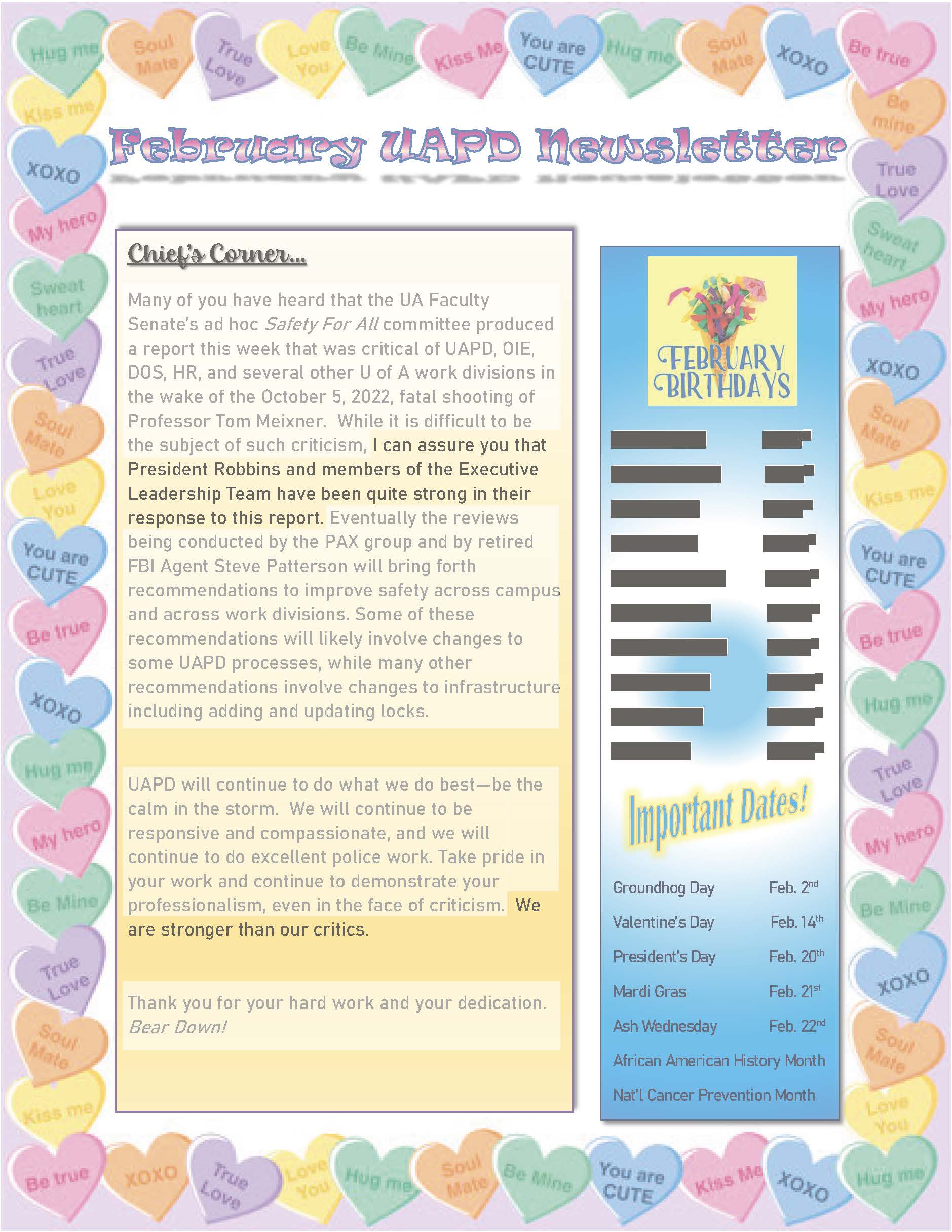 VIEW LARGER In a UAPD February newsletter, Chief Paula Balafas discusses the interim report that the ad-hoc faculty committee made.
The committee also writes that the UAPD Chief's response "demonstrates an unhealthy administrative culture that is consistent with the Report's findings…concerning the University leadership's approach to a known chronic problem of distrust."
UA's response to their letter
AZPM asked university officials about the committee's latest concerns and was sent the original response to the committee's letter. In it, senior Vice President and Chief of Staff Jon Dudas wrote:
"We appreciate the work the committee put into their report and that the committee's entire record has been made available to the Pax Group—the third-party safety and security experts conducting an independent review of the events leading up to the tragic killing of our colleague Thomas Meixner and campus security in general. The University will continue to implement actions to advance campus safety and security and looks forward to reviewing and responding to the Pax Group's findings and recommendations."
AZPM followed up asking if they had worked to dispel the committee's concerns about retaliation and the timeline of PAX's report. University officials said they would not provide further comment.
"No indications" to address concerns outlined in Interim Report
The committee told AZPM that they did not consider or even mention the possibility of disbanding prior to the communications they received from Patterson.
"That email made us realize that we don't have access to University units tasked with safety-related responsibilities," the committee said. "The choice to use an 'independent' external security expert to deliver this message indicated that employees with relevant knowledge were gagged."
Members chose to conclude the investigation due to fears of retribution and the inability to engage in in-depth discussions with relevant units.
The committee concludes its letter by saying, "there are no indications that any steps will be made to address the concerns outlined in the Interim Report…They raise meaningful concerns regarding the University leadership's attitudes toward safety, organizational culture, stakeholders, and accountability."