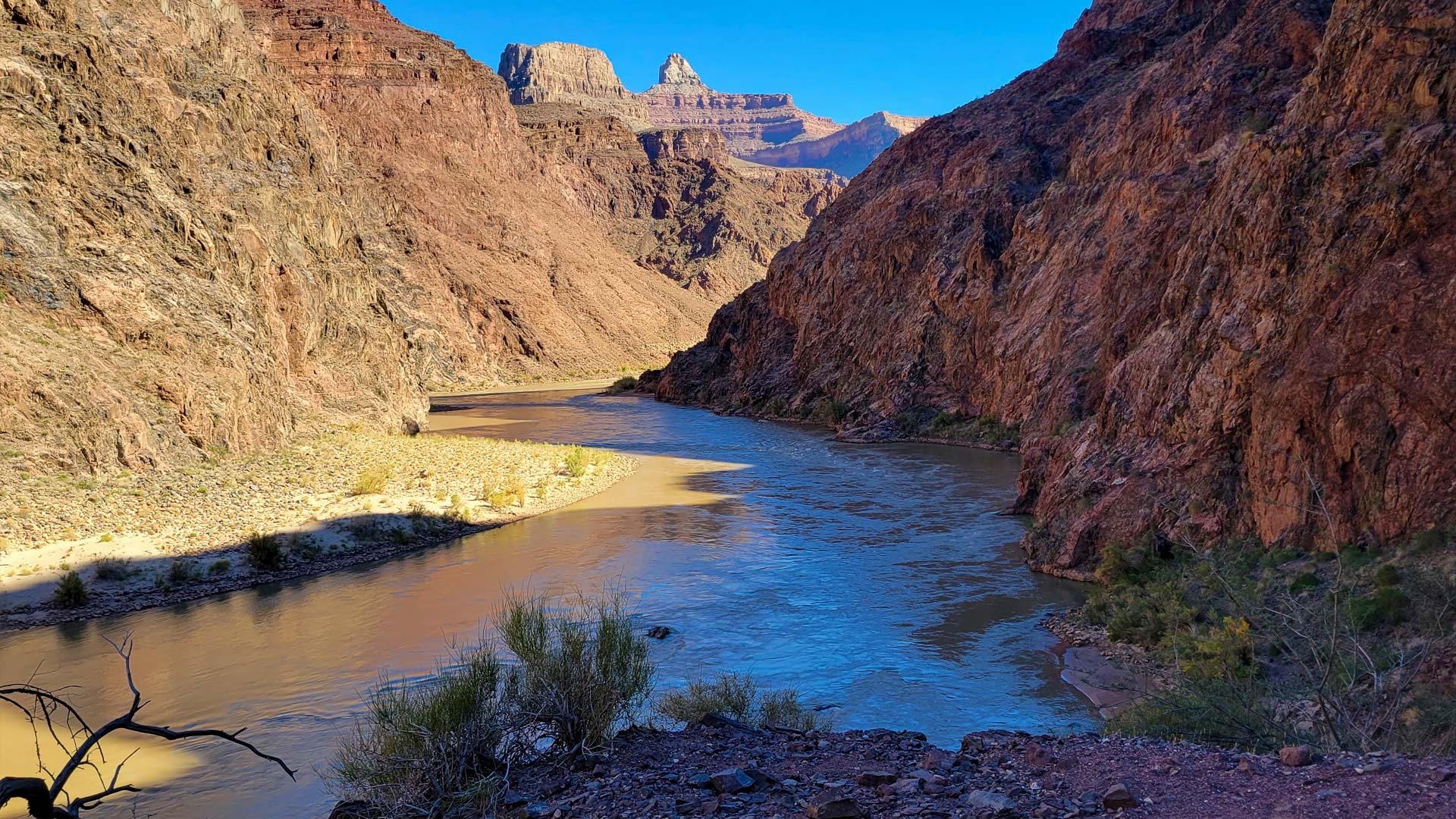 A view of the Colorado River near the Silver Bridge on the Bright Angel Trail in Grand Canyon National Park. From November 2022.
AC Swedbergh / AZPM
It is World Water Day and Tucson is in the midst of an extreme drought. But researchers say that the city is a leader for water conservation.
Water policy expert Kathy Jacobs says that Tucson has become more sustainable due to its sensitivity to the desert environment.
"We also were, at least at one time, the largest metropolitan area entirely dependent on groundwater. And it was clear that we were taking more water out of the aquifer than was being recharged and we knew it."
Since the 1990s, the city has worked to reduce groundwater dependence through retooling its treatment and delivery of Colorado River water. Arizona is one of seven states that are a part of the 1922 Colorado River Compact, a framework for management of the river. Jacobs says that the pact has always over allocated water from the beginning of its passing.
"We're actually taking more water out of the reservoirs than flows in on an annual basis, which is clearly not sustainable. But the situation has gotten worse, because of climate change. The amount of runoff coming into the river has reduced substantially over the last multiple decades. And so that makes this supply and demand imbalance even more problematic than it was before."
Because of this, Tucson expanded its use of reclaimed water, stormwater harvesting and other sustainability efforts. But Jacobs says that more needs to be done, especially as agriculture expands in rural Arizona.
"[Expanded farming] is reducing water levels and causing damage to other people's wells.. But climate change is affecting them so it's affecting the net amount of water that's reaching the aquifer and so that recharge is reducing over time."
For Jacobs, this means more laws on water management, like propositions Arizonans saw on ballots last fall to create Active Management Areas.
Lower levels of water are not just affecting cities though.
"The impact of climate change will be much more dramatic for the natural environment than for our cities. We don't have the kinds of tools available to us to help riparian areas and birds and other kinds of species survive in the context of climate change."
The lack of water causes biodiversity to fall. However, through recent projects like the reintroduction of water flow in the Santa Cruz River, biodiversity can increase if efforts allow for its growth. An example of this would be the expansion of three new damselfly species on the Santa Cruz River.
World Water Day is organized by the United Nations. This year's theme is "accelerating change" and focuses on the U.N.'s goal to ensure water and sanitation worldwide by 2030.