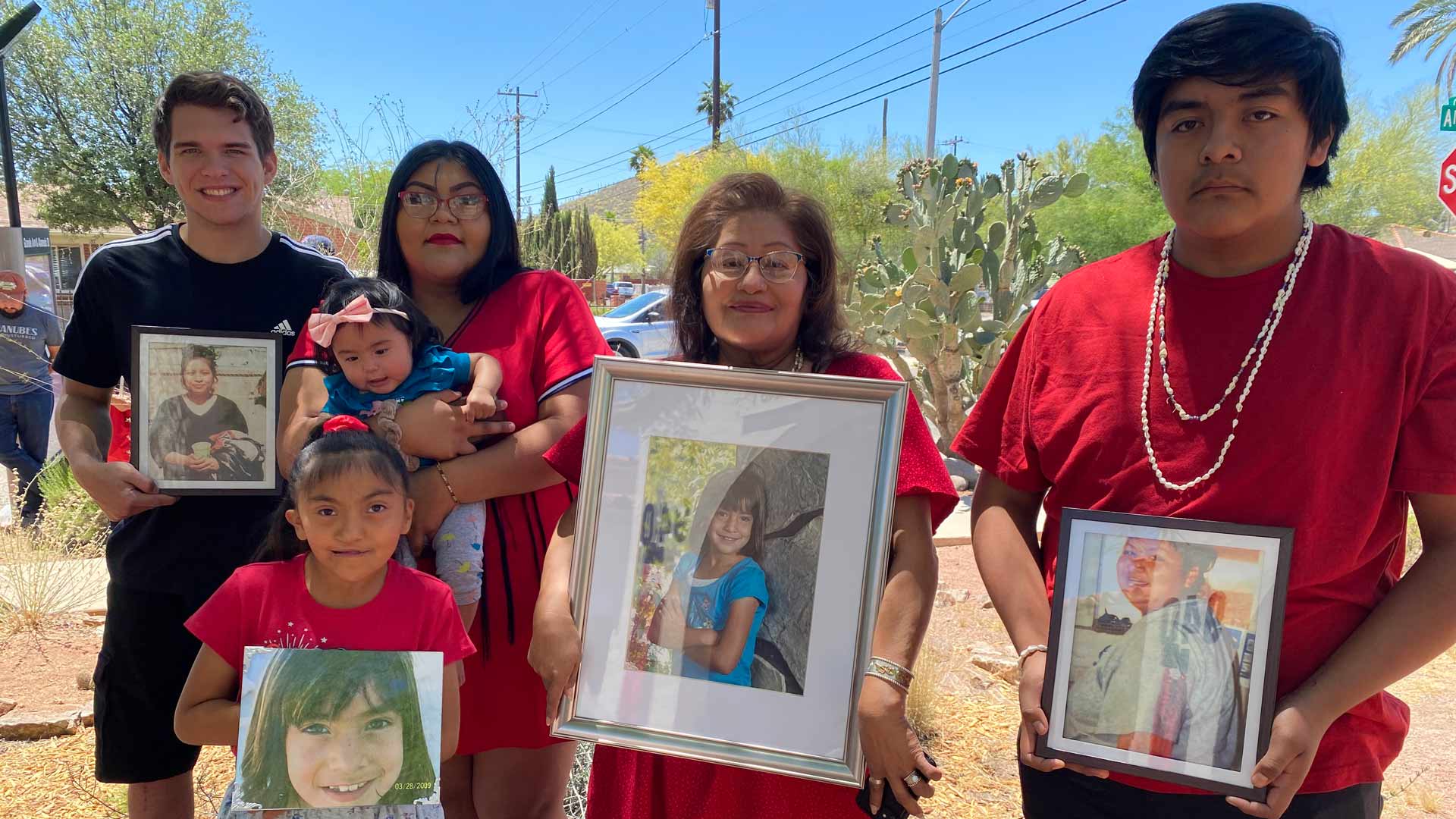 Olivia Rubio poses with her family during a press conference on missing and murdered Indigenous women at Tucson's Ward 1 office, holding a photo of her granddaughter Rhia Almeida, who was killed in 2009.
Danyelle Khmara, AZPM
Elayne Gregg, a member of the Tohono O'odham Nation, shared a story about her daughter being murdered nearly 15 years ago, during a press conference on May 5 at Tucson's Ward 1 office.
Gregg and her family had moved off the reservation to Ajo. Seven-year-old Rhia Almeida went to visit a friend down the road and did not come home. Her body was later found in a wash nearby.
"Publicly acknowledging that this type of violence is happening is a first step," Gregg said. "That is why today is crucial."
Nationally, Native American women make up a significant portion of missing and murdered people. There is a growing movement to call for action on the issue.
Gregg is grateful for the services she and her family received in Ajo after her daughter's death but says victim services on tribal land are severely insufficient.
Tucson City Council member Lane Santa Cruz said the city council is discussing the formation of a task force to tackle the ongoing issue of missing and murdered indigenous women and girls.
The task force will bring together experts within law enforcement, social services, healthcare, and other relevant fields to coordinate efforts and develop comprehensive strategies to prevent and respond to cases.
Enhanced services could include programs that address domestic violence and sexual violence, healthy masculinity, and healthy sexual boundaries and consent, as well as better information sharing between jurisdictions and more funding for investigations, prosecution, and finding missing loved ones.
"This is an initial step to help identify concrete solutions to work with the city, county, our tribal communities, and nonprofit partners to make a real difference and protect our indigenous women and girls in our community," Santa Cruz said.
Some recent changes in this effort include an intergovernmental agreement between the Pima County Attorney's Office and the Pascua Yaqui Tribe.
Prosecuting cases that happen on the reservation when a suspect flees or isn't a tribal member can be difficult because of tribal jurisdiction. The agreement with Pima County will allow the tribes to prosecute non-Indian defendants for crimes that occurred on the reservation, which will help more victims get justice, says Pascua Yaqui prosecutor OJ Flores.
"Normally those crimes would go over to the Pima County Attorney's Office, maybe fall through some gaps with law enforcement reports getting to the Pima County Attorney's Office, and we would now be able to prosecute them with tribal prosecutors who are experienced, law-licensed attorneys who have extensive experience in the state court system," Flores said.
Co-founder of community-based Indivisible Tohono April Ignacio says this issue is not new, and it's only become a movement because of the grassroots efforts.
"Pima County and the City of Tucson wanting to take this step forward is a huge deal for Indian country," she says. "I think this is one of the first times we've seen a local municipality take some ownership of the issue."