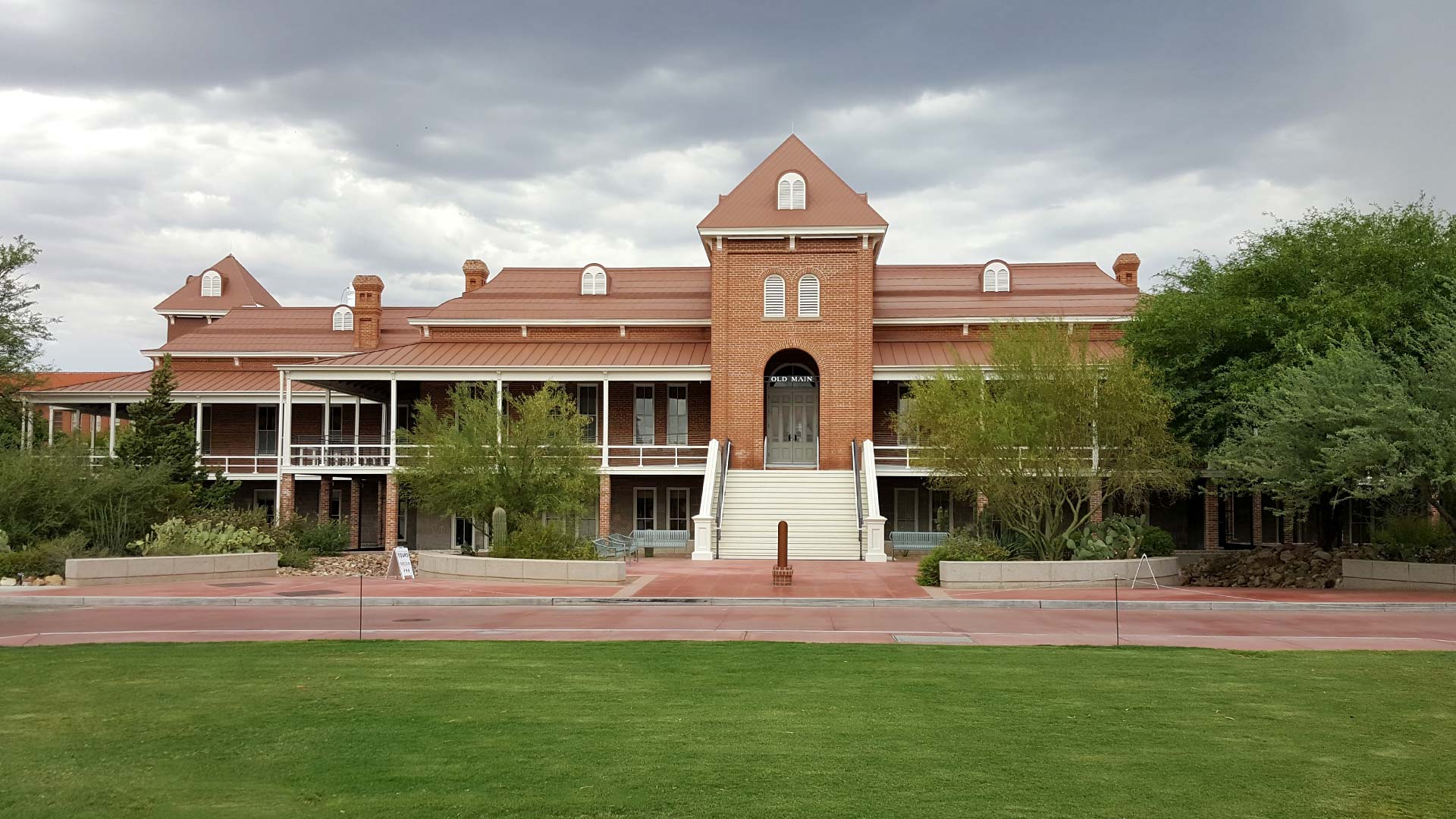 A cloudy sky over Old Main at the University of Arizona.
AZPM Staff
A $3 million dollar grant from the U.S. Department of Education is helping the University of Arizona launch a new program geared towards retaining first generation Latino students.
The program, coined as Project ADELANTE, will include three components: an internship for undergraduate students, professional development fellowships for faculty, and coursework that will allow students to create a "testimonio"– the Latin American tradition of personal narratives. Project director Ana Cornide says the new initiative will guide first generation Latino students in learning the importance of social capital that can be earned through networking.
"Allowing them to see that value, I hope and we hope that will help us to connect them through these professional development opportunities earlier in their careers, and also retain them in this university," Cornide said.
The funding comes from the U.S. Department of Education's Developing Hispanic-Serving Institutions Program. Despite UA's proximity to the border, it did not become an HSI until 2018. In 2021, over a quarter of UA students identified as Hispanic or Latinx and of that, 40% were first generation. This funding is expected to reach over 1,800 of those students for the next five years. But the project is a community-led effort.
UA vice president for Hispanic-Serving Institution initiatives Marla Franco compiled a number of proposals to create ADELANTE after faculty found a lack of unity and clarity when it came to facilitating binational collaboration. Now the initiative will expand the Critical Service-Learning Program that Cornide founded. That program, which connected students in the Spanish and Portuguese departments with local and regional internships, will now work with students across campus.
"Aligned with HSI initiatives, this project embraces our proximity to the borderlands to offer an intentional suite of culturally responsive, place-based educational activities led by incredibly accomplished and equity-minded faculty and staff," Franco said in a press release.
For Cornide, this project pushes the helm of how the Borderlands is seen in higher education.
"With the funds, we're allowed to build capacity, to institutionalize these approaches and create a network of opportunities in a way that also allows the students to see themselves as a part of the university and hopefully, we will have a map of the Borderlands initiatives."
As a prerequisite to the internship, students will need to complete coursework that requires them to look inwards and voice their realities through testimonials.
"It is the text they create through their own personas.There is an understanding that is rooted in the lived experience and the live experience of their communities that in its own, allows them to see themselves as part of the university," Cornide said. "It's a retention tool. It's an empowerment tool."
While the grant only funds the program for the next five years, Cornide hopes a long term solution will be found to keep it running.