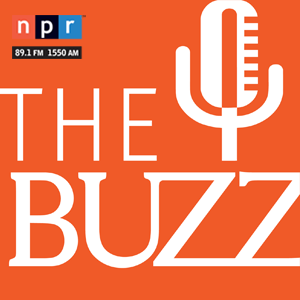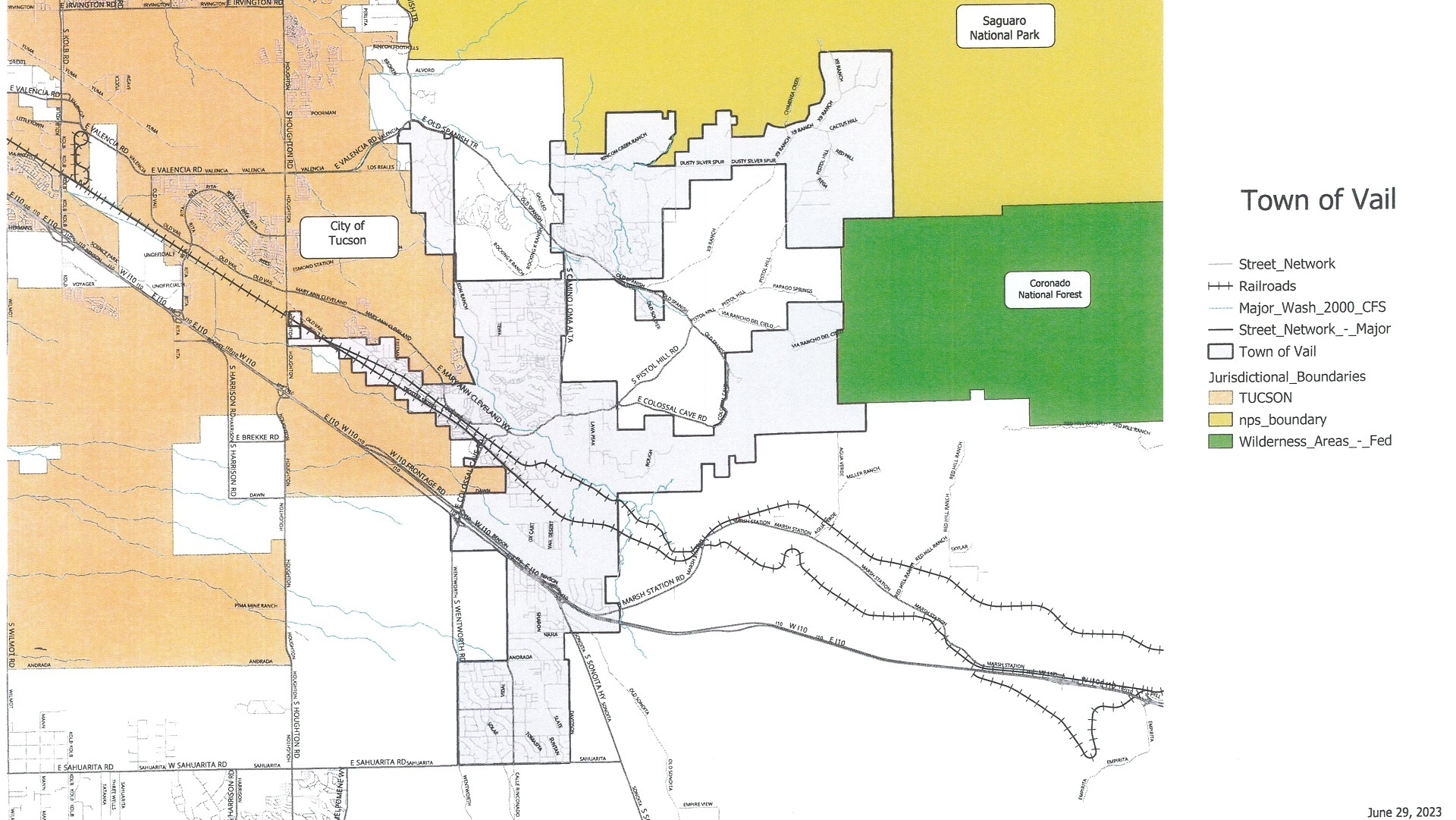 Map of Vail boundaries.
City of Tucson voters will likely not be the only ones heading to the polls this November. Their neighbors to the east appear set to decide on whether or not to establish the Town of Vail.
A group looking to incorporate the community of about 20,000 turned in enough signatures to put the matter to a vote.
The community is already seeing the usual trappings of an election. Campaign signs dot every street corner in Vail, and wherever a sign says "Vote Yes," another next to it says "Vote No." ,
Vail will also spend the next few months hearing from people on what it means to become a town, complete with the advantages–like management of your own roads, first responders, and parks–and the disadvantages–like increased taxes to pay for them.
At a late-August public meeting, Vail citizens like Joy Tucker voiced their concerns in the gymnasium of Cienega High School. Tucker is for incorporation and said a smaller local government will be more effective at addressing citizens' concerns than the Pima County Board of Supervisors.
"It's gonna be a small government that you can talk to. Right now, you've gotta go all the way downtown to the Board of Supervisors and there's only one guy who's paying attention to what's happening out here."
But when it comes to specific issues, the concerns voiced by Vail citizens this fall boil down to three main points: roads, taxes, and development.
Vail is known for its rural areas and outdoor recreation, something that both sides say they want to protect.
Those for incorporation say doing so will give Vail more control over its land use, particularly in protecting certain beloved areas from commercial development.
"If we had a Town of Vail, we could preserve it," said Tucker. "We can say to the guy who's on that dirt road 'You can keep living like that, nobody's stopping you, and you're protected now because we've got these ordinances and the zoning.' But if you don't have that, who's to say the City of Tucson won't come through and all of a sudden say 'you can't live in a mobile home anymore, that's a fire hazard."
However, those against incorporation like Vail citizen Katie Breeding say that staying unincorporated will protect the land from development. She thinks the proposed budget relies on too much commercial development, and that comes at a cost to the community's open spaces.
"We're going to have to build on these areas that people enjoy their outdoor walks and hikes and everything now."
A Vail citizen who chose to be identified as Kaitlyn said she's seen rapid growth in recent years.
"I moved here and the first six months, a whole community across the street, that open land, was all built up."
Citizens are also concerned about paying the bills for a potential new town. Residents against incorporation do not want the proposed 2% sales tax.
"If the budget is off, we would start in debt," said Breeding. "We would have to raise revenue. So we'll be paying 2% more in this economy to pay for any deficits."
MaRico Tippett, Vice President of Incorporate Vail AZ, does not see any increase in existing costs for residents.
He said that most Vail residents do their shopping in Tucson, so they are already paying a 2.6% sales tax that doesn't go back to their community. The 2% tax is lower and would not be funding services in a neighboring city.
"All of those dollars would stay and remain in the Town of Vail."
Road maintenance is another concern for both sides. Those for the incorporation of Vail are asking for wider, safer roads and updated speed limits.
"With the amount of houses that have come in, road development just hasn't happened," said Vail Resident Callie Tippett. "Our roads need to be wider, we need more lanes, to manage the capacity so that it's safe."
Others, such as Katie Breeding, say they don't see a problem with transportation services from the county.
"I had a problem with the road work the other day, I contacted Pima County and I said 'you guys are working on the road out here. And it's not necessarily safe.' And they're like, 'oh my gosh, we'll take care of that.' I haven't had a problem with that."
Vail's previous attempt to incorporate in 2013 was defeated by nearly 10% of the vote. However, Vail's changing demographics could make this year the turning point.
This information session will not be the only one in the coming weeks. Another group that will soon speak to residents to tell them what it means to incorporate is the League of Arizona Cities and Towns.
League Executive Director Tom Belshe said the decision to incorporate is a personal one.
"We are not here to say anything bad about the counties or about the state or anything like that, but sometimes people in an area say, 'we want more say over planning and zoning and how things are developed, or we want a greater degree of police service, or we would like to have more control over what roads are getting maintained and when.' They want a greater degree of control. Also, they're aware that there is state-shared revenue available for them to do those kinds of things, although a city can't run 100% on shared revenue. The fact that all 91 cities and towns [in Arizona] now have a local sales tax is evidence of that."
Belshe said that tax helps cover the costs of items that are required, such as a clerk's office to administrate government and handle elections, along with services such as police and fire. When a city or town first incorporates, he said those services are often contracted with the county until independent operations can be stood up.
And, if a city or town's residents change their mind, Belshe said there is an option then too.
"It has never been done [in Arizona], but there is a process for it. It's called disincorporation and basically, that is driven by the registered voters, and it's the same way, there's a petition process. I'm not as familiar with that as I am with [incorporation] because we've never had to do it."
But communities sometimes stay unincorporated, even if they are longstanding.
The first homes began being built in Green Valley in the 1960s. Despite occasional campaigns that ask residents to consider incorporation, the community has remained without formal government.
What it often has in its place are a series of informal groups and a large volunteer staff. One of the main organizing forces for the area is the Green Valley Council.
"The Green Valley Council is the community voice for the homeowners associations in Green Valley," said council President Debbie Kenyon. "It's a community of retired people who live in 100 individual homeowners associations, and 50 years ago this past June the original six decided that they needed a unified voice in Pima County at that point in time and formed the Greater Green Valley Coordinating Council to represent them at all matters up in Pima County and at the state level."
The group eventually shortened its name and now represents 80 percent of HOAs in the area.
"A lot of our function is to serve as the eyes and ears," said council Executive Director David McAllister Romo. "We work with the community, with our community service organizations, our first responders, and we look at the unmet needs here in Green Valley and that's what we communicate. So when we meet with Congressional or State representatives, it really is about getting the resources and the services that we need here."
The Green Valley Council regularly interacts with various departments in Pima County, offering volunteer support and informing them of issues. Kenyon said Green Valley exists on volunteer effort.
"I think that's really indicative of Green Valley. We have a culture here where people, they want to get out, they like to do for themselves, they like to be with their neighbors, they like to do for others," said McAllister Romo. "The spirit of volunteerism is very strong here. And the talk of incorporation in Green Valley comes up almost on a cyclical basis. Every five to seven years we start to see some people asking, 'Have we explored this?' And we say 'yeah.'"
And that active mentality extends to elections. Kenyon said 92% of Green Valley residents who can vote in every election do cast ballots. That and the fact that the council speaks as a voice that represents a large population often lends to its requests carrying weight with more distant government entities.
"If you're calling and you live in another unincorporated area, you're a resident but you're calling into a department," she said. "The difference is that we interface directly with those departments. We have a system here for service requests that if you have an issue, you call our office or go on our website, you submit the request. The county has 30 days to respond to us, and we do a detailed closeout on all of these requests monthly. That's something that doesn't happen at any other community."
And, they both say, that level of coordination helps them to lobby the county or state for their needs rather than taking action into their own hands through a city or town government.