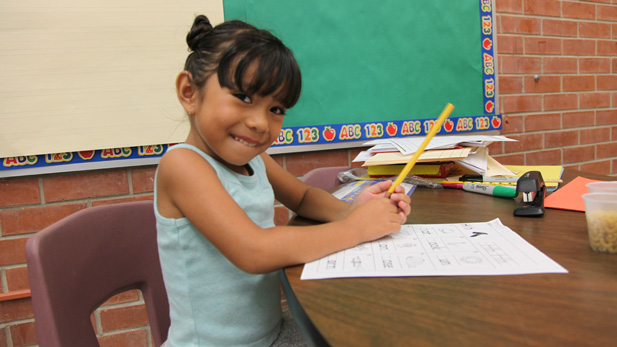 Five-year-old Isabella Goff-Quiroga working on a vocabulary lesson at the Jump Start summer program. (PHOTO: Fernanda Echavarri)
Thousands of young children in Southern Arizona will start kindergarten in a couple of days. There will be tears, screaming 5-year-olds and scared parents, but teachers at a summer program in Tucson say those who got a head start during the summer will have an easier time on their first day of school.
Jump Start is a new summer program in the Tucson Unified School District designed to get children ready for kindergarten.
The program just ended its first year and Julie McIntyre, principal at Myers-Ganoung Elementary School, says it taught kids basic academics but also about other "very important parts" of starting school.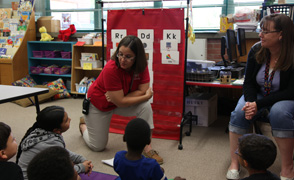 Principal Julie McIntyre talks with students at the Jump Start summer program. (PHOTO: Fernanda Echavarri)
"It's very scary on your first day as a kindergartener," McIntyre said. "Especially in a school with 500 students, and big kids, it's loud here."
Jump Start had about 45 children enrolled. Most were aged 5 or 6 and were incoming kindergarteners.
A few were returning students who are about to start first grade but had fallen behind state standards and were not ready for elementary school, McIntyre said.
"The little ones got a chance to explore the school, learn what it's like to work in a classroom environment, figure out a cafeteria, get around through the hallways, all these things can take up to a month when schools starts," she said. "So on the first day, about 80 percent of our kindergarteners will be ready to go."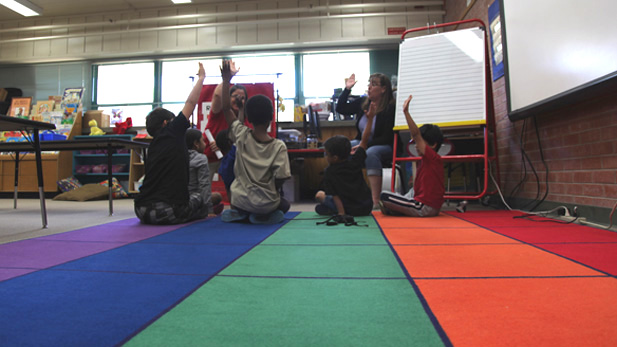 A group of students at the Jump Start program at Myers-Ganoung Elementary School. (PHOTO: Fernanda Echavarri)
The Anne E. Casey Foundation recently released a Kids Count Survey that ranked Arizona in the bottom five nationwide for childhood health and education programs.
Dana Wolf Neimark, president of Children's Action Alliance, said Arizona did the worst in participation of 3- and 4-year-old children in preschool.
"And that is really disturbing, because that really foreshadows our future," she said. "We know that when children start kindergarten already behind, it's very hard to catch up. It's then hard on teachers, students and has a snowball effect, and really affects are future workforce and economy."
The Jump Start summer program aims at preparing young students during the beginning of their education and giving them the right tools to be successful "all the way to college," McIntyre said.
Funding for the summer program came from federal funds known as Title I.
To hear a story about a summer reading program in the Sunnyside School District that teaches Native American students about their culture and language in the Tohono O'odham Nation click on this story: Teaching Traditions
To hear a story about how the loss of learning during summer affects students in lower-income families click here: Summer Break Widens Achievement Gap
To hear about how English Language Learners in the border town of Douglas fall behind during the summer after speaking Spanish click on this story