Youth Crossing Gender Borders explores the landscape of young people and gender identity. Laura Markowitz talks to teens, parents, and experts on the forefront of understanding the spectrum of human identity.
---
Transgender and gender non-binary people represent a tiny percentage of the population, but they are disproportionately the targets of hate crimes. Why is gender identity so controversial?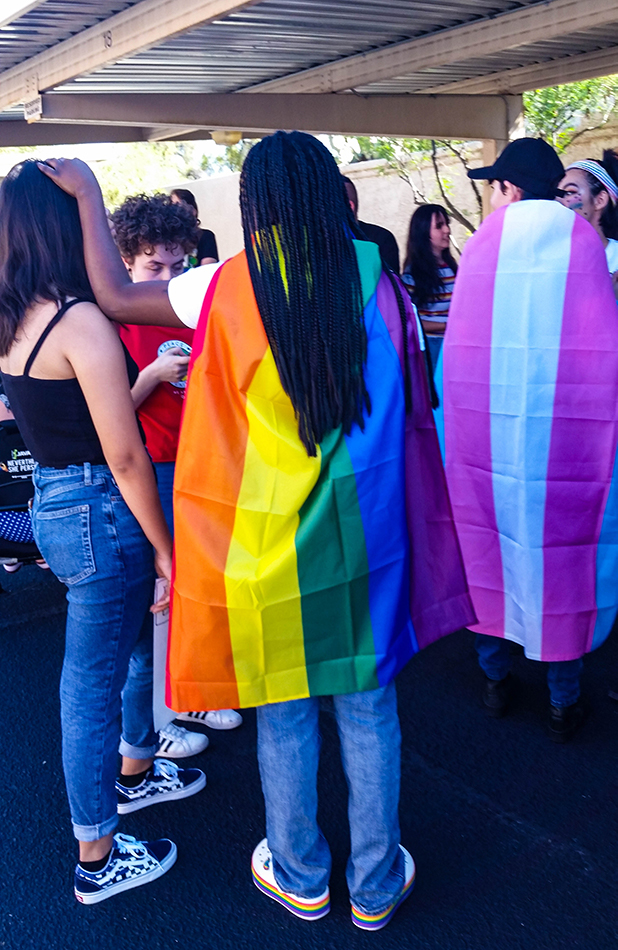 Two percent of high school students in the US identify as transgender, according to the Centers for Disease Control and Prevention's 2017 Youth Behavior Risk Survey.

Laura Markowitz
Gender is more than just a function of our biology or self-identity. It's woven into every part of our culture— our fashion, laws, education, science. It's also embedded in our language. Self-defining one's gender through pronouns is a relatively recent phenomenon that's popular on many college campuses.
Sheri Bauman is a professor of counseling at the University of Arizona. She says our culture has always been fixated on gender.
"Very often, the first question that's asked when a child is born, even before it's healthy, 'Is it a boy or a girl?' We see these gender reveal parties even before a child is born. It's a very recent understanding that well, it might be boy or girl, but it could be a variety of other possibilities."
Those other possibilities could be transgender, which means their bodies don't match their inner gender identities. Or a person might be gender non-binary, which means they're somewhere on the spectrum somewhere between male and female. Or a person might be intersex.
"Intersex is more common than you would think," says Bauman. It's about as common as being born a redhead. "Those are people who are either born with ambiguous genitalia or whose chromosomes don't match their external gender appearance."

Bauman's point is that humanity has always included a wide variety of genders—not just female and male. But good luck trying to find a card for a newborn that isn't for a boy or a girl.
"We want black and white"—or pink and blue—"and this is very gray," she says.
Sheri Bauman, PhD, is a professor in the Counseling Graduate Program at the University of Arizona and author of several books about bullying, including "Cyberbullying: What Counselors Need to Know."

Laura Markowitz
There's one more piece to consider in the gender puzzle. The phenomenon of gender includes people who are cisgender. Rich Muszynski, a clinical psychologist who specializes in gender identity issues, explains: "Those are people who feel comfortable in the gender that they're assigned at birth."
That describes the majority of people. Our society was designed for the cisgendered. Think of bathrooms, locker rooms, sports teams, and the myriad forms you have to fill out throughout your lifetime that only offer the choices female or male.

"The privilege of being cisgender is you get to be comfortable in who you are and your style of clothes, your way of being in the world, and no one questions that," says Muszynski.
Transgender and gender nonbinary people are at a higher risk than any other minority group for discrimination, physical violence, and bullying. It starts as early as preschool. Sheri Bauman says a typical insult that kids use is to call a gender-nonconforming child "It."
"'It' makes you a thing, 'it' makes you not even human. We talk about a process called moral disengagement, which is about allowing ourselves to violate our own principles. Using 'it', making them less than human, makes it okay to treat them badly. I don't want to be a bad person. I don't want to be an immoral person. But I joined in on this and what do I tell myself? 'Well, they're not really humans. Humans are either male or female. So they're not.' "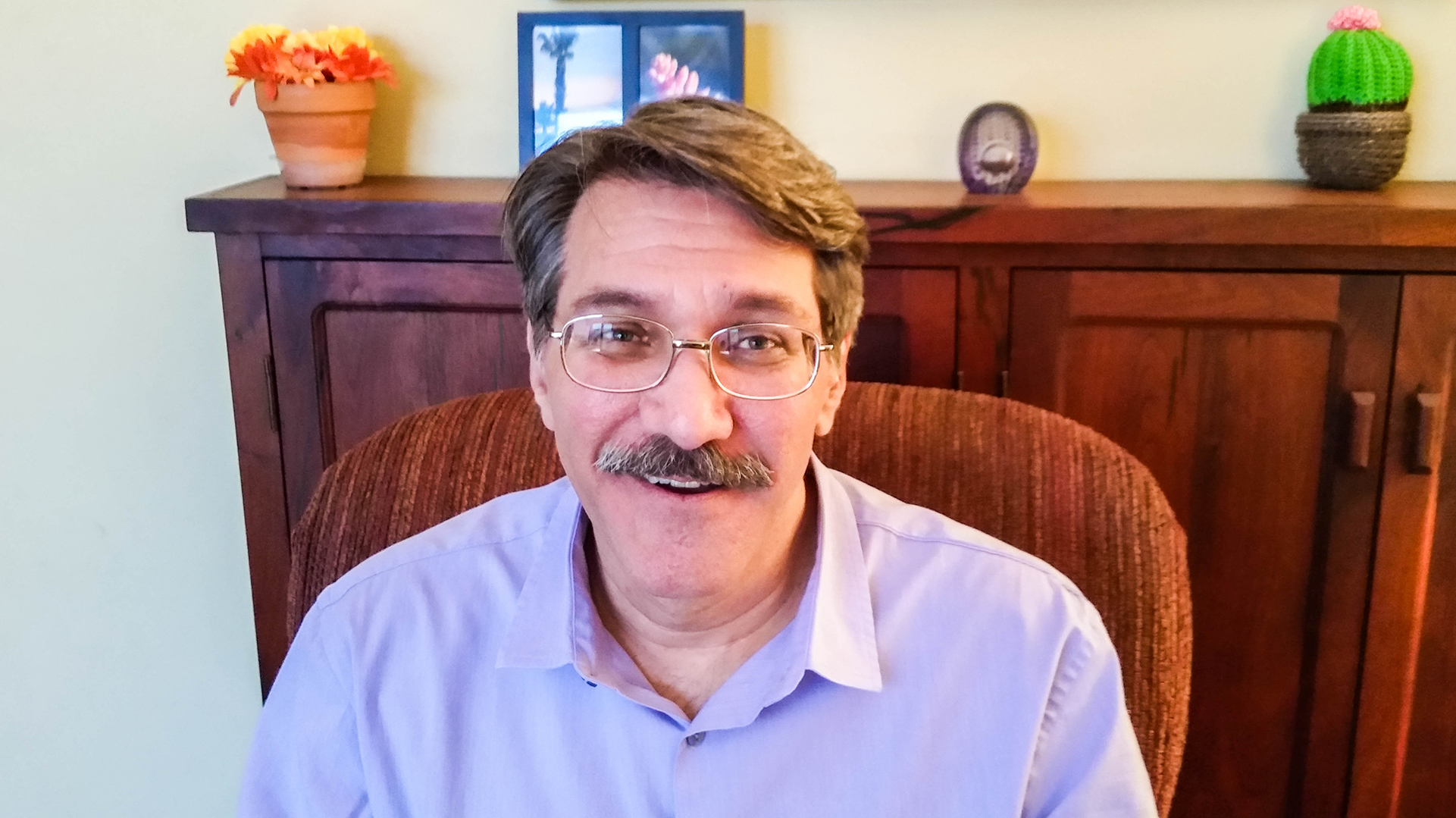 Rich Muszynski, PhD, is a clinical psychologist who works with many youth who have gender identity issues. He tells them, "I want you to know that who you are is precious and wonderful and just perfect the way you are. You don't have to change for anybody. Love, respect, and dignity are your birthright. Belonging is your birthright."

Laura Markowitz
Almost 2 percent of high school students identify as transgender. That's according to the Centers for Disease Control and Prevention. Their 2017 Youth Risk Behavior Survey found that 35 percent experience bullying, and 27 percent feel unsafe at school. Their tormentors are cisgender.
Why do some cisgender people have such strong, negative feelings about other people's gender expression?
"We're all fearful of something we don't understand," says Bauman.
She, Muszynski and others believe that misinformation fuels transphobia. One example is the claim that critics make that when kids go through normal childhood phases, like wanting to be a tomboy for a year, activist doctors and parents will call it "gender dysphoria" and rush to give the child hormones to turn them into the other gender.
Martie van der Voort, a counselor at the University of Arizona, says this is not what happens.
"Part of how we actually diagnose gender dysphoria in kids is the criteria of persistence, insistence, and consistence. If I don't grow out of my 'I want to be a boy' phase, I'm likely a boy."
Taken at the 2019 Tucson Pride celebration.

Laura Markowitz
Some of the most vocal critics say they don't dislike transgender people; they just don't believe transgender is a real thing. That's why they are opposed to laws that legitimize it. Some believe it's a dangerous fad caused by peer pressure and even parental pressure.
Rich Muszynski dismisses these arguments as more misinformation.
"Nobody can cause someone to be transgender. We know that transgender people and gender nonbinary people have existed since human beings have existed. It's in every culture and every historical period."
The American Medical Association, the American Psychological Association, the American Academy of Pediatrics, and many other major health and mental health organizations recognize and affirm the rights of transgender people.

"There is plenty of information that says this is a natural, normal part of the human experience for some people, and there's nothing to fear from transgender people," says Muszynski.
Researchers have been looking into the cause of gender dysphoria for decades. They've done studies of identical twins where one is transgender. They've done studies comparing the brain structures of transgender people to cisgender people. So far, there are only theories, but no answers.
"We don't know why this exists for some people, why this is part of the human experience," says Muszynski. "But I would say, 'Who cares?' It's time to accept that there are some people who are like this."
Martie van der Voort created a one-person show about a support group for trans and gender-queer people. "I was very motivated to humanize this population, so I interviewed people and then developed characters that would both educate people on trans issues and also entertain them because this is theatre."

Laura Markowitz
But not everyone accepts it. There are those who believe children can be guided away from their so-called gender confusion. Some claim that conversion therapies, also called "reparative therapies" can turn those children into cisgender people. But conversion therapies have been widely discredited as false science. Conversion therapies are illegal in 18 states and more than 60 cities and counties.
"I used to get parents bringing their kids to me saying, 'Make sure this kid isn't trans'," says Muszynski. "You will do harm to children if you try to get them to change their gender identity.
Conversion therapy has been shown to heighten the risk of suicide in young people.
"You're being told that you are a sinner, or a pervert, or a criminal for being just the way you are in the world, that's when we see start seeing people have difficulties," he says. "That's when we start seeing people get depressed, anxious, suicidal, angry. That's when we start seeing people say, 'I can't deal with this discrimination against me and I am going to drop out of school, I'm going to use drugs.' "
Muszynski says support and affirmation are game changers.
"There's research that shows when parents support children when they come out, all those risk factors—they just drop precipitously. When I see parents support kids from the very beginning, those kids are doing well. They don't necessarily have depression or anxiety. They learn to be proud of who they are, because that's the antidote to the shame that people are made to feel."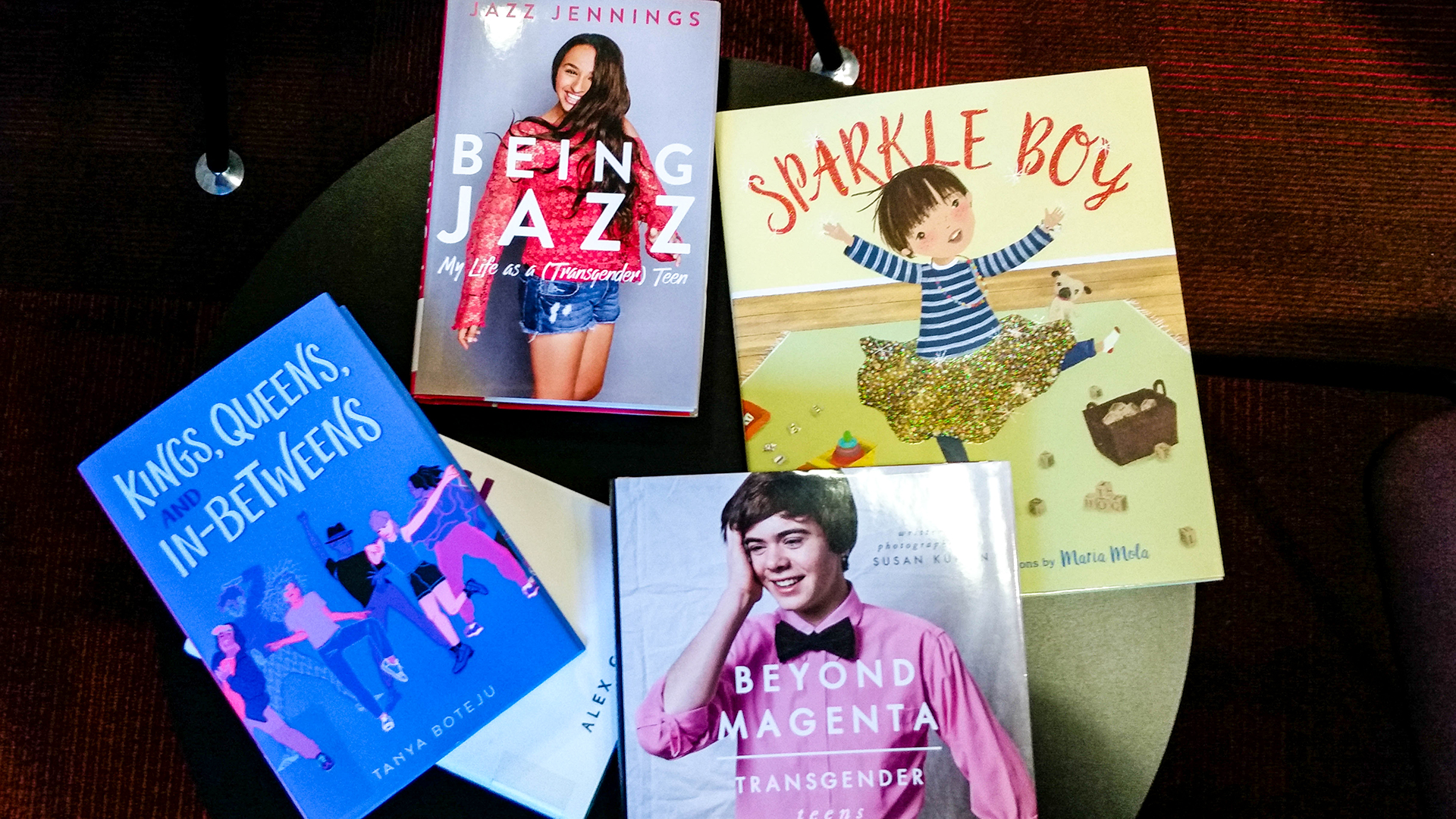 There are more resources available to parents who want to support their transgender and gender non-binary youth, including age-appropriate books that reflect the experiences of young people who don't conform to society's gender norms.

Laura Markowitz
He says youth who cross gender borders have an important message for all of us.

"What transgender kids and gender nonbinary kids are showing the world is that you can tell me who you think I am, but this is who I am. And this is what I'm good at and this is what I enjoy doing. And it doesn't matter what body I'm in."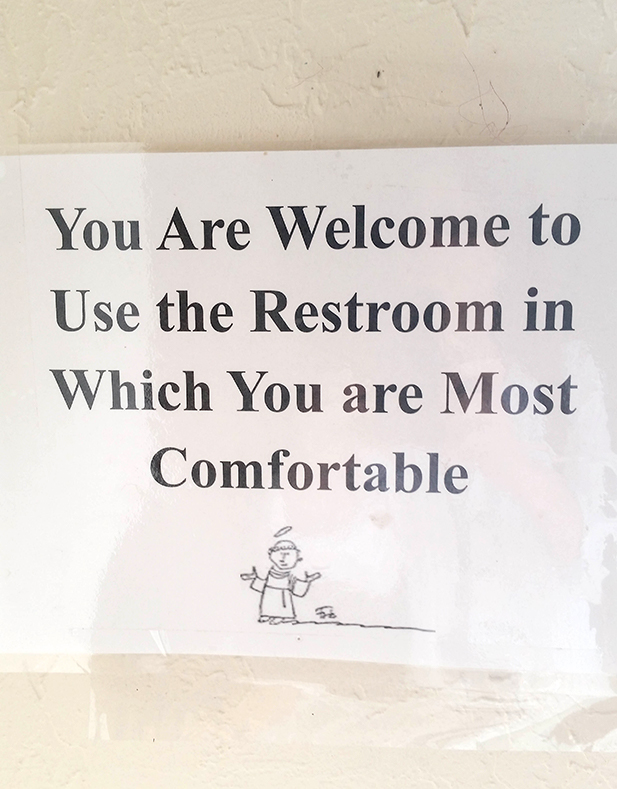 The debate about whether transgender people are allowed to use the bathroom that aligns with their inner gender identity has become emblematic of the struggle for transgender people's civil rights.

Laura Markowitz
This message might sound familiar. Women have been saying it for a long time in response to sexism, which is the belief that males are better than females.

"When a society or a culture starts saying men are better than women, automatically there are rules, ideas, customs about what defines a man, what defines a woman," says Muszynski.
Then transgender and gender non-binary people come along and break those rules. They make the categories of masculine and feminine fluid—and even irrelevant. Muszynski and others believe this may be the deepest root of transphobia.
"One of things the transgender civil rights movement, I think, is going to add to the world and one of the gifts that they bring is to be able to have a new way of dismantling patriarchy and sexism," says Rich Muszynski.
"They are dismantling the very notion that men are better or that cisgender is better."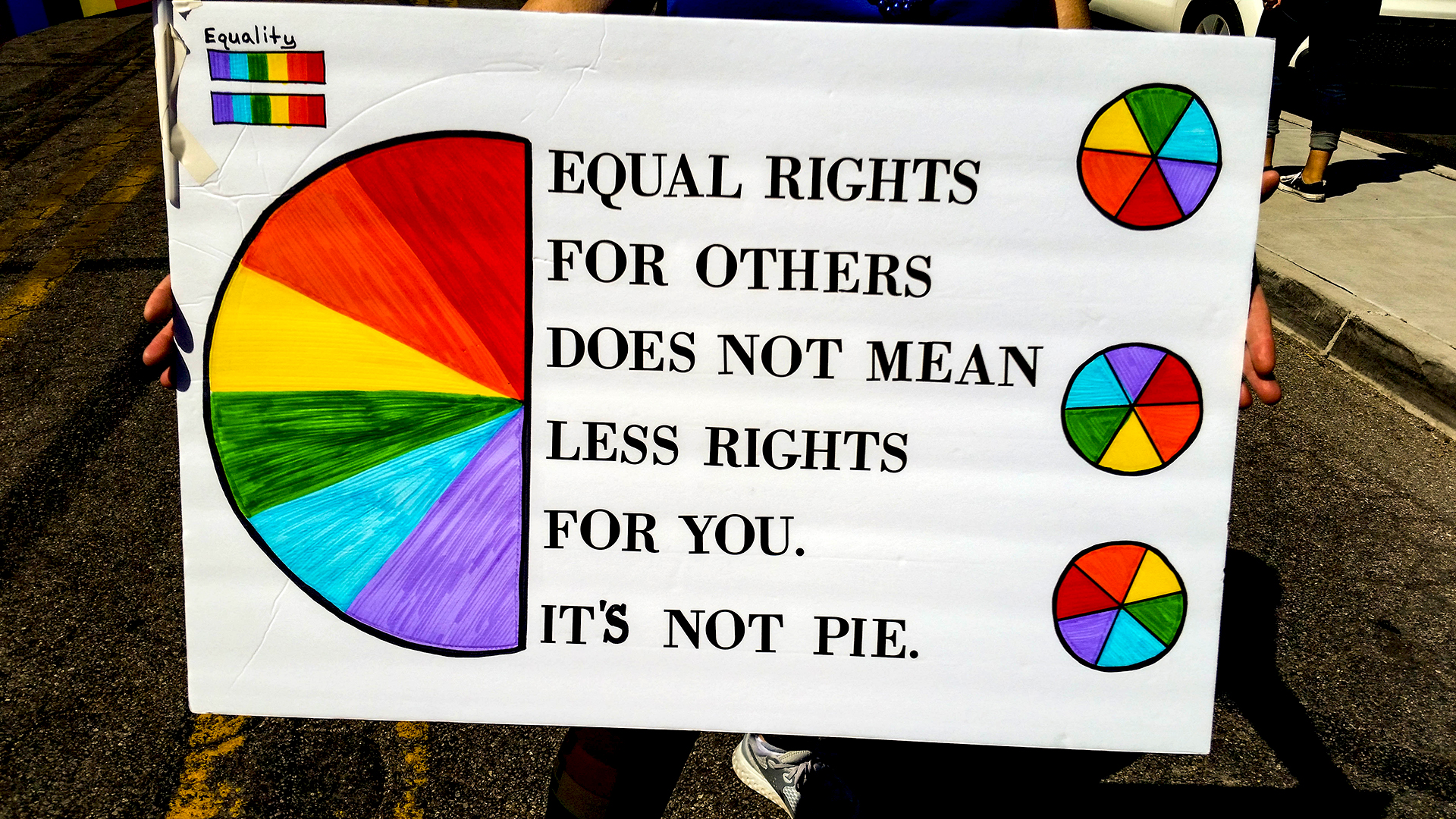 Taken at the 2019 Tucson Pride celebration.

Laura Markowitz
But in the meantime, Republican lawmakers in a dozen states have introduced bills in the last two months that would roll back rights of transgender people. In some states, parents would be reported to Child Protective Services for supporting their transgender and gender non-binary children. Doctors would be fined or jailed for administering hormone therapies. A law proposed in Arizona would prohibit school personnel from using a transgender youth's chosen name and pronouns.
These young people already face significant obstacles to growing up to be happy and healthy human beings. It's likely that they will continue to be at high risk as long as their lives continue to be up for debate.
---
This story is part of Youth Crossing Gender Borders, a series produced by AZPM Contributing Producer Laura Markowitz for Arizona Spotlight. For information on support groups for transgender and gender non-binary youth and their families, visit the Southern Arizona Gender Alliance.
Click here to listen to original music by Noah James that was recorded for this series.
Listen to Episode 4: Riding the Ambiguity Train