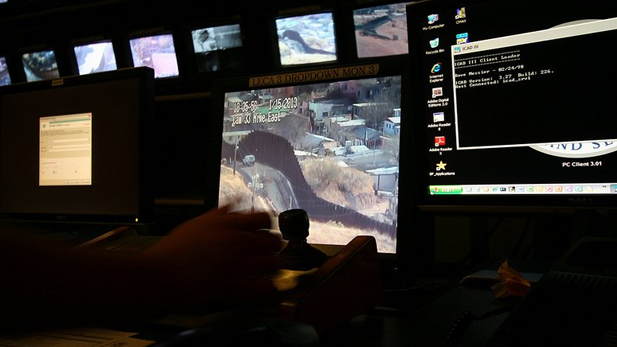 Border monitors in the Border Patrol's Nogales communications center. (PHOTO: Michel Marizco, Fronteras Desk)
NOGALES, Ariz. - Border security first. That's the rallying cry of many political conservatives who see 11 million undocumented immigrants in the country as clear evidence that the federal government has failed at border enforcement.
And they say, before reforming the immigration system and offer a path to citizenship to those who came here illegally, the government must secure the border.
Here in the communications room of the U.S. Border Patrol's station, two men sit facing a wall of computer screens. Amid the scratch and static coming from the radios of agents in the field, the two men move joysticks back and forth, watching the displays.
They see what the massive cameras mounted along the Mexico border see. A single figure is standing near the looming border wall that separates the two countries. That makes the camera operator suspicious.
"He's talking to someone to see if the coast is clear," the operator says.
This is the modern face of high-tech border security. It's become a massive slice of federal law enforcement spending - $18 billion was spent last year on immigration and port security. That was more than on drug enforcement, the FBI and gun investigations combined.
The Border Patrol alone more than doubled in size in the last decade to more than 21,000 agents. The Homeland Security Department has built 652 miles of steel barriers along the southern border.
Is it working? And if so, how do we define that?
A report two weeks ago from the Government Accountability Office, done at the request of U.S. Rep. Ron Barber, D-Ariz., said despite the massive deployment of resources and spending, defining what is a secure border remains elusive.
"What they found was that there really is a plan without goals, without measurements, or an evaluation function, which means, we really don't have a plan," Barber said.
On the line, the resources are manifest, and there is a sense that they may be making a difference.
Andy Adame, a spokesman for the Border Patrol's Tucson Sector, is driving a dirt trail set against a backdrop of yellowing grasses and looming mesquite trees toward the massive border fence. No longer do strands of barbed wire divide the two countries.
The new U.S.-Mexico border fence west of Nogales actually sits about 40 feet north of the physical boundary, creating a sort of no-man's land marked by low-slung vehicle barriers.
"You don't see that anymore," Adame says. He points to the fence. "This, in order to cross this, you better be 18 to 40 years old and in good physical condition."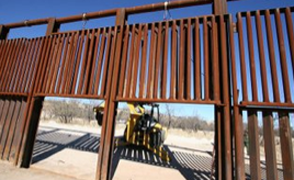 Fencing along Mexican border west of Nogales with gate allowing rain runoff debris removal. (PHOTO: Michel Marizco, Fronteras Desk)
It's called the PV-1, 30 feet of diamond-shaped steel bars above ground and six feet more below. It can absorb a pickup truck ramming into it at 55 mph.
"I think we have reached that point where we have a significant amount of fencing where it does now have an impact on illegal immigration and drug organizations trying to bring their illicit cargo across," Adame says.
One measure of success: Apprehensions across the border have dropped; places such as San Diego have reported arrests have dropped to one-third of what they were.
But that doesn't tell the full story. For example, recividism rates declined about 6 percent from 2008 to 2011, meaning many of those crossing illegally are trying again and again. And the agency's Tucson Sector remains the busiest in the country, accounting for more than one-third of illegal traffic.
The numbers can be confusing, too. Arrests of illegal immigrants drop and that's called a success. But the amount of drugs seized goes up and that's also called a success. While 2011's apprehension numbers dropped compared to 2008, drug seizures went up by 20 percent.
Homeland Security Secretary Janet Napolitano was asked about that juxtaposition last summer by a member of a Homeland Security oversight congressional committee.
"The apprehension numbers are used as a proxy for how many are attempting," Napolitano said. "We actually think that we are now picking up almost everybody that is trying to cross that border illegally."
That created a stir. Members of Congress wanted to know: where?
"Oh, I would have to give you a list. At least one of the Arizona sectors, I think we are getting virtually everybody," she said.
Congressman Barber's proposal: Ask the people who actually live on the border.
"They're going to tell me if they see a lower number of people coming through. They're going to tell me if they can go to town without taking their kids with them, if they can go to the clothesline without wearing a weapon because they feel more secure and safe on their own land," Barber said.
One of those border residents, Jim Chilton, lives 19 miles north of the border in Arivaca. His cattle ranch runs to Mexico. He's seen it all: Dozens of people arrested just back behind his house; spotters working for drug runners laying up in the hills on his ranch watching for agents.
Chilton says the job isn't done.
"A secure border means to me that the United States government is protecting me from foreign threats," he says.
For its part, Customs and Border Protection agreed with the GAO's audit. It has said it will design a plan that defines what border security actually means.
That answer will come next November.
For now, Barber says he's going to hold a series of public meetings in the next few weeks to develop an answer.
Fronteras Desk is a collaborative of public broadcasting entities in Arizona, California, Nevada, New Mexico and Texas, including Arizona Public Media.