If there's an aviation equivalent to the ancient Tortoise and Hare parable, the Solar Impulse HB-SIA would perfectly fit the role of the methodically slow-moving reptile.
Traversing a continent at speeds typically associated with a car heading across a traffic gridlocked city, Solar Impulse carries only a single pilot and a bare minimum of cargo.
Phoenix Sky Harbor Airport, Saturday, May 4, 2013, 12:30AM. The Solar Impulse HB-SIA touches down after an 18+ hour flight from San Francisco's Moffett Field. To prevent damage to the delicate wing structure, a ground crew on a pair of electric bicycles was present to insert wingtip-mounted skids as the plane slowed to a stop. (PHOTO: Courtesy Solar Impulse)
It's the antithesis of jet airliners that heft enormous weights and copious passenger loads around the planet at quicker-than-jackrabbit speeds.
But, as Solar Impulse's Bertrand Piccard would wryly remind, today's conventional aircraft come with more than a few penalties: namely, a voracious appetite for non-renewable fossil fuels that spew particulates while also depositing Earth-warming greenhouse gases directly into the upper atmosphere, where they do the most significant harm.
While Solar Impulse is not yet ready to supplant today's airplanes in all facets, it points to a future where a plane powered exclusively by the sun can serve in certain key commercial capacities.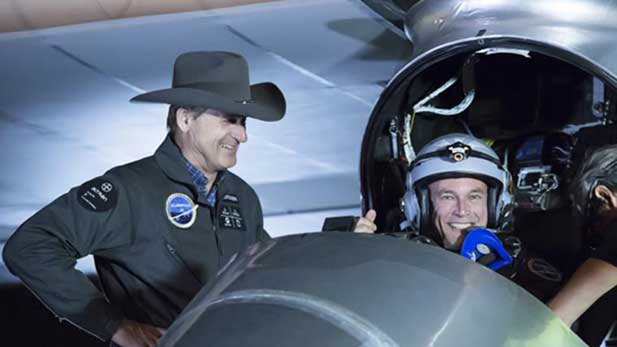 A beaming Bertrand Piccard is unbuckled after landing in Phoenix as fellow Solar Impulse pilot Andre Borschberg looks on. The pair will trade off flight duties on subsequent legs of the trans-American journey. (PHOTO: Coutesy Solar Impulse)
Solar Impulse has already shown that a perpetual motion flying machine is possible. Its 45-kilowatt solar array is capable of soaking up a day's worth of sunshine and storing that as electricity in an 85-kilowatt hour lithium-ion battery array.
After sundown, with judicious use of the efficient motors and glider-like flying characteristics, the batteries can keep Solar Impulse's lightweight structure aloft throughout the darkness, before starting the solar recharging process all over again the following day. Indeed, it's now the human pilot who would need to regularly come down to Terra Firma first for refueling, not the plane.
Piccard gave us a foreshadowing of this feature on the final portion of Solar Impulse's San Francisco to Phoenix flight. After spending 15+ hours moving slowly and steadily on course through the day and early evening, it was decided that spending the final 3 hours silently hovering through darkness over metro Phoenix would be the most prudent move.
Commercial air traffic drops off precipitously after midnight and the lack of resulting air turbulence would make the final decent of the comparatively featherweight craft into Sky Harbor all the smoother.
The effect of a silent 208-foot span wing illuminated by a string of LEDs across the leading edge gave pause to more than a few looking skyward that evening. At least one valley resident called in a report of a UFO to authorities.
Fleeting perceptions of science fiction aside, real world advanced material construction and state-of-the-art engineering rule the day with Solar Impulse. Following the multi-city American tour, a larger and more advanced version of this craft, the HB-SIB, will take two pilots on an around-the-world flight in 2015, with nonstop excursions across the Atlantic and Pacific Oceans.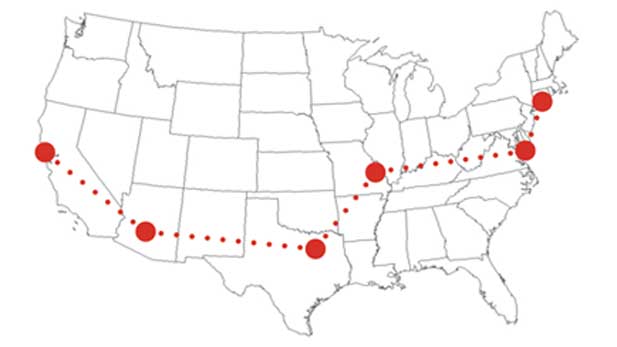 After leaving Phoenix on or around May 10, Solar Impulse will stop in Dallas, St. Louis, Washington DC and New York City. Each of the host city airports will allow the general public to inspect the aircraft for about a week before continuing on. The cross-country tour is expected to culminate in early July. (PHOTO: Courtesy Solar Impulse)
Visit the Solar Impulse web site for more information on the HB-SIA mission and video streams of its journey across America.
Watch an in-flight video interview with Bertrand Piccard, during the historic San Francisco-to-Phoenix journey of the HB-SIA, while flying over southern California.