Listen to Gov. Brewer's statement:
Gov. Jan Brewer Wednesday vetoed a bill that opponents said would have allowed business owners, pastors and others to refuse service to gay, lesbian and transgender people, using religious beliefs as justification.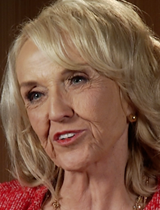 Gov. Jan Brewer. (PHOTO: AZPM)
"Senate Bill 1062 does not address a specific and present concern related to religious liberty in Arizona," Brewer said in a statement she read at a packed news conference at her office. "I have not heard of one example in Arizona where a business owner's religious liberty has been violated.
"The bill is broadly worded and could result in unintended and negative consequences. After weighing all of the arguments, I vetoed Senate Bill 1062 moments ago."
The governor was in and out of meetings Wednesday with supporters and opponents of the Religious Freedom Restoration Act, as she gathered information to decide whether to sign or veto the bill. Among those who met with Brewer were the bill's sponsor, Republican state Sen. Steve Yarborough, who said he stood by his bill and urged Brewer to sign it.
During the press conference, Brewer said she understood supporters of the legislation.
"I want you to know that I understand that long-held norms about marriage and family are being challenged as never before," she said. "Our society is undergoing many dramatic changes. However, I sincerely believe that Senate Bill 1062 has the potential to create more problems than it purports to solve."
Following the press conference, Arizona House Speaker Andy Tobin, who voted for the bill, said he respected Brewer's decision.
"I respect the governor's position to veto SB 1062, especially in light of the concerns brought up over the past week," he said in a press release. "I understand the concerns of people of good faith on all sides of this issue."
SB 1062 quickly moved through the House and Senate last week, with the Senate officially sending it to Brewer's desk Monday. All Senate Republicans voted for it, and all Democrats against it, while in the House, all but three GOP representatives voted in favor, and all Democrats were opposed.
Pressure grew throughout the week on Brewer to veto the bill, including from her top political adviser, Chuck Coughlin, U.S. Sens. John McCain and Jeff Flake, national business leaders and a bipartisan group of politicians, including three Arizona Republicans who retracted their vote for SB 1062.
Supporters continued to argue that the bill simply modified the definition of freedom of religion.
State Sen. Al Melvin, R-Tucson, a candidate for governor, said he was disappointed at Brewer's decision.
"I am sorry to hear that Governor Brewer has vetoed this bill," Melvin said in a statement. "I'm sure it was a difficult choice for her, but it is a sad day when protecting liberty is considered controversial."
Melvin hinted that he and other proponents would try bringing back legislation to protect religious freedom.
"Let us learn from the process we have just come through so that we can do a better job next time of communicating our intent," he said in his statement. "Let us do a better job of reaching out to groups who likely mean well but who are otherwise swept up in the hysteria and misinformation that greets legislation like this."
The Center for Arizona Policy, a conservative Christian group that helped write the legislation, had urged Brewer to sign it right up to the last minute.
Read Brewer's veto letter here
View at Google Docs | Download File