(VIDEO: AZPM)
After a day in and out of meetings with supporters and opponents of the Religious Freedom Restoration Act, Gov. Jan Brewer announced Wednesday she had vetoed the bill.
During her press conference, she said she understood supporters but that, ultimately, SB 1062 did not address a "specific concern related to religious liberty in Arizona," and the bill had "potential to create more problems than it purport to solve."
When SB 1062 passed the state Senate last week, opponents were in an uproar, arguing the bill would allow business owners, pastors and others refuse service to gay, lesbian and transgender people, among other groups, using religious beliefs as justification. Controversy and indignation surrounded Arizona as people waited for Gov. Jan Brewer's decision to sign or veto the bill.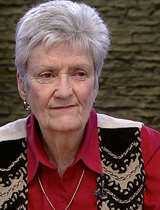 Carolyn Cox, chairman of the Pima County Republican Party. (PHOTO: AZPM Staff)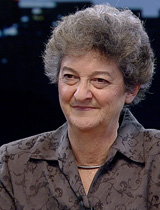 Paula Aboud, 2014. (PHOTO: AZPM Staff)
During a panel in Friday's broadcast of Arizona Week, a Republican supporter of the bill was firm in defending it, saying it was simply a reinforcement of religious freedom in the state, while a Democratic opponent continued to say it would open the doors to discrimination and was a step back for equality.
"When you really understand what the bill says, it shouldn't be a problem," said Carolyn Cox, chairman of the Pima County Republican Party. "There is already a law, called Religious Freedom Restoration Act...what is happening right now with SB 1062 is trying to make some minor changes to the state law having to do with religious freedom."
Cox explained Congress voted on such act back in 1997, and former President Bill Clinton signed it into law. However, the federal law did not apply to states, and in 1999, Arizona was among states that passed their own version.
She argued the bill would have helped against discrimination because it made it more strenuous for someone to prove their religious freedoms had been violated. The media has given the bill a bad reputation, she added.
"To say that it is helping the (LGBT) community when it is devastating to Arizona's community shows the complete out of touchness of the Republican party of what they have done...what they have done to their reputation and what they have done to the reputation of Arizona," said Paula Aboud of the Pima County Democratic Party and former Arizona legislator.
She applauded state Republican Sens. Steve Pierce, Bob Worsley and Adam Riggs, who, on Monday, said they retracted their vote for SB 1062 and urged Brewer to veto it. But Cox attributed this to the media's "distortion of what the bill actually does," which is "scaring people away."
"But this bill doesn't do any of the things (the media implies)...as far as driving out the gay community or anything like that," she argued. "It makes it easier for them to be able to...sue a business they feel has denied them service. If I were a business owner, the last thing a business wants to do is to deny service to any client."
Aboud said supporters of the bill should not blame the media for the negative light.
"Take the blame for what you have done and we ask you to stand with us against this piece of legislation," she said.