(VIDEO: AZPM)
The founding director of the Center for the Study of Race and Democracy at Arizona State University wrote an opinion piece for CNN.com about what the vetoed Religious Freedom Restoration Act has done for the reputation of Arizona, and looked back at when the state was actually at the forefront of equal rights at a time when the civil rights movement barely started gaining momentum.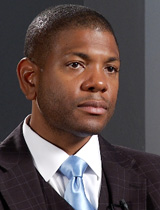 Matthew Whitaker, founding director of the Center for the Study of Race and Democracy at Arizona State University. (PHOTO: AZPM Staff)
"My profession probably wouldn't have happened without the civil rights movement here...without those interesting precedents that were set (in Arizona...in Phoenix) ahead of the national curve," said Matthew Whitaker, who is also a foundation history professor at ASU, during Friday's broadcast of Arizona Week. "At the same time, I exist in a state where you see legislation passed that in many people's eyes are despicable to equality."
In the 1950s, Whitaker explained, Arizona desegregated its schools prior to the Brown v. Board of Education decision in 1953. In fact, the U.S. Supreme Court used Arizona as a precedent to their 1954 ruling of the case.
These dramatic moves for equality occurred with the African American community being merely 5 percent of the state's population, Whitaker pointed out.
"We were also ahead of the game in terms of desegregating our places of public accommodation," he added. "We passed a bill here in Arizona before the National Civil Rights Act of 1964...the mood here was far more interracial than in the South."
SB 1062 emerged the same year the Civil Rights Act turned 50, which is "painfully ironic," according to Whitaker.
He found it disturbing to remember a portion of such act, which talks about access to public places regardless of a person's skin color, and compared it to the bill, which opponents argue could have allowed business owners to refuse service to gay, lesbian and transgender people, among other groups, using the violation of their religious beliefs as the justification.
To allow such type of legislation get as far as it did is yet another "self-inflicted wound" to Arizona, he said.
"It is a slap in the face to have this type of legislation introduced this year...in the 50th anniversary of America taking a large step towards equality, equity and bringing all people under one tent," Whitaker said.
He accounted the emergence of SB 1062 and similar legislations, such as SB 1070, to many people's resistance to Arizona's significant changes in racial demographics. By the '80s, the Latino population had grown tremendously - now at about 30 percent - and, while the African American population remains at 5 percent, "we are louder and more engaged than our number would suggest," Whitaker said.
Whitaker argued seeing Arizona change so dramatically "scares a lot of people," and this fear motivates them to put up walls as "hopefully, one of the last gasps" in response to these changes.
"We've already had...wounds...so there is a lot of restoring behavior that needs to happen…a lot of people don't even know how we got here and the question is, 'why does Arizona keep with the self-inflicting wounds?' What is going on in the mentality of people who keep introducing this legislation," he said.
Arizona's reputation can still be fixed, but in order for that to happen there needs to be changes within the state's political culture, he argued.
"...it does help to have the business community speak against this bill...it also helps having many members of the faith community speak out against the bill, which brings the question, if you are introducing a bill that you claim protects religious freedoms, and the state religious community rejects the bill, what is the point? What is the purpose?" Whitaker said.