(VIDEO: AZPM)
An annual art festival has turned sidewalks into colorful canvases.
Chalk is a growing art form around the world, and the third Park Place Chalk Art Festival has helped introduce it locally.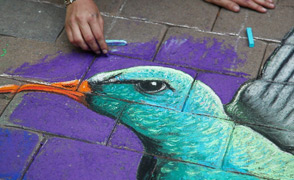 Wesley Fawcett Creigh said her piece was inspired by the spring in the Tucson desert. (PHOTO: Matt Ehrichs)
The festival took place a couple of weekends ago, but the pieces created will remain on the Park Place Mall sidewalks for a few more weeks.
Chalk Art accumulated 3,000 feet of art created by both experienced artists and even children.
Gina Ribaudo has been a professional mural artists for about 20 years. Before participating in the festival, Ribaudo had broken her ankle, which forced her to move from murals to working down below. As she recovered from her injury, she took on chalk art.
"Today, I'm doing a portrait of Frida Kahlo," Ribaudo said. "She had a very painful life, and even through her pain, she created beautiful pieces...so that is one of the reasons why I chose her, one of the reasons I love her."
As she's used to working on walls, being on the ground was a challenge, she said. Her favorite part was having people around, watching her as she created a colorful enlarged version of a portrait of Kahlo.
"It is a spectacular showing of local artists of Arizona, as as well as a business support for the arts," said Kate Marquez, the executive director of the Southern Arizona Arts and Cultural Alliance.
SAACA put the event together.
"The event was conceptualized as a creative way to...attend the mall but also have a spectacular experience outside of just shopping," Marquez said.
Wesley Fawcett Creigh is a painter whose usual work is driven by social and political commentary.
"I like to do these events to take a break from that and focus on making a beautiful image," she said.
Her favorite part was being able to have children around, and watching them get inspired by the artists at the event. Fawcett Craig said it reminded her of when she was a kid, and was touched by the creativity of those around her.