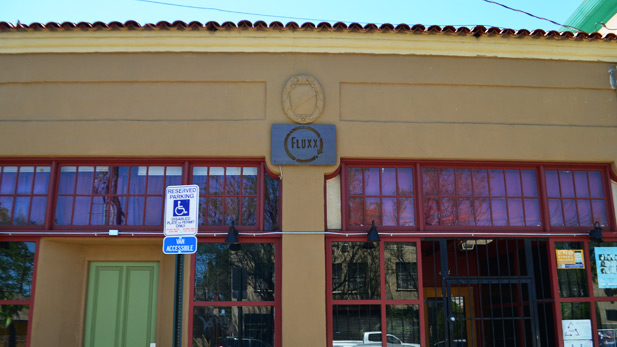 Fluxx Studio and Gallery is the sole LGBT community arts space in Tucson and the Southwest.

Maria Inés Taracena
The legal inability to serve beer and wine at events ignited a domino effect of economic losses for Tucson's - and the Southwest's - sole lesbian, gay, bisexual and transgender community arts space.
Last week, Fluxx Studio and Gallery announced its "imminent closure," as bills piled up and the money evaporated, merely four years after its doors opened.
The studio was in constant talks to create more revenue. But about six months ago, the state liquor board said Fluxx could not serve beer and wine without a license, which quickly began to diminish its savings.
"For a while, we (had) events where we served beer and wine for suggested donations, 'donate a couple of bucks and here you go,'" said Dante Celeiro, executive director of Fluxx, 414 E. 9th St. "The liquor board paid a visit to us, they were very nice, we didn't get a ticket or anything, but essentially...we cannot have beer and wine, even if we are accepting donations, so those extra dollars that were coming through went away."
The beer and wine dollars disappeared, and so did many of the people who rented Fluxx for events because they could no longer serve the alcoholic beverages.
The evaporation of liquor proceeds, lack of rental fees and meager community donations, economically crushed Fluxx.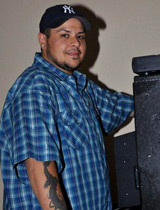 Dante Celeiro, executive director of Fluxx Studio and Gallery, said Tucson needs a safe space like Fluxx, where it doesn't matter how people identify. (PHOTO: Dante Celeiro's Facebook)
Celeiro said they will apply for a liquor license to get those funds flowing again, but filing an application costs money, as well as finalizing the process if the application gets the green light. "We are looking at a good almost $10,000...if that goes through," he explained.
It takes about 65 to 105 days to get a full approval, which is time they can't afford to wait, he said.
Fluxx also needs to remodel one of its bathrooms so that it's wheelchair accessible - another close to $10,000.
"Having a commercial building, if we are going to have a beer and wine license, you have to have a restroom that is wheelchair accessible," Celeiro explained.
After sitting down with Rachel Castillo, media director of Fluxx, the two calculated the studio needs about $53,000 to cover those expenses plus three months rent - which is between $4,000 to $5,000 per month - to stay afloat.
"But if we can get $50,000 to make this happen, then guess what? We are not going anywhere," Celeiro said.
However, they are prepared for the worst. And Celeiro has been emotionally struggling with the idea that after years of hard, volunteer work, Fluxx won't make it past June.
As a younger female self, questioning his gender identity, Celeiro didn't have a space like Fluxx where he could hang out with people having the same experience.
"I grew up in New York City, you would think that it is the melting pot, and everything you need is there for you, well it was not," he said. "I remember growing up, when I was as young as four, questioning, 'I am not in the right body.' This was back in the 70s, there was nobody to talk to about these things, nowhere to go to just be yourself. That has always stayed with me."
After moving to Tucson, he joined a gender-bending arts performance group, Boys R Us, and from there Fluxx was born.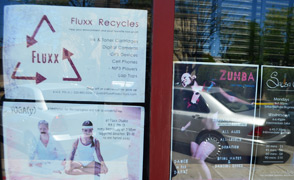 Fluxx is the venue for many local events, including Odyssey Storytelling.

Maria Inés Taracena
"I didn't find my voice until later on, I was a really shy kid, I was afraid, I had to move here, and then Boys R Us came into my life, and that is when everything changed," Celeiro said. "Boys R Us is the catalyst of why Fluxx even exists...there was a need for something like this."
If Fluxx disappears, there will be a huge void in downtown Tucson, he said.
"Looking at the big picture, this kind of space is needed, not only here in Tucson but in other communities, there needs to be a safe place where it doesn't matter how you identify," Celeiro said. "Be able to be yourself, whether a performance artist, or a painter or a photographer, if you want an open mic, or you want to dance...I have people from around the country (asking) 'how do I open up a Fluxx?'"
As downtown revitalization continues, local entities must be supported, he argued.
Although he likes everything that's happening in the area, Celeiro said the community shouldn't abandon local spaces, stores and other businesses. Otherwise, Tucson will cease to be Tucson.
"You need to support your local nonprofits, especially the arts," he said. "Without the arts, you don't have a thriving city. It is the bloodline of the community."
Their events calendar won't change for the time being. At least until June, Fluxx will still host Odyssey Storytelling and other scheduled activities.
Fluxx is planning a few fundraisers.
The first will take place Wednesday, May 14 at Chuy's Mesquite Broiler, 7101 E. 22nd St., and is being hosted by Tucson Monsoon, a local, semi-professional women's tackle football team, which has collaborated with Fluxx in the past for team fundraisers.
"We are exhausting all of the options," Celeiro said. "My hope is that between fundraisers and donations, something will happen. I have a lot of emotions about this right now..."