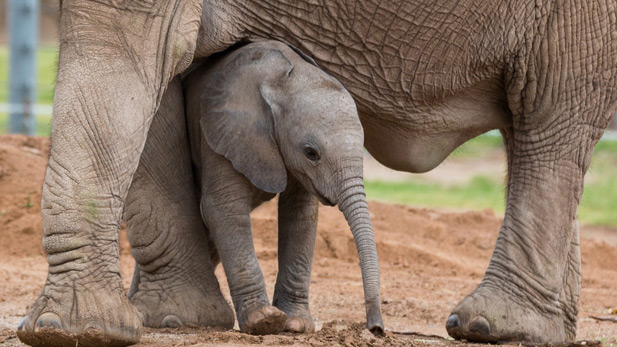 Nandi uses her mom for a little shade at the Reid Park Zoo.

Reid Park Zoo
Listen:
Tucson residents and animal enthusiasts will help name the baby girl elephant who became part of the local herd about a month ago.
An online poll of two name choices, starting Thursday, will determine the baby's permanent name.
Tucson's baby elephant has explored her world with her mom close by as the rest of the world watched on videos and saw her in photos. She will make her public debut soon, and zoo officials want her to have a name at about the same time.
"I think they're getting tired of calling her 'the baby' or 'the calf.' She'll be a month old this weekend so we're kind of anxious to get her name," said Vivian Van Peenan, the zoo's education curator.
Zookeepers selected two names, derived from the Siswati language of Swaziland. That is where all three adult elephants at Tucson's zoo lived before they were rescued, Van Peenan said.
Zookeepers selected the names because they are different enough from the rest of the herd's names, and each choice fits this baby elephant.
The first option is Imvula, or Immy for short. It means rain.
"They chose that in honor of her birth during the Tucson Monsoon season," Van Peenan said. "Part of our challenge of getting her out on exhibit for the public to see is all of this crazy rain we've been having in Tucson."
The other possibility is Nandi. This name is an option because the female calf has two brothers, and Van Peenan says it describes her personality.
"Nandi is a common Siswati girl's name, and in the Zulu language it means sweet or fun," Van Peenan said.
That fits the elephant's personality so far, and the common girl's name is a nod to the elephant's gender because she has two older brothers.
In name origin, the baby will match her parents, two brothers, and unrelated adult female elephant at the zoo.
"The rest of the animals in the herd all have names with origin or meaning in the Siswati language, or somehow tied to Swaziland," she said.
Online voting begins today. The winning name in the poll will be revealed next Thursday, Sept. 25.
The baby elephant will make her public debut once the elephant exhibit is a little less muddy, and therefore, more safe for baby feet, Van Peenan said.