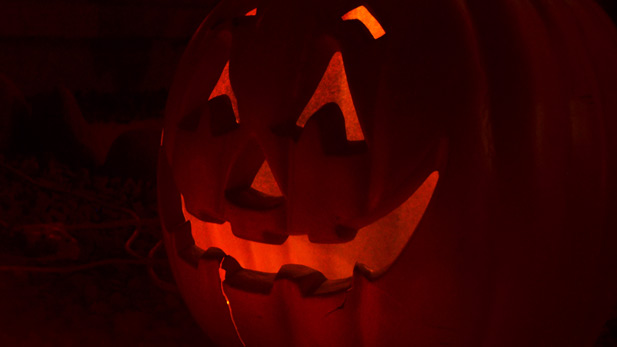 Maria Inés Taracena, AZPM
This is the 7th Annual Haunted Halloween Arizona Spotlight, produced by Mark McLemore & Jim Blackwood.
It's time to light the Jack-o-lantern and turn up your speakers, because we've got a collection of seasonal stories that will thrill and chill!
Are piggies getting into your pumpkins? Find out how Halloween's exotic flavors can hold appeal to the non-human residents of the desert...

Does The Old Pueblo have a dark side? Amanda LeClaire talks with essayist, novelist and poet Luís Alberto Urrea about his experience with the ghosts of the Tucson barrio...

"It's alive!!" Visit Dr. Frankenstein and his most famous creation backstage, as Mark McLemore meets the stars of the Arizona Repertory Theater production of Mary Shelley's classic story...

Tony Paniagua explores the border between this world and the next with author and spirit medium James Van Praagh...

Film writer Chris Dashiell shares his appreciation for the classic science fiction film Invasion of the Body Snatchers...

Folklorist Jane Eppinga shares the true story behind "The Thing" of Arizona highway infamy...
TO HEAR THESE INDIVIDUAL STORIES, VISIT ARIZONA SPOTLIGHT'S HALLOWEEN PAGE HERE.