From Arizona Public Media, this is the annual Haunted Halloween Edition of Arizona Spotlight.
Light a candle in the Jack-O-Lantern - and turn up the sound - because this year's show offers a collection of frightening tales about Arizona's most haunted and foreboding places.
Arizona historian Jane Eppinga shares the spine-tingling stories behind some local ghosts, as well as Hank, the Winslow troll. Speculative fiction writer Weston Ochse offers some advice on avoiding zombie attacks, and he recalls what happened to him one fateful Halloween night in 1970, at a time and place not too distant from Grover's Mill, New Jersey.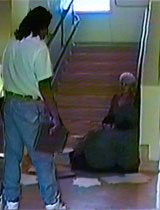 ASDB Maintenance Technician Ray Ramirez sees a ghost woman. (Video creation) (PHOTO: ASDB)
And, investigate the mystery of a possible haunting on a Tucson school campus, the mystery behind a bag of bones that were recently left behind in a local cemetery, and what some U of A students really think is scary.
Beware - this show is not for the faint of heart! Listen at your own risk!!
If you feel faint, just keep repeating : "It's only a radio show, it's only a radio show, it's only a radio show..."
Listen to the complete edition of the Haunted Halloween Arizona Spotlight:
WHAT'S SCARY? 2011
Most students on the campus of the University of Arizona aren't too far beyond their trick or treating years. Mark McLemore bravely walked among them to ask a simple question....what's really scary?
Listen:
WESTON OCHSE ON THE ZOMBIE MENACE
They say there are only two kinds of people in the world: those who have some sort of zombie response plan, and those who will be victims. Horror and dark fantasy author Weston Ochse is an expert on the undead menace, and he says that not enough Americans will be taking the appropriate precautions to protect themselves from the zombie threat this Halloween weekend. Be on the lookout for zombie drivers!
Listen:
CAMPFIRE TALES with JANE EPPINGA
It's time to toast some marshmallows around the campfire, so stick a few on the end of a wooden stake and start s'moring like your life depended on it. Just remember -- nothing scary ever happens around campfires. Arizona historian and author Jane Eppinga shares a few of the stories she's heard about the desert's elusive dark side...
Listen:
MYSTERY BONES
We all know that there are bones in the cemetery, but most of us assume that they are at least six feet under. Recently, some anomalous human remains were discovered inside the walls of a cemetery in Tucson. Their origin is still a mystery, so Fronteras reporter Michel Marizco decided to do some digging...
Listen:
THE LONESOME ODYSSEY OF HANK, THE WINSLOW TROLL
How did he get here? Why does he live under the waters of Clear Creek in Winslow, Arizona? Some locals think ol' Hank is just misunderstood, but as the only troll in the Southwest he sure has a lot of tolls to collect. Jane Eppinga returns to share with us the story of one of Arizona's most unusual residents, featuring music provided by Calexico...
Listen:
THE GHOSTS OF THE ARIZONA STATE SCHOOLS FOR THE DEAF AND THE BLIND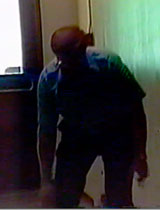 ASDB Security Les "Zach" Laszakovitz practices his caveman walk. (Video creation) (PHOTO: ASDB)
It has been over forty years since some skeletal remains were discovered on the grounds of the Arizona State Schools for the Deaf and The Blind in Tucson, but the legend lives on. Robert Rappaport visited the nearly 100 year-old campus to take a look back at some tall tales about the hauntings with the help of former ASDB student Gastón Mascareñas, who co-produced a documentary about the mystery...
Listen:
SPACE INVADERS HALLOWEEN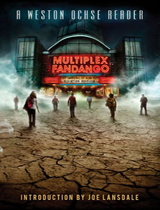 The first short story collection from Weston Ochse
Trick or treating is a rite of passage for many children, and while sometimes it's a chance for kids to be frightening instead of frightened, the line between the two can be thinner than a cobweb. Here's a very special childhood memory from horror author Weston Ochse...
Listen:
THE DAY THE DEVIL DANCED IN TUCSON
Before closing the coffin lid, make time to listen to one more seasonal tale, as told by Jane Eppinga, with some music provided by Calexico...
Listen:
Thank you for listening to the 2011 Haunted Halloween edition of Arizona Spotlight. On behalf of producers Mark Duggan, Jim Blackwood, and Mark McLemore, we wish everyone a very safe - and extremely SCARY - Halloween weekend!!