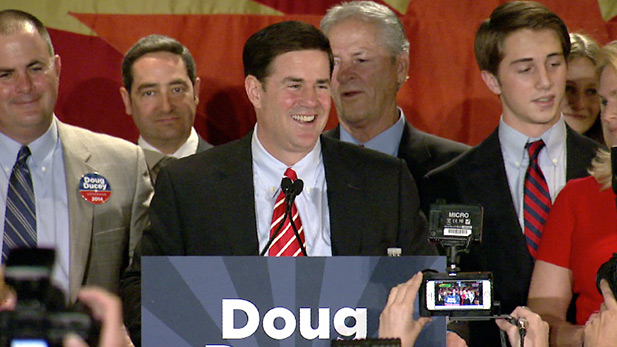 Republican Doug Ducey celebrating Arizona governor's race win at a gathering in Phoenix.

Eight World, Phoenix
Listen:
In recent days, Gov.-elect Doug Ducey has traveled to meetings with both the Republican and National Governors Associations, he has spoken with legislative leaders, both U.S. senators from Arizona, and the mayors of Phoenix and Tucson.
Tucson Mayor Jonathan Rothschild said a change in administration always brings concern. He said part of the conversation with Ducey was establishing a relationship.
"To have him hopefully understand that, although we are in different political parties, I am a person he can turn to," Rothschild said.
Rothschild also said the two spoke about Tucson's economic work with Mexico.
He said Ducey was interested in the foundation of already established relationships, "to get to know relations with some of the key players in Mexico City and Hermosillo and Nogales."
Rothschild said he is hoping the lines of communication between his office and the governor's office will be at least as open as they were with Gov. Jan Brewer.