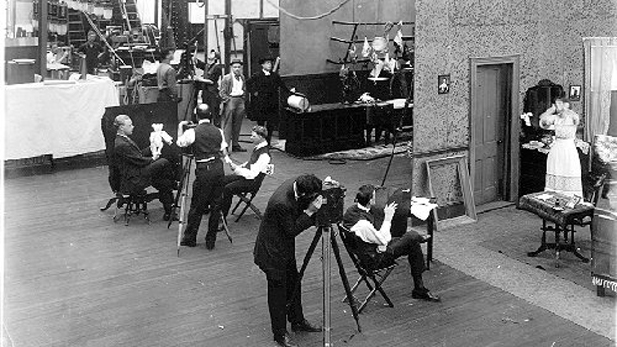 Thomas Edison's first movie studio
The Hollywood studios known as "the minors" didn't own theaters, so they had to rent venues that were either owned by or beholden to the majors. Their budgets and their profit margins were therefore much lower, yet they still managed to make some great movies...
Listen:
First among the Hollywood minors was Universal: its logo was a rotating world globe. In the early days there was a little airplane flying around it too. Universal was a very important studio in the silent era, but its founder and owner, Carl Laemmle, didn't invest in theaters, and that ended up shrinking its market share.
Today we remember Universal for its horror films, first with Lon Chaney in the '20s, and later the Frankenstein and Dracula films with Boris Karloff and Bela Lugosi. Directors James Whale, Tod Browning and Karl Freund brought a sense of style to the horror picture that other studios couldn't match.
When Laemmle's son Carl Laemmle Jr. took over as production chief, he tried to expand the studio's reach with prestige pictures like All Quiet on the Western Front and Show Boat. They won lots of prestige, but didn't make enough money, and the Laemmles got bought out. In the late 30s and through the 40s, Universal was carried by Deanna Durbin musicals, and Abbott & Costello comedies.
Columbia pictures began with a woman holding a torch aloft, similar to the Statue of Liberty. You can tell from the absence of lavish sets in these films that it was a minor outfit. Yet it's remarkable how many great films were made. Most of the credit for that goes to one man: director Frank Capra. He worked for a lot less than directors in other studios - but in exchange he got more autonomy.
It Happened One Night stunned the movie world by sweeping the Oscars in '34. Its stars, Clark Gable and Claudette Colbert, had considered working there a sort of punishment by their studios. Capra also helped create star vehicles for Paramount's Gary Cooper and (especially) Metro's Jimmy Stewart, who was slipping into supporting roles until Columbia rescued him.
Columbia also excelled in screwball comedies such as The Awful Truth and His Girl Friday. In the 40s, bombshell Rita Hayworth virtually carried the studio. They didn't come much cheaper than Columbia, but some good luck and creative people make it seem almost like a major in retrospect.
United Artists was a different sort of animal. Not a studio, really - although it had tiny production facilities - but more a distribution company for the minors. It was founded by four Hollywood titans: Charles Chaplin, Mary Pickford, Douglas Fairbanks, and D.W. Griffith.
The idea was to provide a way for independent producers to get their product onto screens. Goldwyn, Selznick, Disney, Alexander Korda from England, they all used United Artists at one time or another. The lack of overhead gave UA a certain freedom in its choices.
Samuel L. Goldwyn was an old-fashioned mogul with a talent for torturing the English language and a touching desire to make films out of literary classics. He'd already been bought out of his old studio that merged into MGM, but in the 1930s his new Goldwyn Company produced some wonderful films, especially those directed by William Wyler. Dodsworth, Dead End, Wuthering Heights, The Little Foxes, The Best Years of Our Lives, these are now all considered classic films.

David O. Selznick's studio, Selznick International, had a strategy of making very few films, but films that were so big and of such good quality that they would reap huge profits. A Star is Born and Nothing Sacred both hit the jackpot, but of course the most famous example was Gone With the Wind in 1939.
Helped by a masterful publicity campaign, that picture was such a hit that it held the box office record for forty years. Selznick was also responsible for bringing Alfred Hitchcock from England to America, a highly successful partnership that turned Hitchcock into a household name.
Then there was Walt Disney. Disney didn't invent film animation, but he brought it to a level that no one else dreamed possible. His studio was the first to make a full-length animated feature: Snow White and the Seven Dwarfs, which began a series of successes that hasn't stopped yet.
Now, in addition to the minors there were the cheapest of the cheap, a group of tiny companies nicknamed "Poverty Row". We tend to think of old Hollywood in terms of its classic films, but it survived on a steady output of lesser vehicles, the B-pictures and programmers, the eighty percent or so which are now largely forgotten.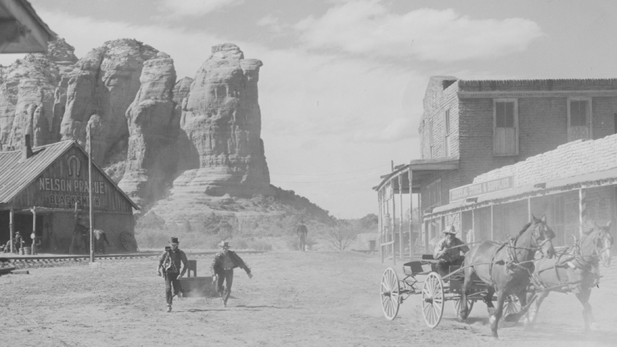 The "Poverty Row" studios specialized in only these kinds of movies - cheap westerns, cheap crime films, low-cost entertainment of all sorts. At the top of this little heap was Republic, home to Roy Rogers and Gene Autry and, for quite a while before his stardom, to John Wayne. Even lower on the scale were such entities as Monogram, Majestic and Tiffany. Often these were places where a fading star's career would go to die. The films are mostly awful and unwatchable today (although Rogers and Autry had charm and good singing voices), but they filled a need at the time, when there was no TV and everyone went to the movies on a regular basis.
It's worth noting that Universal and Columbia, when television came along, were smart enough to jump into that business, instead of trying to fight it, so ironically these two minor studios turned into powerhouses later on. But in truth, the surviving studios all lost their personalities after being bought up by corporations like Sony, Viacom, and NewsCorp.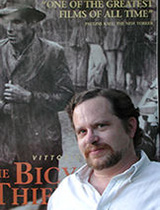 Film reviewer Chris Dashiell
It is common to mourn the loss of the studio system. To be sure, there was a level of creativity, a sense of craftsmanship and style, which went along with it, and that we are sorely in need of today. On the other hand, the system tended to flatten everything out to a common denominator - the need to churn out product that was acceptable to the mass audience made interesting experiments such as Citizen Kane rare events indeed. And in that sense, the more things changed, the more they stayed the same.
Who is Chris Dashiell?
Chris Dashiell has been writing about movies for seventeen years, serving as the editor of the online film lovers' guide Cinescene for ten of them. He currently reviews films for Flicks, a weekly program on Tucson's community radio station KXCI, and he confesses to shamelessly idolizing Carl Dreyer, Jean Renoir, and Luchino Visconti.