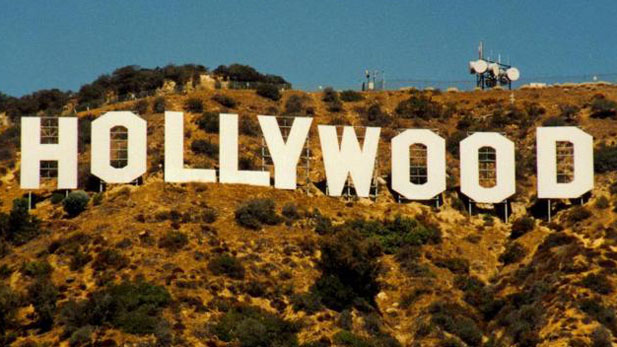 In the 1930s and '40s, Hollywood movie studios had a three-tier system - the majors, the minors, and poverty row. The majors reached that status because they also owned movie theaters, giving those studios complete control of the production, distribution, and exhibition of their films. Next, film writer Chris Dashiell gives his take on each major studio's strengths and weaknesses during Hollywood's golden age...
A CRASH COURSE IN STUDIOS
The five major studios during Hollywood's golden age were Paramount, MGM, Warner Brothers, Fox, and RKO.
Paramount
Cecil B. DeMille was one of the co-founders of Paramount. His lurid social dramas, and later his epics, were hugely popular. They depicted sexuality in a sensational way while branding it with moral disapproval. Later Paramount films dropped the pretense: Ernst Lubtisch's comedies of seduction (he was actually production chief for a brief time in the 30s), and Josef von Sternberg's deliciously wicked series of Marlene Dietrich movies—these had a frank, adult quality rare for Hollywood.
Paramount's philosophy seemed to be that a star wasn't enough to make a picture: you needed good writing and direction. So writers and directors had more freedom there than at any other studio. You can see this especially in their wonderful comedies: W.C. Fields, Mae West and the Marx Brothers made movies there that are still startlingly funny today. Paramount's excellence in romantic comedy persisted into the 1940s as well. There is an intelligence and wit in the films of Mitchell Leisen, Preston Sturges and Billy Wilder that hasn't lost its freshness. And Paramount films had a luscious visual look, the very cinematography, with its slightly hazy quality, lending them an air of sophistication.
Their stars included Claudette Colbert, Gary Cooper, Fredric March, Cary Grant, Carole Lombard, Bing Crosby and Bob Hope.
MGM
The initials stood for Metro-Goldwyn-Mayer, three studios that combined into one during the 20s. Its logo: the roaring lion.

MGM surged past Paramount to become the most successful studio in the sound era, and success bred success. They had the biggest stars and the highest budgets—so their pictures seemed more glamorous and more professional than any others. An MGM film had high-key lighting and lavish production design. They did period pieces and literary adaptations (Marie Antoinette, David Copperfield), star ensembles (Grand Hotel, Dinner at Eight) and adventures like San Francisco or Captains Courageous.
MGM's Greta Garbo romances are sublime, but their bread and butter came from the Clark Gable-Joan Crawford pairings, the Andy Hardy series starring Mickey Rooney, The Thin Man mysteries with William Powell and Myrna Loy, and (somewhat out of character) the Tarzan series. In the 40s and 50s they became the great studio for musicals, starring Gene Kelly, Judy Garland and Fred Astaire (who had moved over from RKO).
If you ask anyone to pick their favorite classic Hollywood films, you're bound to get a bunch from MGM - The Philadelphia Story, The Wizard of Oz, Singin' in the Rain, you name it. If the studio had a weakness, it was the desire to play it safe and please everybody—rarely did their pictures take chances.
Their stars were like a who's who of classic film: Spencer Tracy, Norma Shearer, James Stewart, Jean Harlow, Lana Turner, Ava Gardner, the list goes on and on.
Warner Brothers
Warners was only a minor studio in the silent era - but they took a chance by introducing sound technology (The Jazz Singer was a Warners film) and it made their fortune. They were penny-pinchers, though, and Warners' fast style is partly due to the need to cut corners.
The studio is justly famous for its gangster films featuring James Cagney, Edward G. Robinson, and Humphrey Bogart. They were also a leader in musicals during the Depression, such as 42nd Street (thanks to genius choreographer Busby Berkeley).
Warners films had more of a social conscience: while other studios were offering glamour and escapism they gave us I Am a Fugitive From a Chain Gang and other works of amazing toughness and realism. Dialogue was fast, action furious - they pioneered the newspaper picture and their outlook was decidedly working class. Even their top female star—the unbeautiful Bette Davis—appealed directly to the working woman.
When Warners spent money it tended to be on their swashbucklers starring Errol Flynn. Bogart came into his own as a star in the 40s, and such classics as The Maltese Falcon and Casablanca elevated Warners style in a big way. Their movies were generally darker than the other studios, and therefore many have aged more gracefully. Even their cartoons, featuring the immortal Bugs Bunny, have a tougher quality of humor than their counterparts at Disney. Their weakness is that the writing could often be corny and formulaic.
Fox
Fox appealed to the small town audience. It had some theaters in big cities, but it had far more in smaller cities and rural areas. When the original owner William Fox went broke, a minor outfit called 20th Century bought the studio and it became 20th Century Fox. The style remained the same: conservative, a follower rather than a creator of trends.
Their biggest star was Shirley Temple—she carried them in the mid-30s. Fox also had one supremely great director: John Ford. Films like The Grapes of Wrath and How Green Was My Valley gave Fox lots of prestige, and the westerns were consistent moneymakers.
Their stars included Henry Fonda, Tyrone Power, Betty Grable, and John Wayne. A successful studio, but in artistic terms, a notch below the others in quality.
RKO
Radio-Keith-Orpheum, or RKO is the hardest studio to define because it never quite found a consistent style. Ownership changed hands a lot. The instability may have contributed to some risk taking—the outlandish King Kong was an RKO film.
In the 30s they seemed to aim mostly at a sophisticated East Coast crowd. Their Fred Astaire-Ginger Rogers musicals are the most stylish in film history. They tried literary adaptations such as Little Women, theater stories like Stage Door, adventures like Gunga Din, always with a great deal of panache, and intermittent box office success.
When an RKO film worked, it was often bolder and more experimental than anything else around - they didn't just do any screwball comedy, they did Bringing Up Baby, not just any newspaper picture, but Citizen Kane, which they had enough guts to stick with despite great pressure.
But in general their fortunes were so up-and-down that the company was never sure of surviving year to year. Katharine Hepburn started there, but they had too few stars under contract, and often had to buy them from other studios. RKO was eventually bought, unfortunately, by Howard Hughes, who ran it into the ground.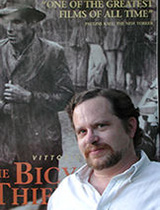 Film reviewer Chris Dashiell
Who is Chris Dashiell?
Chris Dashiell has been writing about movies for seventeen years, serving as the editor of the online film lovers' guide Cinescene for ten of them. He currently reviews films for Flicks, a weekly program on Tucson's community radio station KXCI, and he confesses to shamelessly idolizing Carl Dreyer, Jean Renoir, and Luchino Visconti.