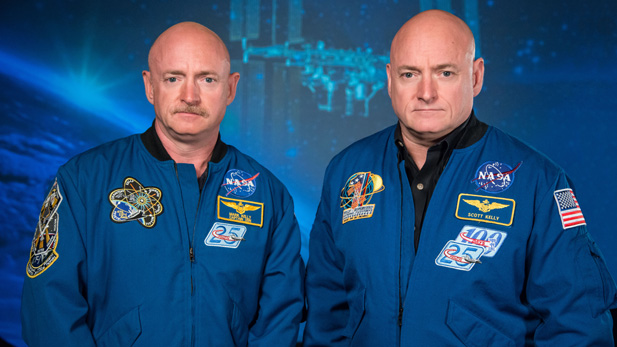 Mark and Scott Kelly before Scott's 1-year mission on the International Space Station - January 2015

NASA
Listen:
Astronauts Scott Kelly has some unique accomplishments in his space career. He flew on the shuttle twice, commanded the International Space Station and spent two Christmases in space.
He also is in U.S. space history books with his identical twin brother Mark as the only siblings in NASA history to both be astronauts and shuttle commanders. Now NASA is putting their identical DNA to work for science.
While Scott is on the space station for a year, he will take part in tests to watch for changes in his physiology. Mark, now retired from the Navy and the astronaut corps, will take part in the same experiments while earthbound.
The Kelly brothers' identical DNA provides researchers with a unique opportunity to learn about the effects of long-term space travel on the human body.
"So we don't have that experience, and who knows maybe there is some kind of bend in the curve or cliff data wise that you fall off of," Mark said.
Norm Thagard was the first American to live on the Russian space station Mir. In 1995, he spent four months on the station and, as a medical doctor, said there are plenty of changes already known about on shorter flights.
Bone loss is a problem, which is why astronauts exercise in space, Thagard said. He said he also lost cardiologic ability when serving on Mir. Thagard said before his trip to Mir he walked up the eight or so flights of stairs to the astronaut office. He could not do so when he returned from four months in orbit.
"The day I got back, I noticed I could tell the effort when I would just go up one flight of stairs," he said.
Mark Kelly said during his four shuttle flights he also noticed cognitive changes.
"On the space shuttle, you notice even after three or four days you just feel like, you feel dumber," Mark Kelly said. "And you just have to go back and check things more than once."
Mark said part of the testing he and Scott will take part in includes cognition tests.
Although most of the focus of the year-long mission has been on the medical testing of the Kelly brothers, Scott said the crew has more than 400 other experiments to take care of along with some construction projects.
"We're moving one of the larger modules and a couple of smaller ones to prepare for commercial crew vehicles being built by U.S. companies to bring American and other international astronauts to the space station," Scott Kelly said.
When Scott returns from space the testing of the brothers will continue for up to a year.