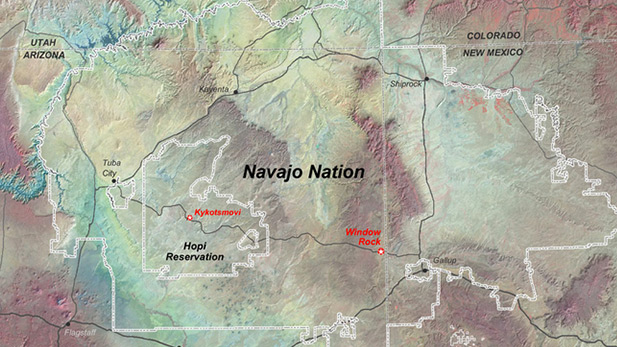 Public domain
Listen:
By Laurel Morales, Fronteras Desk
If all goes as planned, Navajo voters will finally get a chance to cast their ballot for the tribe's president Tuesday.
The election was postponed five months ago over a language issue. Former candidate Chris Deschene was disqualified for admitting he did not speak the Navajo language fluently.
Russell Begaye came in third in the presidential primary and will now face off against Joe Shirley Jr. Both candidates are fluent in Navajo and campaigned almost exclusively in the language.
Manley Begay, no relation, is an indigenous studies professor at Northern Arizona University. The "election crisis," as he calls it, has become much more than a language issue. It's exposed a bigger problem about the tribal government.
"Laws and rules must not change at whim to accommodate personal political agendas," Begay said.
Begay says the Navajo Nation is at a crossroads and the tribe needs to make changes, so the Navajo people can count on a stable government.
"We must have a politically independent judiciary," Begay said. "We must have a separation of powers and we must have checks and balances."
Navajo voters will tackle the language issue separately in June, when they vote to change or keep the requirement that their president be fluent in Navajo.