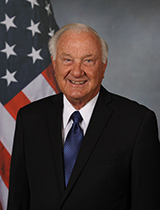 Pima County Sheriff Clarence Dupnik
The Pima County Board of Supervisors Tuesday appointed Sheriff Clarence Dupnik's chief deputy to complete his term.
Dupnik, 79, will leave office July 31, and his resignation was accepted by the Board of Supervisors.
The board then named Chief Deputy Chris Nanos to succeed Dupnik, effective Aug. 1. Nanos will completeDupnik's current term, which expires at the end of 2016.
Nanos has been in law enforcement for more than 40 years and joined the Sheriff's Department as a corrections officer in 1984. He has worked in numerous units within the department and was promoted to chief deputy 18 months ago.
Dupnik was appointed sheriff in February 1980 and was elected to nine successive four-year terms.
Before that, he was a Tucson police officer and left the department with the rank of captain.