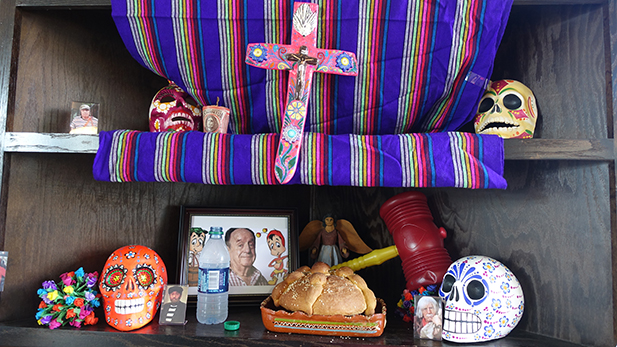 Vanessa Barchfield, AZPM
Listen:
As the little witches and goblins of halloween fall into their candy-induced slumbers, preparations will already be underway for the next on autumn's long list of holidays: day of the dead, día de los muertos.
Across Mexico, Central America - and the U.S. - families will set up altars for their deceased loved ones.
At the center of many of these makeshift shrines, they'll place a special food: pan de muerto. Here in Tucson, there's a good chance their pan de muerto comes from the ovens at La Estrella Bakery.
"La Estrella, we opened 30 years ago," said Erica Franco, whose parents own and operate the bakery that on its first day of business brought in $37 dollars in sales and today employs more than 50 people. "Our anniversary is October 31."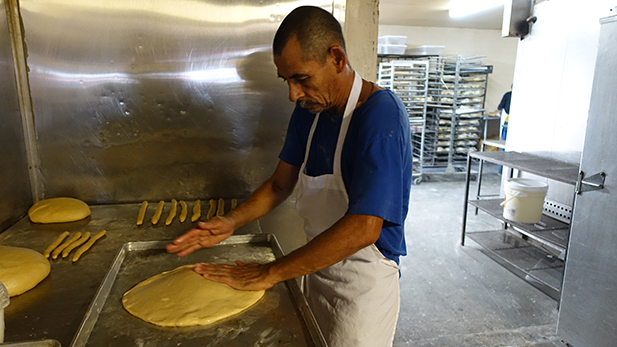 Vanessa Barchfield, AZPM
Erica and her uncle Jose Guadalupe spent a recent sunny Wednesday preparing pan de muerto at the bakery on Tucson's south side.
Jose Guadalupe, Erica said, is a maestro.
"A maestro is the one with the most experience, with the secret ingredients...and since this is a family-run business, my brother, my uncle and my father are the only three maestros," she explained.
Erica and Jose Guadalupe vigorously kneaded the tough dough, pounding it into form.
"The dough actually has cinnamon, sugar, vegetable shortening," she said "There could be an orange flavor, a lemon flavor and anise."
And then of course, there's that special secret ingredient that makes La Estrella's pan de muerto, La Estrella's pan de muerto.
Only the three maestros know what it is...but more on that later.
Erica and Jose formed the dough into round loaves and made a few in the shape of skulls.
"A lot of people relate the skull to Halloween," Erica said. "But it's a totally different culture. It represents giving life to the deceased. It's not a day to be sad or for tears. It's a day of laughter and to be happy."
They adorned the skulls with eyes and mouths and mustaches, all made of dough. The traditional round pan de muerto loaves were topped with dough rolled in the shape of bones, which, Erica said, represent the hands of the deceased.

Family business, past and present
Erica and her three siblings grew up with this annual tradition of baking pan de muerto; they were raised in their parents' business.
"My parents are very old fashioned. They never believed in babysitting. So we had to come from school and do our homework here at the bakery. So we grew up turning in homework with a little bit of flour or a little bit of shortening stains."
The shortening didn't just stain their math assignments, it left its mark on them as well.
All four siblings, now adults, are still involved in the business. Her brother, a baker, her older sister does the accounting, the youngest teaches elementary school and helps out at La Estrella on weekends. Erica does a little bit of everything.

A few days after baking the pan de muerto, she set up the family's alter at La Estrella's second location in the Mercado San Augustin.
"I'm very excited because this is in honor of Roberto Gómez Bolaños," she said.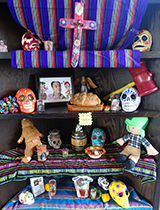 (PHOTO: Vanessa Barchfield, AZPM)
Bolaños wasn't related to the Franco's – he was one of Mexico's most famous comedians.
"For me he is a superhero," said Erica. "Because no matter how you feel, what you're going through, if you're having a really bad day, you turn on the tv and watch one of these reruns and he saves your life for that second."
His altar, filled with pictures of the actor, papier-mâché skulls, his favorite foods and two bottles of tequila - "Roberto enjoyed tequila" - enveloped an entire corner of the shop.
Erica added fake marigolds around the shrine.
"The marigolds will guide the spirit to its altar," she said.
And once there, Bolaños's spirit will find, at the center, a round loaf of pan de muerto, baked in his honor.
A lesson in living
Back at the other La Estrella location, that mouthwatering aroma of freshly baked bread wafted into the air. The loaves that Erica and Jose Guadalupe prepared were out of the oven and ready for the finishing touches.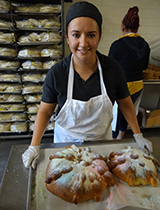 "It represents life and celebrating and music. Everyone enjoying each other's company," said Erica Franco, whose parents own and operate La Estrella. (PHOTO: Vanessa Barchfield, AZPM)
Erica sprinkled blue and pink and orange sugar all over the loaf. "There's a lot of sugar," she said. "But with the bread, it's just perfect."
For Erica,pan de muerto is physical manifestation of dia de los muertos itself.
"It represents life and celebrating and music. Everyone enjoying each other's company."
So it turns out that pan de muerto - bread of the dead - is actually all about the living.
Now…what about that secret ingredient?
"Love! That's the most important ingredient. Doing something you really love," said Erica.
It's obvious the Franco family puts a lot of love into their bakery. But it's also clear that the real secret ingredient in their pan de muerto will be going to the grave.