Trying to describe the independent films of Richard "R.G." Miller doesn't do them justice -- they need to be seen to be believed.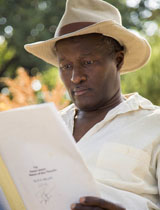 R.G. Miller: director, producer, writer, cinematographer, special effects designer & actor (among other things)
From action to westerns to science fiction, he has been single-handedly writing, producing, directing and acting in his backyard epics from his home in Wichita, Kansas for more than three decades.
Although each project can take months to complete, Miller modestly admits that if a film gets more than ten online views, he considers it a success.
That statement provided the title for the just-released documentary Double Digits: the Story of a Neighborhood Movie Star. Mark McLemore talked with the maker of that film, Justin Johnson, about the cinematic magic that R.G. Miller creates.
"This story is incredibly inspirational to filmmakers - or artists from any background. He's been doing what he wants to do for about thirty-five years now, and I don't think he'd change the way he makes movies much even if he had more in the way of resources. He really, really values the control he has over his films, like any good director, and I learned a lot about being satisfied with my own work by watching R.G. in action", Johnson said.
Listen:
Justin Johnson's documentary Double Digits: The Story of a Neighborhood Move Star was made available through video-on-demand in early December, 2015.