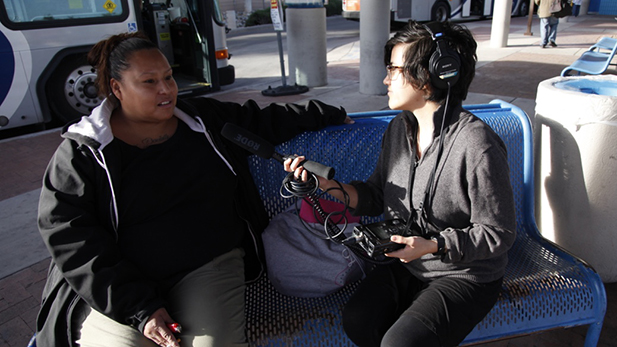 Christina Hamaley talks about her life in Tucson while waiting for a bus at Roy Laos Transit Center. Pictured with producer Sophia Paliza-Carre.

Mariana Dale, AZPM
Arizona Public Media is working on a new project to tell individual stories from this cross-cultural community.
The project is called Dímelo (Tell me): Stories of the Southwest , and brought to AZPM by lead producer Sophia Paliza-Carre. She brings us stories and voices from around town in a series of audio postcards.
This first one is from the Laos Bus Center. Reporting assistance from Mariana Dale.
The Roy Laos Transit Center is a bustling place in the middle of the weekday. This southside transportation hub helps move about 20 million people annually around Tucson, as evidenced by the buses that are constantly in motion. It's certainly a place of transition.
A few commuters tell us where they are coming from and where they are going, both on this sunny afternoon and in their lives.
Listen to their stories:
This project brought to you by KUAZ and Finding America, a national initiative produced by AIR, the Association of Independents in Radio, Incorporated. The project is done with financial support from the Corporation for Public Broadcasting, the Wyncote Foundation, the John D and Catherine T MacArthur Foundation, and the National Endowment for the Arts.
Learn More! Dímelo: Stories of the Southwest, a community storytelling project, wants to hear from you!