Sophia Paliza-Carre, AZPM
Lupita Chavez, 49, is a Library Technical Assistant Supervisor for the Pima County Public Library, an emcee for Tap & Bottle's Spelling Bee, and a grandmother.
She never thought she'd also be a model.
A round, exuberant woman - Lupita is quick to laugh and seek adventure. In her early 20s, she even signed up to be a truck driver for the U.S. Army in Germany, driving 18-wheelers loaded with patriot missile parts. In basic training, she says she would immediately start doing pushups anytime a drill sergeant came by. "And they'd be like, 'what are you doing?' And I'd be like 'you were going to make me do it anyway.' They would start laughing and I'd do my pushups and get up and walk away."
But in the past, her confidence didn't come from what she saw in the mirror. Growing up in Silverbell in a light-skinned Mexican family, she felt like she didn't fit in. "I was short and squat and round and dark. And they weren't."
At times, it felt like her parents felt that way too. In the summer, when her skin darkened, her mother had her rub lemon juice into her knees and elbows to try to lighten them.
"When that didn't work, literally we would use scouring powder like Clorox. There I was scouring my knees with lemon juice and scouring powder to see if we could make them lighter because my mom was like 'those are ugly.'"
Though the practice may sound cruel, Lupita felt her mother's intentions were to help her get ahead in life and were based on her own past experiences.
"When you grow up poor in Mexico. What you look like as a woman makes a big difference if you get stuck in your situation, or get out."
In 2013, Lupita's friend called her with an unusual offer. Photographer and recent mother Jade Beall, was shooting untouched, unedited portraits and putting them together in a book celebrating the bodies of mothers. It was called The Bodies of Mothers: A Beautiful Body Project. She wondered, would Lupita consider posing for the book? Would she consider posing partially or completely nude?
Lupita immediately called the person she trusts the most, her daughter Cheyenne, 21 years-old at the time.
"Her immediate response was, 'I think you should do it.' She said 'do it, you're not a size two, you're not light-skinned, you're not perfect, but you're beautiful. It depends on whether you're comfortable with it, but … I think you totally need to do this.' "
Lupita had a few hesitations. She worked at the library and she didn't necessarily want her patrons to recognize her. However, Cheyenne coaxed her into it. On July 9th, 2013 - and her daughter Cheyenne's first birthday away from home - she went to Beall's studio to be photographed.
The process of being in the studio, she says, relaxed her completely. Beall helped her forget about the elements of her body she normally hides, even the psoriasis on her legs.
"She was like it's beautiful, it's like a painting on your body."
Her photos appear on a two-page spread in The Bodies of Mothers. In one, she's lying peacefully on her back. In the other, she is showing off her legs.
"I thought I had to cover. I thought I had to hide the things that others found unpleasant. Then, I thought, man, I'm in this book and I'm in these pictures that have been all over the world and there's a lot that's not covered. I don't care because I went out there, I did it, I lived through it, and I loved it. It's the most freeing experience I've ever been a part of."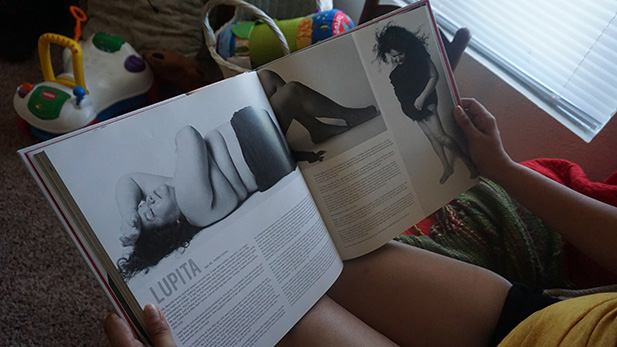 Sophia Paliza-Carre, AZPM
Now, Lupita turns the camera on herself often, and she recommends that all women do the same.
"I take my own picture. I'll selfie the hell out of myself. You have to have these pictures of yourself. I think women that take a ton of selfies of themselves, I think that's genius."
This story comes from a postcard we received at Tucson Analog Hour, every 3rd Sunday at Tap & Bottle and Exo Roast. Submit your story below, in our e-postcard.
Dímelo is brought to you by KUAZ and Finding America, a national initiative produced by AIR, the Association of Independents in Radio, Incorporated. The project is done with financial support from the Corporation for Public Broadcasting, the Wyncote Foundation, the John D and Catherine T MacArthur Foundation, and the National Endowment for the Arts.