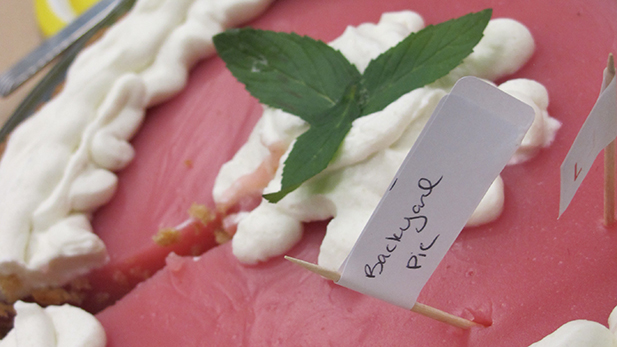 Listen:
What happens when you put 150 freshly baked pies in a room together? Well, a lot of eating. But also, a whole lot of storytelling.
Dímelo Producer Sophia Paliza-Carre grabs a slice or two at the 13th annual nonprofit party put on by the Food Conspiracy Co-op, and also gets an earful of stories of food and community.
Georgia Taylor is a children's librarian by day, "Dewey Decimatrix" for Tucson Roller Derby by nights and weekends, and an ambitious pie maker, in whatever time is left over.
At this year's pie party, she's gunning for an award in the Homeslice category, a new award bestowed to pies that feel and taste "close to home."
Tucson is home to the Pie Allen neighborhood, named after failed prospector, but excellent baker, John Brackett "Pie" Allen. He baked dried apple pies for soldiers in the 1800s, before he became a politician. However, Tucson is not the home to the fruits found in traditional pie fillings: peaches, apples, etc.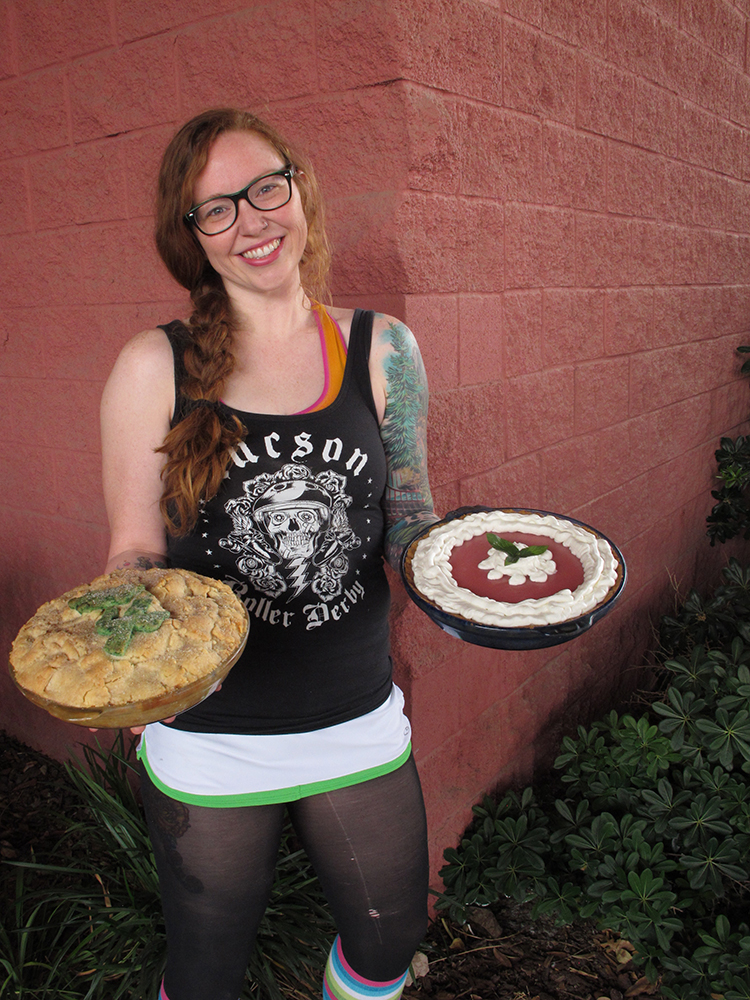 VIEW LARGER
Courtesy: Mario Juan
So if you want your Tucson pie to be hyper-local, you have to think out of the box. Georgia's family is known for their legendary lemon pie, but she wanted to do something different.
"I printed out a long list of good food combinations, because I'm usually just a person that follows recipes. So this is going to be the first time I'm putting together my own pie."
She debated a chocolate horchata pie, a backyard pie (using only ingredients from her friends' gardens), and even a cherry-limeade pie to honor Tucson's culture of consuming icy drinks in the summer. Eventually, she landed on a green chile roasted apple pie and a prickly pear grapefruit mint pie.
Georgia wasn't the only one to put so much thought into her pie-making.
Amy Valdés-Schwemm brought an apricot, mulberry pie. The mulberries are harvested from a tree planted by her grandfather at her mother's house. For her, cooking and baking is all about family. She even makes the mole powder she sells, using a mano y metate (mortar and pestle) passed down from her great aunt.
"I think one thing I learned from my grandmother was making large quantities of food to feed a lot of people. She would organize the crew to make dozens of tamales for her church. I think that's a fun community thing I've carried on."
Emily Rockey and Christopher Byrne are proud of their caramelized carrot-ginger springtime pie with mesquite crust. All their ingredients are as local as they can get, including honey from Emily's backyard hive.
"We think there is no more beautiful place in the world than the Sonoran desert in Tucson and the community that we are a part of here," Chris said. "So we like to celebrate it, and we like to go out to where we are and enjoy the things that we only find here. Saguaro fruit and mesquite. It's something you don't see anywhere else in the world and we have to celebrate that."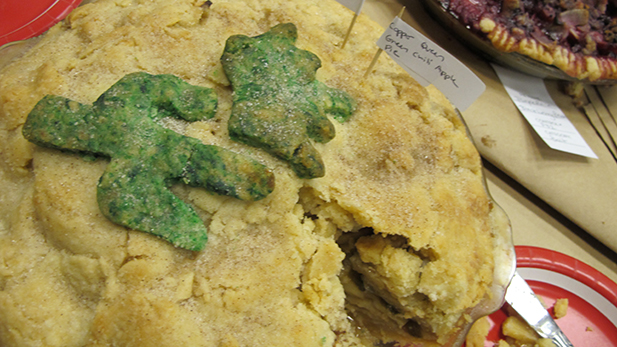 Courtesy: Mario Juan
Shannon Scott is trying to get people to eat their veggies with her rattlebox greens and cambozola cheese pie. She also helped out as a judge.
"Nobody likes to eat turnips. Or they don't know that they like them because they refuse to try them because they're an odd root vegetable."
In a more French tradition, Emma Stahl-Wert made an apricot frangipane pie. She grew up Mennonite, which meant making a lot of shoofly pie.
"The pie party was one of the big first community events I went to when I moved to Tucson. So to me it feels like a Tucson staple. That's not something that happened in the community I grew up in. "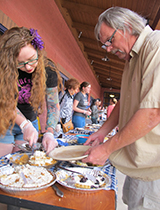 (PHOTO: Courtesy: Mario Juan)
Emma also won the Homeslice award this year, the same one Georgia was hoping to win.
I found Georgia, who was helping to serve slices, at the end of the party to ask how she felt about the loss. She laughed.
"Yeah it happens, it's all good as long as my pie plates are cleared by the end of the party. It makes me feel really good. "
It helps that Tucson Roller Derby won part of the money fundraised that day. Thanks to the winner of Best in Show who chose to award them part of the money. The other half was chosen by the people attending the party, and went to Camp Born This Way, a camp for transgender, gender creative or gender nonconforming children.
When I asked Georgia if she was sick of pies yet, she said her mom had called already and requested she bake her a grapefruit prickly pear mint pie next week. Georgia said she would, "but only a small one."
Dímelo is brought to you by KUAZ and Finding America, a national initiative produced by AIR, the Association of Independents in Radio, Incorporated. The project is done with financial support from the Corporation for Public Broadcasting, the Wyncote Foundation, the John D and Catherine T MacArthur Foundation, and the National Endowment for the Arts.