Listen: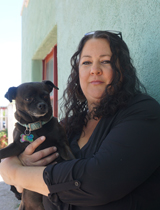 (PHOTO: Sophia Paliza-Carre, AZPM)
Johanna Martinez has lived in Tucson for 25 years, but she bought her first home five years ago.
It's an old adobe house in Barrio Hollywood.
"Architecturally and structurally I thought it had cool bones. It had a great piece of property, and larger trees because it was older. So I went for it, and slowly pulled out many of my hairs along the way."
Adobe houses are a staple of the Sonoran desert. They can be seen most notably and beautifully in the restored homes of Barrio Viejo. For the last few years, the Tucson Historic Preservation Foundation has hosted tours of these historic homes. In desert climates, adobe homes can last a relatively long time.
Johanna used to live in Barrio Viejo. You may have seen the burro mural she painted in an alley of barrio Santa Rosa. But as prices went up, she couldn't afford the neighborhood anymore. So she bought an old house on the west side of town.
Her house was built more than 80 years ago. So it was more than old, it was crumbling.
"As a single mom who bought a fixer-upper house, I was kind of overwhelmed by the scope of what a 1932 adobe repair job really meant. I think I overstepped whatever I thought I could handle here."
Sophia Paliza-Carre, AZPM
While she had been able to find money for low-incomes families to fix the windows in the house, she had trouble finding help specifically for adobe restoration. As an artist, she knew that unlike cement, sun-dried bricks of adobe needed to breathe. She wanted to do it right, but she couldn't find an affordable option.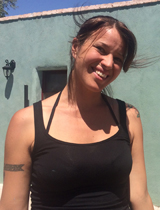 (PHOTO: Sophia Paliza-Carre, AZPM)
Enter PennElys Droz, the director of Sustainable Nations. It's a group that helps strengthen and sustain ecological and cultural development in native communities.
After a conversation with Johanna, the Tucson Indigenous Adobe Initiative was born. It seemed like a natural collaboration.
PennElys says, she had been hearing general interest from the native and indigenous community here in preserving they knowledge and traditions they had of building with earth.
"When you're building your home out of earth, double-walled adobe, straw bale, rammed earth. That earth keeps your home amazingly cooler in the summer, amazingly warmer in the winter. Concrete does not do this - earth does this."
So Johanna's house became the training ground and first major project, in return for what PennElys calls "sweat equity." They began work last spring.
'A blessing and benefit to your community and your earth'
PennElys has been in Tucson for the last seven years, but she came out of the native environmental justice movement in Northern California. The women in her family instilled in her a strong sense of duty and heritage. She's Anishinaabe and of mixed heritage.
"My grandma, she had these flashing fierce eyes. She said to me when I was a teenager - I don't care about your stupid self-esteem. What good are you? It sounds harsh but she was basically saying to me - you...don't really mean much unless you are a blessing and benefit to your community and your earth. How are you going to use your life? You get to pick this. So we started Sustainable Nations."
The group is comprised of people from South Tucson, the Yaqui community and the O'odham community. They partnered with David Yubeta, the educator and adobe preservation expert, for trainings on mixing clay, making bricks and tearing off old adobe.
Carlos Valenzuela, 18, from South Tucson is part of the group. He said he felt like adobe was becoming hip in Tucson, but was excited to learn how working with adobe was actually part of his family's history.
"My grandfather had a business where he sold burnt adobe brick and he built a lot of adobe houses on the west side of Tucson. So that was super interesting, I started kinda looking into it again. I started to see all the things we were learning in the Tucson Indigenous Adobe Initiative was the traditional volcanic rock at the base, and thick adobe walls, and the large porches for the family to sleep outside during the summers and it was kinda cool."
Part of this initiative, is also passing on generational and cultural stories. Video collective Pan Left Productions is documenting the process and practices of the adobe initiative to bring them to a wider community. So, at the beginning of this project, Sustainable Nations hosted a dinner, where elders shared their memories about adobe.
"There was a little conversation going on about having dirt floors in adobe brick houses. Everyone was like 'oh yeah, I remember we had to wake up early to sprinkle water on the brick floor so it wouldn't be dusty during the day.' And I saw a lot of smiles go up and everybody had the same memory. There was no looking down on each other it was more like 'oh yeah that's our roots that's our background.'"
Building for the future
PennElys also stresses that the work the group does is also about learning to be a more independent community. When it comes to seeking loans for home restoration or building, the native community has fewer options. Indian land is considered to be "in trust" and it cannot be held as collateral by a bank.
One of the few options Native Americans have is to apply for the Section 184 Indian Home Loan Guarantee Program through HUD, the Department for Housing and Urban Development, which backs the loans 100 percent, but there can be long waits for this money.
Art Lopez works for the Tohono O'odham Ki:Ki Association, the housing authority for the Tohono O'odham nation. He recognizes these limitations.
"There are other options, but there will be no bank that comes out here. I mean, an individual can go apply for a loan, but the problem is because it's on trust land a banks not going to trust it. They're going to say we have no collateral here."
He agrees with Sustainable Nations that as a result, teaching basic DIY home maintenance is way to be self-sustained. But while he recognizes the traditional importance of adobe, he actually encourages families to use more permanent materials in construction and renovation, arguing that it makes it more likely that a house will be passed down several generations.
"We look at everything as in investment, so we are going to go with the most sturdy and stable homes for our tribal members."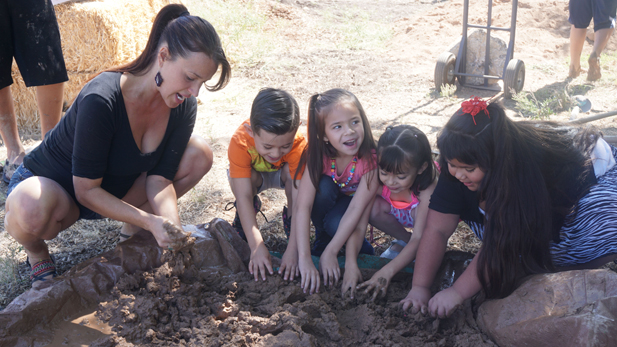 Sophia Paliza-Carre, AZPM
So, adobe building exists in this sort of weird place for different communities. It's a traditional practice relegated to the past for some, the highlight of a historic walking tour for others. For PennElys and Sustainable Nations, it's a conduit to a future of independent and sustainable neighborhoods and communities.
The initiative has been working at Johanna's year for over a year and the house is almost, finally done. If all continues to go well, the Tucson Indigenous Adobe Initiative will become a self-sustained business doing consulting and building. They aim to also have a habitat-for-humanity style branch, to continue serving the low-income community.
PennElys never stops moving.
On an early morning in April she's visibly pregnant with her fourth child and teaching kindergarteners how to splat mud on rocks at Mission View Elementary. They're making a bench for the garden. Despite all the screams of "ew" - every single kindergartner has both hands plunged deep into the mud.
At the very least, it seems that, for whatever reason, mud is something everyone can get into.
Dímelo is a community-story driven radio project. You can be a part of the project too. Submit a story below or visit www.dimelostories.org.
Dímelo is brought to you by KUAZ and Finding America, a national initiative produced by AIR, the Association of Independents in Radio, Incorporated. The project is done with financial support from the Corporation for Public Broadcasting, the Wyncote Foundation, the John D and Catherine T MacArthur Foundation, and the National Endowment for the Arts.