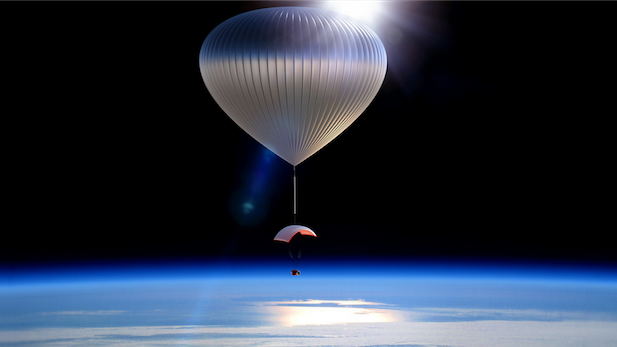 An illustration of a World View balloon above the Earth.

World View
Pima County violated the state Constitution when it approved a $15 million deal for a high-altitude balloon launch facility, a lawyer for the Goldwater Institute said Wednesday.
Goldwater, a constitutional watchdog and conservative think tank in Phoenix, issued a press release demanding the county rescind approval of what Goldwater lawyer Jim Manley called a "sweetheart deal."
The county plans to borrow $15 million, to be paid back with interest by taxpayers, to build the launch pad for World View Enterprises headquarters near Tucson International Airport. The rationale was that the company will bring 400 high-paying jobs to the facility within five years.
"Sweetheart deals were outlawed by Arizona's Constitution more than 100 years ago," said Manley, Goldwater senior attorney. "Our state's founders couldn't have made it more clear: if a private company wants money from taxpayers, it has to give taxpayers something certain—and proportional—in return. This deal doesn't meet that simple standard."
Goldwater said the deal also violates county procurement rules because design and construction contracts were approved without competitive bidding under "an 'emergency' exemption designed for natural disasters and other true emergencies. There is no emergency to build a balloon pad."
County Administrator Chuck Huckelberry proposed and the Board of Supervisors approved the project in January on a 4-1 vote.
Huckelberry said in an emailed statement that the deal is legal and will be of economic benefit.
"County staff took great care to comply with all state laws in its negotiation of the economic incentive agreement with World View, a fast-growing, locally grown space technology company," his statement said.
He said the company and the county's Spaceport Tucson "will prove a huge economic boon to this region by adding Pima County and Arizona to the list of communities and states able to compete in the burgeoning space and near-space markets."