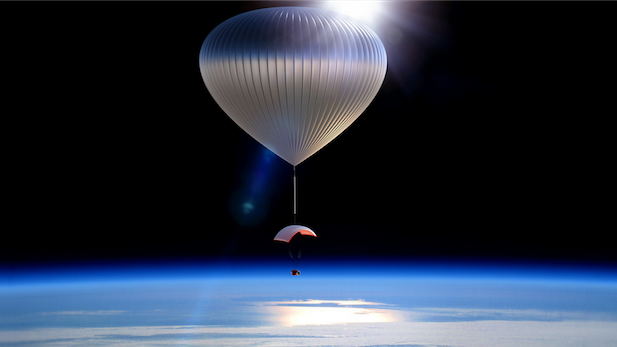 An illustration of a World View balloon above the Earth.

World View
Listen:
Pima County was named in a lawsuit Thursday challenging its decision to approve borrowing of $15 million to build a balloon-launch spaceport near Tucson International Airport.
The Goldwater Institute, a conservative think-tank in Phoenix, filed the suit over the county Board of Supervisors' January decision to fund World View Enterprises headquarters and a balloon launching pad.
World View conducts sub-orbital launches and is preparing to take commercial payloads and tourism trips into the stratosphere.
The lawsuit said the county's action violates the state Constitution because it gives more value to World View than the taxpayers get in return.
"We're asking the court to put a stop to this deal and if the county wants to go forward with it, it needs to renegotiate and get a better deal for taxpayers," said Goldwater lawyer Jim Manley.
Pima County officials have said that the business will create hundreds of jobs, helping the area's economy, will be an anchor to an aerospace corridor and the county will make money over the long haul in lease payments.
"It's an unenforceable promise because the only way that the county can enforce the deal if World View doesn't create these jobs is to cancel it and then World View walks away free and clear and the public is left with the building and a balloon pad that it can't afford and will have a hard time finding a buyer for," Manley said. "There aren't too many space balloon companies."
County Administrator Chuck Huckelberry, who has led the push for the project, did not respond to requests for comment. He has said county staff members carefully followed the law in crafting the deal and he is confident its action is legal.
World View CEO Jane Poynter calls the planned program "SpacePort Tucson" and said it will have more than one facet.
"Space tourism has been the public face of our company, but in fact, actually, the majority of our business is in taking scientific payloads to the edge of space," Poynter said Thursday.
The Goldwater Institute also accused Pima County of agreeing to the arrangement in secret, then using an emergency declaration to skip the competitive bidding process for the architect and contractor on the facilities.
"Of course if the county can agree to its own emergencies by agreeing to do projects faster, then the competitive bidding laws have no purpose," Manley said.