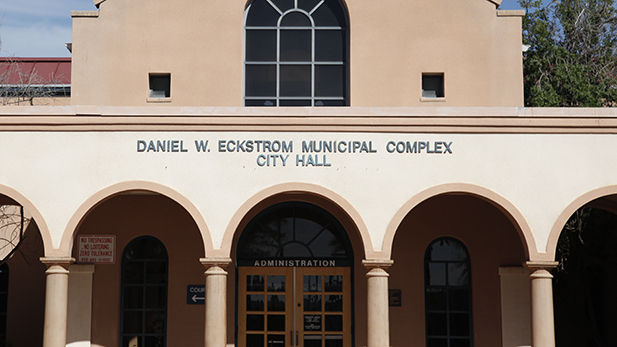 South Tucson City Hall is pictured on April 2, 2015.

Mariana Dale, AZPM
By Amanda Martinez
The city of South Tucson will welcome two new members and two incumbents to its City Council.
Incumbents Anita Romero and Robert Larribas won their re-election campaigns.
"I felt pretty honored that I was re-elected again and people are giving me a chance to try and improve things in South Tucson," Larribas said.
Three write-in candidates ran for office, but were not elected.
New and returning members will be sworn in after the November general election. The new council will appoint a new mayor and vice mayor to office.
Councilmembers needed to receive more than 50 percent of the vote to win a seat on the council.
Rufino Cantu and Carlos Romo were elected to their first terms.
South Tucson has about 2,000 registered voters, but turnout was low.
Romero received the most votes, at 266. Larribas came in second, with 173.
Amanda Martinez is an Arizona Public Media intern and a University of Arizona journalism student.