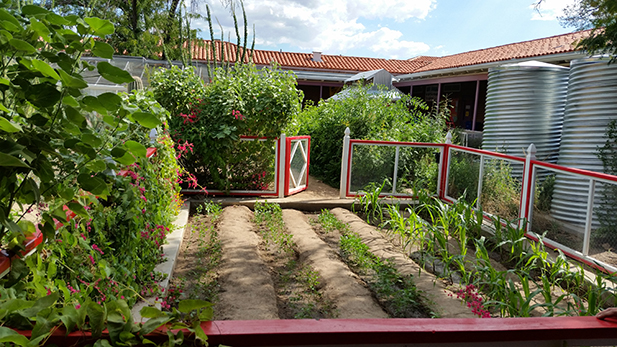 The garden is an oasis of green in Manzo Elementary School's inner courtyard. Classrooms open out onto the garden.

Laura Markowitz
Production of Feeding Our Future is made possible with the support of the Zuckerman Family Foundation.
It's recess at Manzo Elementary School in Barrio Hollywood and kids are chasing chickens that escaped from their portable coop. Chickens are a regular part of the school day at this west-side neighborhood school. So are gardens.
"When I first came, the kids were in crisis constantly, and fighting," remembers Moses Thompson, who was hired by the Tucson Unified School District ten years ago to be Manzo's school counselor. "Kids bringing lighters and knives and mom-and-dad's weed and pills to school."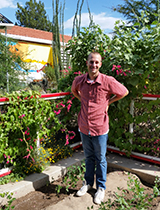 Moses Thompson started Manzo's school garden program. The former school counselor is now School Garden Program coordinator for all TUSD schools.

Laura Markowitz
Rather than sitting in his office with the kids who needed counseling, he started taking them down the street to help him restore an abandoned garden. While they weeded and watered, they talked.

"Traditional school counseling is to read them stories and act things out with puppets," says Thompson. "How much more effective is it to give kids a real job that they have to cooperate on and communicate on to accomplish."
Soon, all the kids wanted to go to the garden with "Mr. Thompson," so he decided to build a tortoise habitat garden in one of the school's courtyards. Parents and grandparents stepped up to help, and so did the kids. Together, they built a 40-foot-long stone wall.
"We had twelve tons of rock dumped into the parking lot. And over about three months, the kids -- rock by rock -- carried it in here," he says. "We taught the kids how to mix mortar."
This is the beginning of the story of Manzo's school garden. From here, it ripples out to a long list of community partners who have invested in Manzo. The National Parks' First Bloom program installed the vegetable garden. The Community Food Bank of Southern Arizona funded the chicken coop, aquaponics system and composting infrastructure -- and taught gardening workshops. A local church funded the greenhouse. Local businesses and foundations funded the rainwater harvesting, micro-gardens and native habitat gardens.
Then people showed up to help. Former Peace Corp volunteers took over the composting program and the University of Arizona's Community and School Garden Program sent interns to help out in the garden and to help develop garden-based curriculum with classroom teachers.
Manzo turned into a national model for school garden programs. It was written up in National Geographic and won the "Best Green School" award from the U.S. Green Building Council.
Manzo turned into a national model for school garden programs. It was written up in National Geographic and won the "Best Green School" award in 2012 from the U.S. Green Building Council. The students here are used to seeing camera crews and people with microphones touring the campus.
What you see on one of those tours is that the gardens are not just gardens -- they are learning spaces.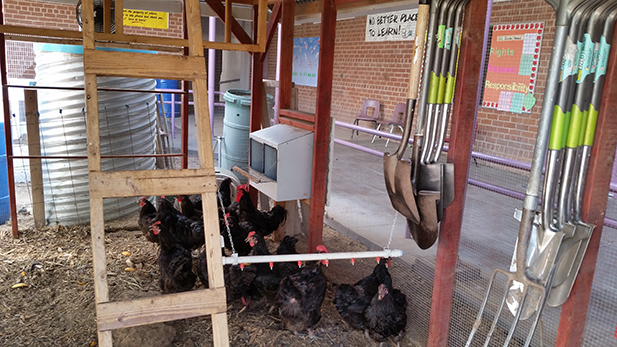 Manzo's chicken coop was funded by the Community Food Bank of Southern Arizona.

Laura Markowitz
In Lydia Mendoza's combined third-fourth grade classroom, the UA's Michelle Coe helps students write up their scientific posters. Coe started out as a UA Community and School Garden Program intern. Now she coordinates the program's Sustainable Environmental Education. These Manzo students are working on the mini-LEO project. Coe explains:
"The Landscape Evolution Observatory (LEO) is housed at Biosphere 2 and you can picture it as three really large hill slopes that have thousands of sensors under the soil. They're tracking everything on the landscape. Here at Manzo Elementary we have the mini-LEO, which is a micro-scale of those larger landscapes. "
"Biosphere wanted our help!" -- Valeria, third grade
Third-grader Valeria holds up a graph she's working on and says, "Biosphere wanted our help!" Biosphere 2 scientists gave the students a list of plants to choose from. "We picked two plants," she says, "velvet mesquite and white thorn acacia. And we're seeing if it'll grow in our volcanic soil." She and her classmates used the Manzo greenhouse as a controlled environment. It's right outside their classroom door.
The students' data will help determine which plants get tested on the big LEO. The kids even simulated a drought with their plants because big LEO is looking at the effects of climate change.
"Our plants were dying," says Valeria. "They were drying up and changing different colors. So what we did is we started to water them as usual. Now they look fantastic!"
None of this will be on the state's standardized tests at the end of the year. Until recently, Manzo was an underperforming school. It has a "C" rating now, but there's still a lot of pressure on teachers to keep scores up.

Classroom teacher Lydia Mendoza believes this curriculum helps her students: "This allows them to be able to read information and be able to problem solve," says Mendoza. "All that continuous problem solving allows for them to even be able to take a test much better."
Nearly all the curriculum at Manzo ties back to the garden. And nearly every classroom has its own micro-garden right outside the door.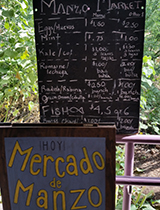 The Manzo Market offers affordable, organic produce to the community in Barrio Hollywood.

Laura Markowitz
Nearly all the curriculum at Manzo ties back to the garden. And nearly every classroom has its own micro-garden right outside the door.
"You can prop your door open and send two kids out with their observation notebooks and it's not a big production," says Moses Thompson. Outside the classroom for kids with disabilities, the micro-garden has raised beds and a wheelchair ramp.

Teacher Kim Carson is using her K-through-Second Exceptional Education classroom micro-garden to teach counting. The students planted a whole pumpkin and then counted to see how long it would take to grow a new pumpkin. "It took 138 days and we've got two babies coming," she says as one of her students gives an excited shout.
"A more effective way to teach math is to have the kids collect data on something that's real," says Thompson. "Let's look at egg production in our chicken coop. And let's look at feed usage, and let's use math to find out if the chickens are laying enough eggs and we're selling the eggs at the right price point to cover all of our costs."
Eggs are a big business at Manzo. Every two weeks, the kids run the Manzo Market. They sell eggs and organic produce from the garden, and a few times a year they sell tilapia from the aquaponics garden. Thompson says the kids learn customer service and how to write receipts.
"We always joke that it's part of the slow food movement," says Thompson, "because you've got to wait for a third grader to count your change, and maybe sometimes count it two or three times before they get it right."
Students receive a 50 percent employee discount. Thompson says it's a way to value their effort and make the food more accessible. Food insecurity is a big problem in Barrio Hollywood. Nearly all the kids at Manzo qualify for free or reduced lunch. Food from the school gardens helps feed the students and their families.
"At Manzo Market you'll see kids searching their backpacks for dimes and quarters," says Thompson. "A kid can bring home half a dozen eggs just by the change he's got in his backpack. And the kids are excited to eat and buy what they grow. I think there's a sense of pride."
"The more nutrition education we do, and the more taste-testing and sampling that we do, the more they will eat the fresh produce." -- Shirley Sokol, Director, TUSD Food Services
Manzo's garden was the first in Pima County – and one of the first in the state – to be certified by the Arizona Department of Health Services. That means Tucson Unified School District's Food Services can serve the food that the kids grow. Manzo students eat their garden harvest in the school cafeteria.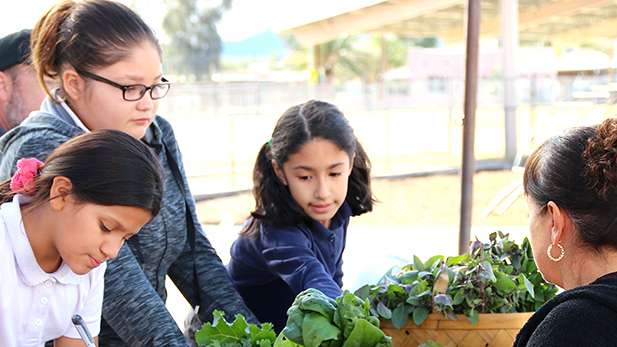 Students run the Manzo Market every two weeks, where they sell produce from their garden and eggs from the school's chickens. Photo by Moses Thompson

Moses Thompson
"The Manzo school garden really inspired us," says Shirley Sokol, TUSD's Food Services Director. The District created a new staff position, the Farm-to-School Chef, and hired Rani Olson. She oversees garden health certification with the state (other schools in TUSD also have certified school gardens now) and develops kid-friendly recipes that use the fresh produce from the gardens.

"Whatever they're harvesting at the time she will pull and develop dishes," says Sokol. "Chef Rani is developing a garden-fresh line, so that we will continually introduce new things." Sokol says TUSD serves a population that's at high risk for obesity and diabetes, so introducing healthy eating habits at an early age is a priority.
Dressed in her white chef's jacket, Rani Olson goes into TUSD school classrooms and cafeterias and runs cooking demonstrations and tastings. She invites kids to vote on which recipes they like, and the winners are added to the cafeteria menu.
At the annual Manzo Fiesta, she sets up a table beside the Manzo Market booth and offers free samples of dishes made with Swiss chard from Manzo's garden. The pollo con basil with Swiss chard is popular. Shirley Sokol says it's this kind of outreach and education that has made kale chips and carrot-top pesto popular items in TUSD's school cafeterias.
"They grew it, so they have a connection to it, and that makes them more willing to give it a try" says Sokol. "We have proven through surveys that the more nutrition education we do, and the more taste testing and sampling that we do, the more they will eat the fresh produce."
"Gardens are not made beautiful by singing 'Oh how beautiful!' and sitting in the shade." – Rudyard Kipling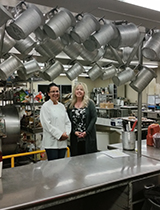 TUSD Food Services Chef Jenny Basandrai (left) and Food Services Director Shirley Sokol (right)

Laura Markowitz
Author Rudyard Kipling wrote, "Gardens are not made beautiful by singing 'Oh how beautiful!' and sitting in the shade." Gardens take work. None of the garden work at Manzo was in Moses Thompson's job description. He did it all as a labor of love. Thompson says school gardens typically rise and fall on the backs of teachers who are willing to take them on, but the burnout rate is high. He says for a school garden to be sustainable, it has to be someone's paid position.
In 2014, TUSD created a new staff position for a full-time garden coordinator at Manzo Elementary. But it's not Moses Thompson. The District created a special position for him: School Garden Program Coordinator for all 87 schools in TUSD. It's a joint appointment with the University of Arizona.
Thompson used to be uncertain if Manzo's garden program would survive if he left. Now that TUSD is investing in school gardens, he feels confident that it will continue to thrive and be a central part of the school's life, culture and education process. Because school gardens don't just need soil and seeds and sunshine and water. They need advocates, and investors, and visionaries.
Tune in to Arizona Spotlight or log on to azpm.org next week for Feeding Our Future, Episode 4: Shortening the Line. Next week, on NPR 89.1 FM.