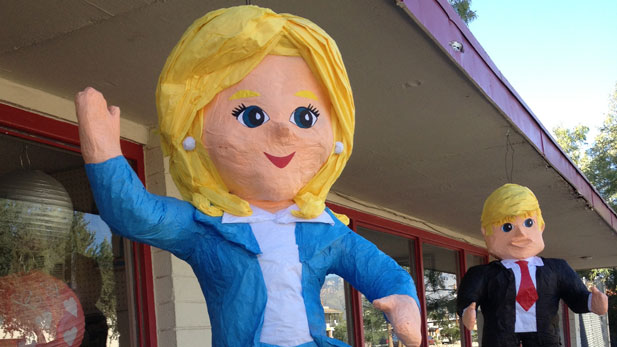 Tony Paniagua, AZPM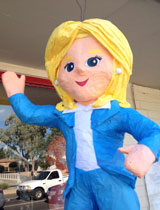 (PHOTO: Tony Paniagua, AZPM)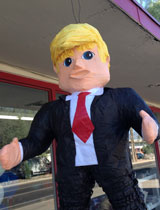 (PHOTO: Tony Paniagua, AZPM)
Danita Miller and her husband opened the Party Carousel nearly 40 years ago, but it's only been a couple of months since presidential candidates Hillary Clinton and Donald Trump started hanging out at their store in Tucson.
The piñatas wave to traffic and pedestrians on Swan Road near Speedway Boulevard, where they have been helping to drive up sales.
Miller said she is selling more Trumps than Clintons, although some customers are buying both, including a woman whose son is turning 21 years old this year.
"It's the first time that he will be voting in a presidential election, so she got one of each for him so he can make his own mind up," Miller said.
"Life is full of uncertainties. We know somebody's going to win the election. I'm just happy I have both hanging outside in the front of my store."
Sales are also brisk at the Piñata Factory on Stone Avenue north of downtown Tucson, where Donald and Hillary are joined by Halloween characters and other stuffed figures.
While millions of Americans can't wait for the election to be over, the papier mache politicians have been helping both companies in Tucson.