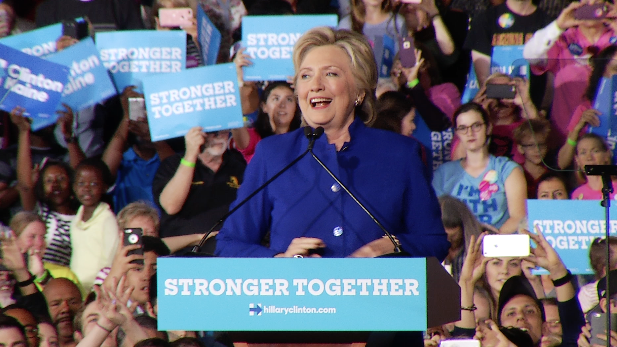 Hillary Clinton speaks to huge crowd in Tempe, Nov. 2, 2016.

Nate Huffman, AZPM
By Carrie Jung and Jude Joffe-Block, KJZZ
Democratic presidential candidate Hillary Clinton brought roars of approval from a crowd estimated at 10,000 at Arizona State University Wednesday night.
It was Clinton's second appearance in the Republican-leaning state in this campaign, and came six days before the election. Clinton herself laid out the history.
"Arizona has only voted for a Democrat for president once since 1948, and that was my husband in 1996," Clinton said, eliciting a roar from the crowd.
Her speech touched on familiar campaign themes, including "common-sense" gun control and comprehensive immigration reform.
The line to enter the event wrapped around the intramural fields twice and continued down Apache Boulevard.
Kesha Helmic and her son had a spot near the front. She said she came out to help her teenage son get excited about voting.
"I think it's important. And getting people his age excited about politics when they're still young then they carry it through with them into their adulthood," Helmic said.
While there were no major protests outside the venue, as many as 100 Donald Trump supporters were visible as were a few people with signs supporting various social movements. Matika Wilber was with a group against the construction of the Dakota Access Pipeline.
"If she's going to be the president of the United States, she's going to have to make a statement about these very important issues. Both related to sovereignty sacredness and more so than that our human rights," Wilber said.
This was Clinton's first visit to Arizona since the general election season officially kicked off. She came to Phoenix during the primary campaign in March.
The last Democratic presidential candidate to visit Arizona for a rally during the general election season was John Kerry in 2004.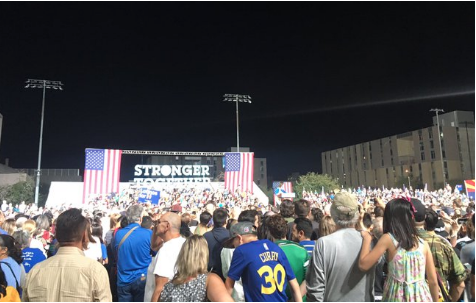 The crowd at Democratic presidential candidate Hillary Clinton's rally in Tempe Nov. 2, 2016.

Jude Joffe-Block, KJZZ