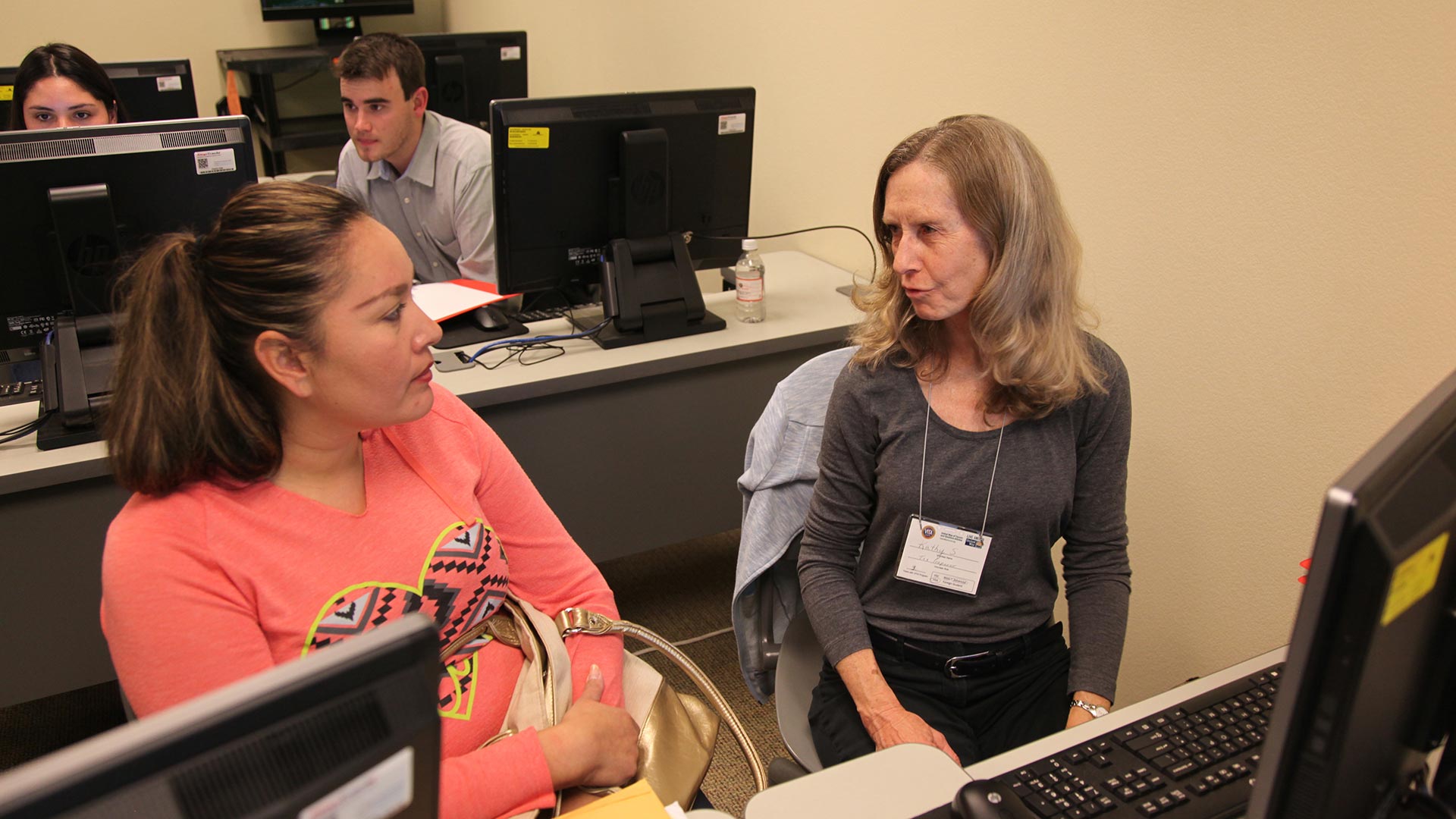 Volunteer tax preparer Katherine Steiner helps a taxpayer prepare her return.
Zac Ziegler
The Volunteer Income Tax Assistance site at the Flowing Wells Community Center has been open for only a few minutes, and the waiting room is filling.
"Today we have about 20 people signed up. Many of them have been waiting for an hour or two before the site actually opens," said Rae Pilarki, the tax assistance program manager for United Way of Pima County and Southern Arizona.
The site is open for three hours this day. Pilarski said a typical number of tax returns filed in that time is between 15 and 30.
"We do stop accepting new taxpayers one hour before closing, but we still get people walking in the door with questions or hoping that they might be seen," she said.
The seven staffers will help anyone who walks in before that deadline, working to help them navigate the process of filing a tax return.
In 1969, Congress mandated that retirees and those of low-to moderate income receive free tax preparation. Since then, Volunteer Income Tax Assistance has been one of two programs providing that service.
The other, Tax Counseling for the Elderly, caters to those 60 years of age and older.
Any household earning less than $60,000 can take part in the program.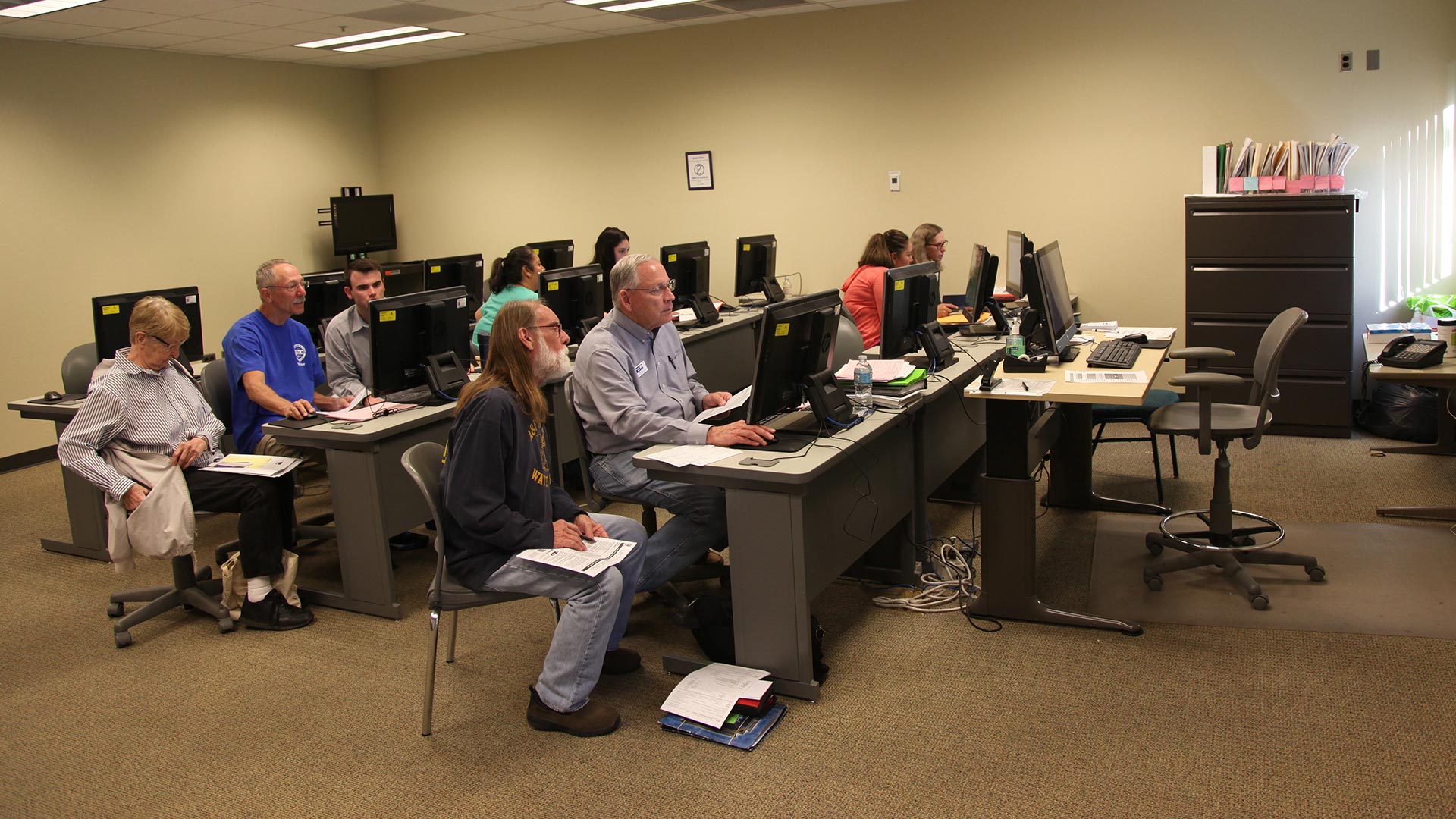 VITA tax preparers help their first round of taxpayers for the evening.
Zac Ziegler
People show up to this site, tax documents in hand, ready for the help of a trained volunteer.
Among those waiting is Guadalupe Obezo. She used to hire a tax professional to prepare her return each year, but can no longer afford to.
"All the other people that I used, they charged, for me, a lot of money. And that's why - this one is free - that's why I started coming over here," she said.
Obezo is on disability, and while she is confident that she could prepare her own taxes, she likes the security offered by having a trained person do it with her.
"I think I can do it, but I'm afraid if I make a mistake," she said. "That's why I always find somebody to help me."
Obezo's story is not unusual. Larry Snow is a retiree sitting at the next table over. Tax preparers got too pricy for his fixed income about three years ago.
"They keep going up every year. It's about $115 to 125," he said. "Mine's pretty easy, short form, but there is a lot of things to do," he said.
Obezo and Snow will work with one of the volunteers to file their taxes this night. Among the people they may work with is Katherine Steiner.
"I retired a couple of years ago, and I just wanted to make sure I can keep my mind active and kept on learning things," she said. "You definitely learn a lot, and it's a really nice combination of using that knowledge but also working with people and feeling like you're doing some good for people."
Steiner takes a certification course each year before tax season. She said she prefers to help people with their taxes more than doing her own.
"Preparing it for someone else isn't as bad as doing your own, I have to say, because you don't have to gather all that tax documentation. You just have to look at what documentation they've gathered."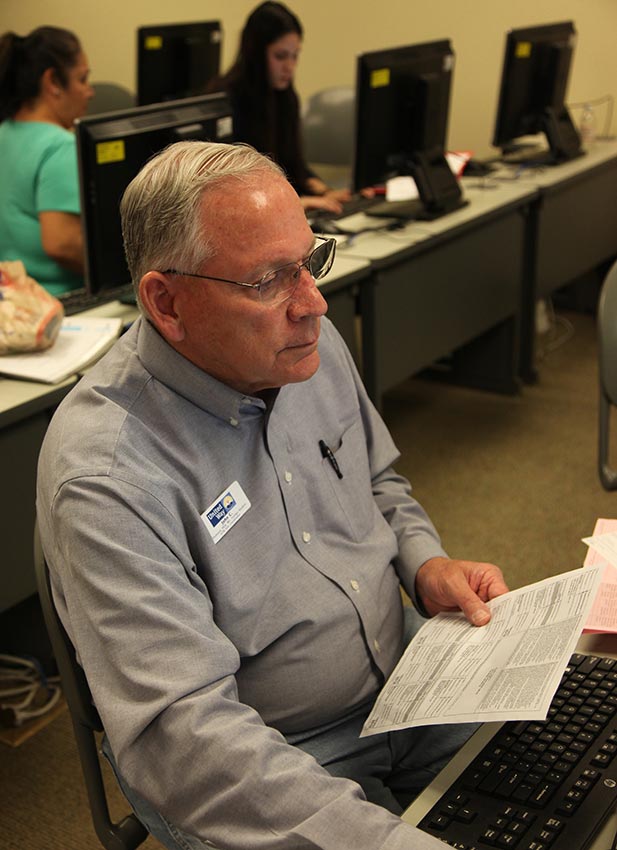 VITA Site Coordinator John Casserly prepared taxes professionally before becoming a volunteer preparer four years ago.

Zac Ziegler
John Casserly is in his fourth year of volunteering. He now runs the site at Flowing Wells Community Center. He prepared taxes professionally before that.
"And I've done them my whole life for family and friends," he said.
A case from last year stands out in his mind.
"Last year, a young man was doing his very first tax return," Casserly said. "He was 19 years old, had a brand new baby and a wife, and he didn't know what to expect. And as I recall he got a several-thousand-dollar refund, and he just exploded with joy. I can just see it in my mind right now."
The Flowing Wells Community Center site is one of the more popular locations in the area, mostly because it has been around for a while.
"They know they can come back year after year, so they're expecting the service to be here for them," said program manager Rae Pilarski.
They expect it to be there to help them navigate the complicated tax system and make sure they have paid their fare share, no more, no less.
See a map of VITA sites around Southern Arizona. Click on the location for details.