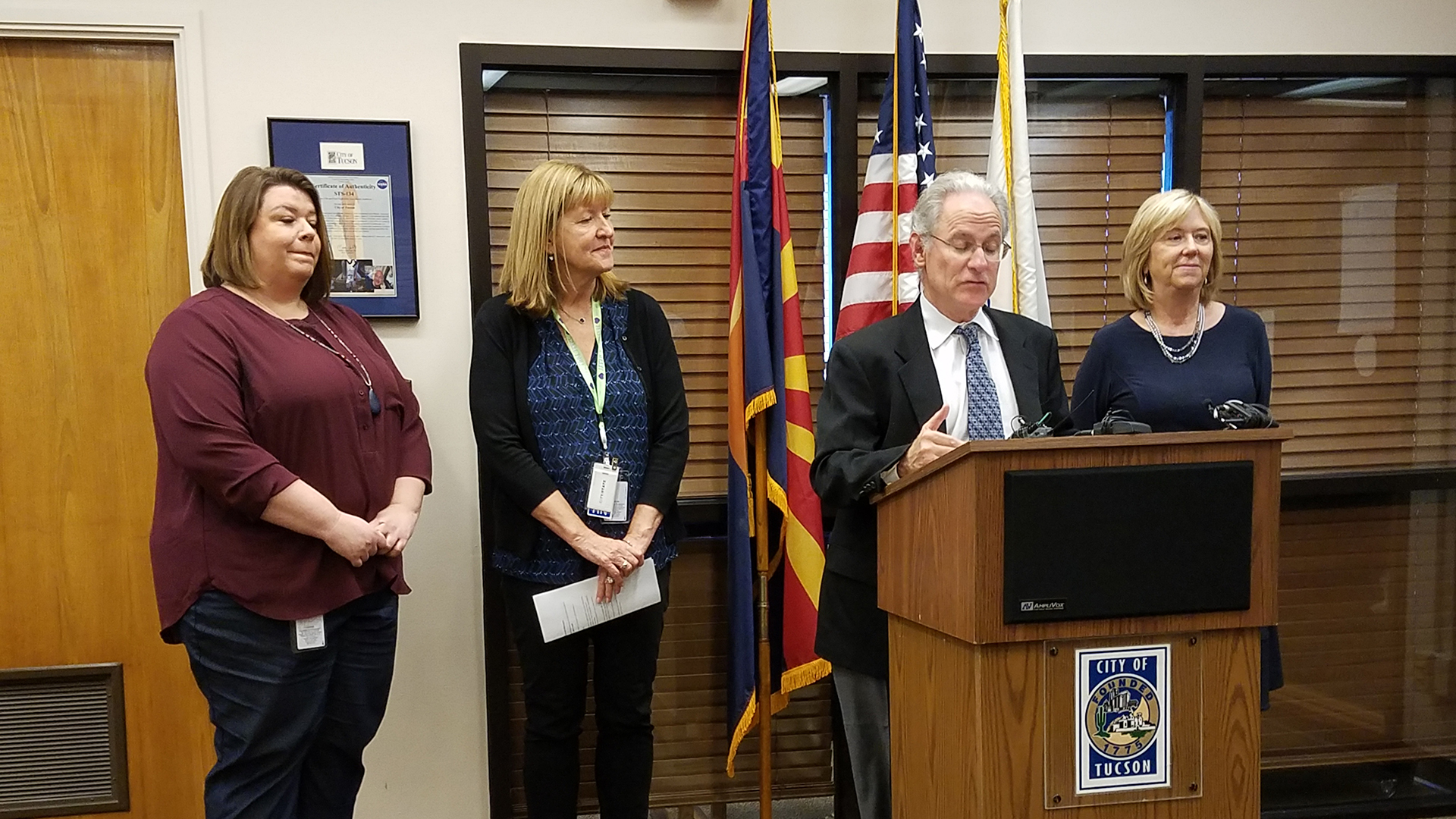 [From left to right] Pima County Health Department Director Marcy Flanagan, El Rio Health CEO Nancy Johnson, Tucson Mayor Jonathan Rothschild and Tucson Medical Center CEO Judy Rich gathered to announce the start of open enrollment on the federal government's health care marketplace, healthcare.gov.
Zac Ziegler
With open enrollment underway, local elected and health officials are pushing for residents to take advantage and purchase health insurance through the Affordable Care Act.
Nov. 1 marked the start of the window for people to purchase health insurance through the marketplace set up in the federal program.
"The important message is for folks to know that the Affordable Care Act is still there," said Tucson Mayor Jonathan Rothschild. "If they were part of it last year, they can be part of it this year."
Rothschild said the pricing of plans on the market for Pima County residents is similar to what was offered on the health care exchange last year.
Rothschild and others attribute the drop in Pima County's uninsured rate to the access and subsidies provided by the Affordable Care Act.
The percentage of Pima County residents who are uninsured has dropped from 18 percent in 2014 to 11 percent in 2017.
"Pima County residents still need affordable care and insurance coverage for themselves and their families," said Pima County Health Department Director Marcy Flanagan. "That's why this short enrollment period, from Nov. 1 to Dec. 15, is so important."
Flanagan said as of the start of enrollment, there are four plans available for Pima County residents. All are offered through the health insurance company Health Net.
The act has reduced the losses due to uninsured patients for one area health care company.
Tucson Medical Center CEO Judy Rich said prior to the health care marketplace and another ACA program that expanded Medicaid, the hospital was providing $25 million in uncompensated care a year.
"We saw our $25 million a year fall to somewhere around $8-9 [million]," she said. "Now we've seen a little bit of creep in that over the years, but it's still a very different number than it was."
Rich said the money that previously went to covering uncompensated care now goes to programs that work to increase community wellness and help residents establish preventative care practices, such as finding a primary care physician.
Those looking to enroll can visit the health care exchange website, use the site to find a local health care navigator or call 1-800-318-2596.