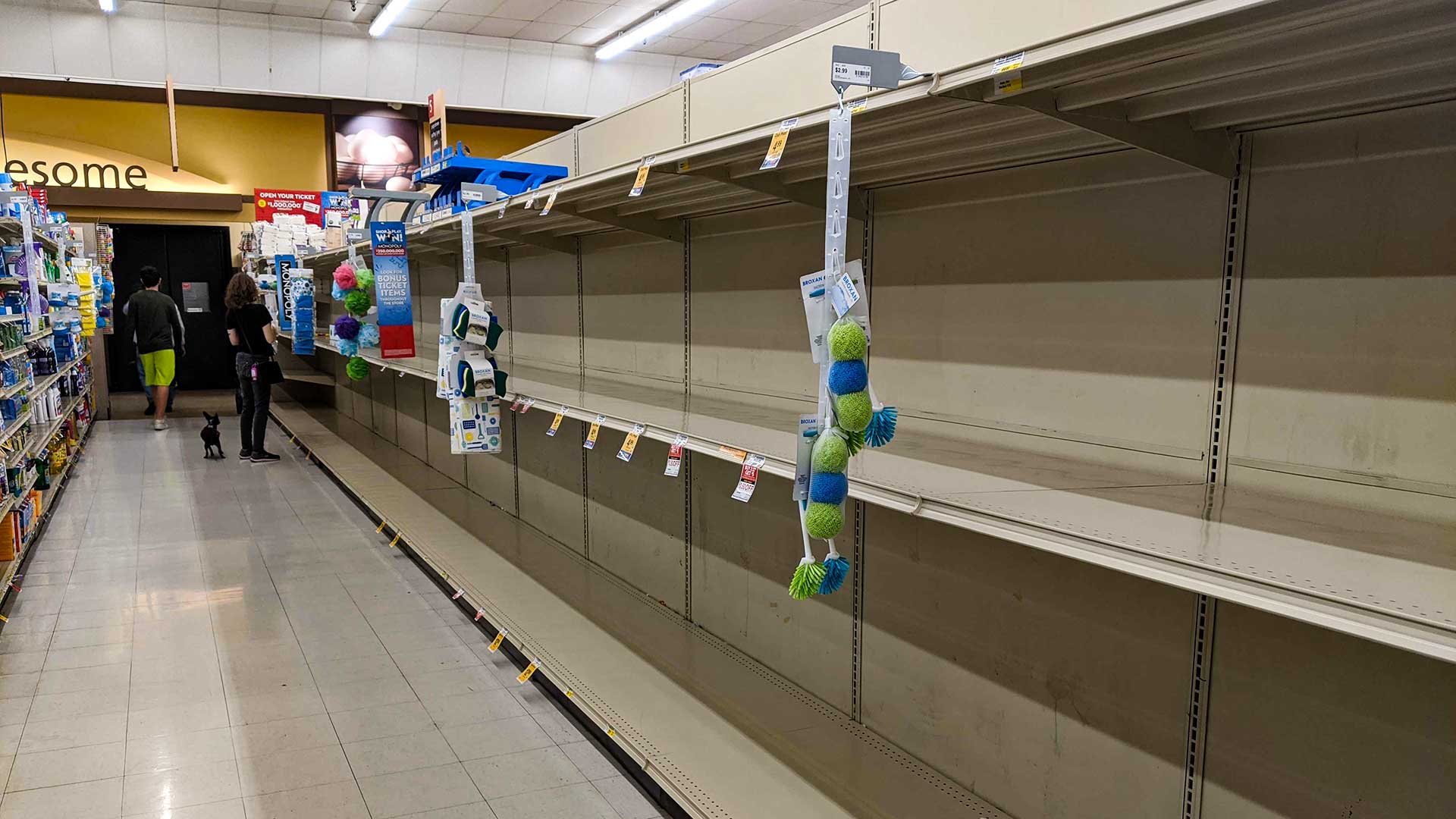 Shelves for paper products lie bare in a Tucson grocery store, as people act on fears over the COVID-19 pandemic. Health officials have urged people to not panic and hoard. Toilet paper is not an item listed in official guidance for staying healthy and limiting the spread of the novel coronavirus.
AZPM
Associated Press coverage of the COVID-19 outbreak as of the morning of March 16. For more coverage, visit our resource page.
---
Number of coronavirus cases in Arizona now up to 18
PHOENIX (AP) — State health officials say the number of coronavirus cases in Arizona has risen to 18. The Arizona Department of Health Services posted the new figure on its website Monday.
Several of the newly presumptive cases were found through testing from a commercial laboratory, not a state lab. The agency said via Twitter that it recently expanded testing to third-party entities. The department is also no longer reporting the number of pending tests.
Third-party labs are not required to disclose those to the test. Eight of the cases are in Maricopa County. The rest are spread across Pinal and Pima counties with one case in rural Graham County.
---
Arizona election officials say primary will be safe
PHOENIX (AP) — Election officials in Arizona say they'll be prepared for Democrats to vote in their party's presidential primary Tuesday despite the unprecedented cloud of a global pandemic and pleas by public health officials to avoid unnecessary social interactions.
Officials say they're working around the clock to consolidate polling places, line up backup poll workers, or open emergency voting centers where people can cast a ballot early. In some areas, poll workers will collect absentee ballots directly from cars so people don't have enter a public building to turn them in.
On Monday morning, Pima County said the Quail Creek VA 83, so far, was the only polling place that had changed: "Quail Creek will share a poll with VA 33 -- East Social Center, 7 S Abrego Drive."
---
Arizona schools to close for at least 2 weeks
PHOENIX (AP) — Arizona's governor and school superintendent are closing all schools statewide through at least March 27 as authorities rush to contain the outbreak of the coronavirus.
Gov. Doug Ducey and Superintendent of Public Instruction Kathy Hoffman said they'll work with health officials to decide whether schools should remain closed longer. They made the decision as a growing number of school districts took their own actions to close down or extend their spring breaks.
Hours earlier on Sunday, the state's top teachers union said it would like to see students stay home from school.
---
Virus spread may force Arizona Legislature to adjourn early
PHOENIX (AP) — Widespread disruptions caused by the coronavirus are forcing the Arizona Legislature's Republican leaders to consider drastic steps that could include shutting down the 2020 session early. House and Senate leaders will meet Monday to discuss a variety of options.
They include a temporary shutdown; passing a basic "baseline" budget for the fiscal year that begins July 1 and adjourning until later in the year; or quickly pushing through the current budget plan. House GOP Majority Leader Warren Peterson tells The Associated Press that those options and more are possible.
---
Arizona tourist spot known for waterfalls temporarily closes
SUPAI, Ariz. (AP) — A popular tourist destination deep in a gorge off the Grand Canyon is shutting down temporarily over concerns about the new coronavirus.
The Havasupai Tribal Council announced over the weekend that it will suspend tourist operations on its reservation for 30 days, starting Monday. The reservation is known for its towering blue-green waterfalls that draw visitors from around the world.
The tribe says tourists who had planned to be at the campgrounds or lodge during the closure can reschedule their trips for dates in 2021. The tribe says no cases of COVID-19 have been reported from the reservation.
---
Canada closing borders to non-citizens, non-residents
TORONTO (AP) — Canadian Prime Minister Justin Trudeau says he is closing his country's borders to anyone not a citizen or a permanent resident amid the coronavirus pandemic. Trudeau announced the move Monday outside his residence, where is self isolating after his wife tested positive for the new coronavirus. He also asked Canadians to say home as much as possible amid the pandemic.
---
Virus fears fuel spike in sales of guns and ammunition
BOISE, Idaho (AP) — Just as grocery stores have been stripped bare by Americans panicked by coronavirus, guns and ammo have been flying off the shelves too. Retailers say the buying frenzy is being fueled by consumers who are worried that people are becoming desperate and unpredictable.
One gun shop owner compared the activity to a "Twilight Zone" episode. Some of the purchases are by people buying their first firearm. Others are from existing gun owners adding to their collection or stocking up on ammunition. Also potentially driving the sales are concerns that elected officials may try to restrict access to firearms.
---
Supreme Court postpones arguments because of virus outbreak
WASHINGTON (AP) — The Supreme Court says it's postponing arguments for late March and early April because of the coronavirus. Affected cases include fights over subpoenas for President Donald Trump's financial records. Other business will go on as planned, including the justices' private conference on Friday and the release of orders in a week's time.
The court said Monday that some justices may participate by telephone. Six of the nine justices are age 65 or older. The Centers for Disease Control and Prevention says people that age are at higher risk of getting very sick from the illness. The oldest justices on the court are 87-year-old Ruth Bader Ginsburg and 81-year-old Stephen Breyer.
---
Stocks fall worldwide as coronavirus throttles economies
NEW YORK (AP) — Stocks lost 8% on Wall Street Monday as huge swaths of the economy come closer to shutting down due to the coronavirus outbreak. The losses were even steeper in the morning and trading was temporarily halted shortly after the open.
Losses were widespread in markets around the world despite emergency actions taken by the Federal Reserve late Sunday to prop up the economy and get financial markets running smoothly again. The Fed on Sunday cut its key interest rate to near zero. The price of oil dropped about 6%. Bond prices soared as investors sought safety.