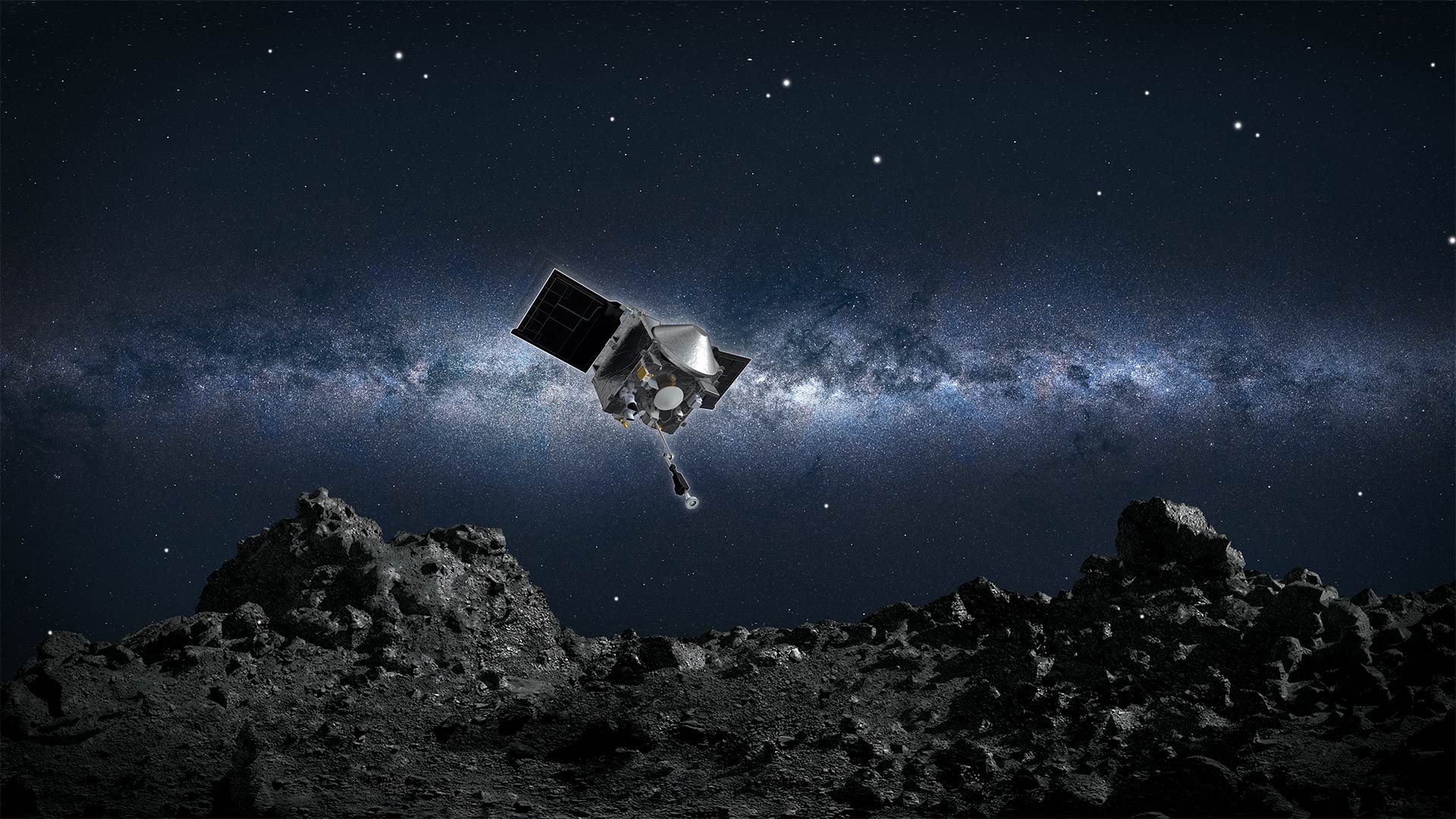 Artist's conception of NASA's OSIRIS-REx spacecraft collecting a sample from the asteroid Bennu.
NASA/Goddard/University of Arizona
The OSIRIS-REx mission successfully touched the asteroid Bennu, 200 million miles from Earth, on Tuesday afternoon.
The University of Arizona-led mission made contact with the asteroid just after 3 p.m.
The mission was broadcast on NASA's web site. Dante Lauretta, the principal investigator from the UA, said he felt "transcendental, I can't believe we actually pulled this off" on the broadcast.
OSIRIS-REx is supposed to collect a sample of surface material from Bennu and return it to Earth. The mission is a first for NASA, though a Japanese team is in the process of returning a sample of another asteroid to Earth right now.
The OSIRIS-REx team knew right away that the craft had descended to the surface, made contact and left the surface. But what they did not know is if it was able to collect a sample. Tests for that will take longer.
The craft will take a sample by blowing nitrogen gas onto the surface of Bennu and collecting what comes up. The mechanism that collects the sample is known as the TAGSAM.
"A couple of days from now we are going to reposition the TAGSAM in front of the SamCam [onboard camera] and look at the base of the collector and hopefully see clear evidence that there is material collected that's inside the capture collector ring," Lauretta told AZPM minutes after the event.
The team will also then extend the TAGSAM and then spin the craft and measure the inertia to determine the weight of the sample.
The team's goal is to collect at least 60 grams of material. Lauretta said at the end of October the team will decide whether or not it has enough material.
"We compile all the information, and we sit down with our stakeholders at NASA headquarters and we make the formal decision about either stow that sample and begin preparations for the journey home or no, and start planning a second TAG attempt, which would occur in January of 2021," Lauretta said.
OSIRIS-REx is scheduled to land in the Utah desert in 2023. That is when scientists will get their first look at the samples collected this week.