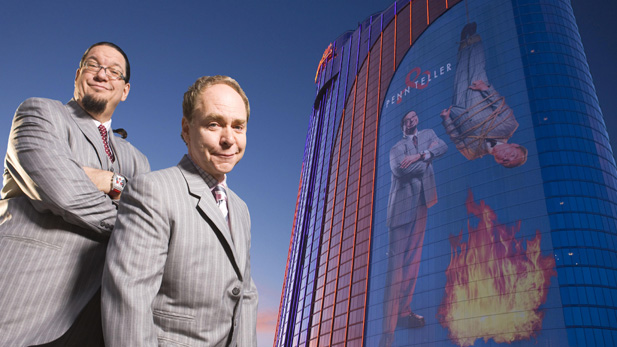 Penn Jillette and Teller stand outside their theater at the Rio Hotel in Las Vegas, Nevada.
As the much quieter half of Penn & Teller, the illusionist and comedian known only as Teller has performed death-defying feats of bravery and skill for over three decades, making audiences gasp in both amazement and laughter.
You may have heard Teller speak before on NPR's All Things Considered, or when he is making an appearance outside of his partnership with Penn Jillette. But onstage, he remains silent even while performing magical feats - and very real physical stunts - that are so amazing they have earned Teller a reputation as one of the greatest illusionists of all time.
Mark McLemore spoke with Teller by telephone, as he and Penn prepared to leave their theater at the Rio Hotel in Las Vegas to go on tour, performing in Tucson on the University of Arizona campus at Centennial Hall on Friday, February 24th...
Listen:
There was just so much great material in Mark's interview with Teller that didn't make it to air, here some more. In this largely unedited segment, Teller discusses the time he came closer to drowning on live TV than anyone ever should, why silence works so well for him, a funny encounter with some NYC policemen in Times Square, and how he thinks that Penn & Teller may have truly impacted the world of magic...
Bonus interview:
UAPresents is bringing Penn & Teller to Tucson at 8:00 PM on Friday, February 24th, at Centennial Hall.
A special pre-show, outdoors performance by Roland Sarlot and Susan Eyed, known as Tucson's own Carnival of Illusion, starts at 7:00 PM in the Women's Plaza next door to Centennial Hall.
UAPresents is an underwriter of Arizona Public Media.