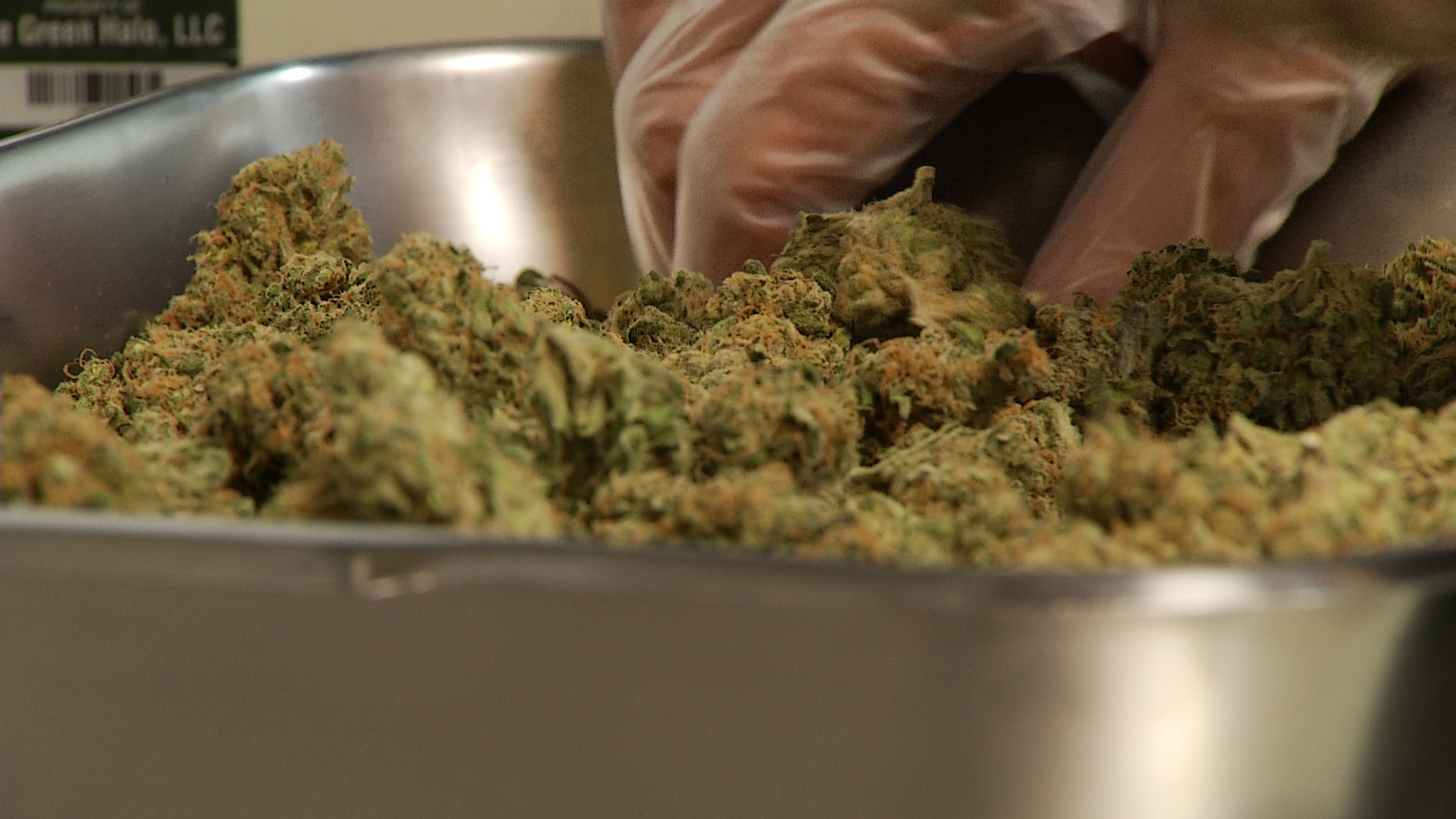 A dispensary employee weighing and portioning marijuana.
AZPM
Loading...
Arizona voters approved Proposition 207, also known as the Safe and Secure Act. Early results Tuesday night showed the initiative had sizable approval from voters, legalizing recreational marijuana use and allowing storefronts to be established to sell products. It also allows individuals to grow small amounts for personal consumption.
A similar bill lost by less than 70,000 votes in 2016. Proponents of the bill say the last four years have given them time to adjust and improve.
"The most important example [of that] is the criticisms from the business community, who thought that the 2016 initiative did not go far enough in allowing employers to prohibit use by their employees," said Stacy Pearson, a spokesperson for the Yes on Prop. 207 campaign.
Pearson said Prop. 207 responded to those criticisms by making employer rights more explicit, ensuring workplace drug and alcohol use provisions that exist today will still go on as normal.
Medical marijuana has been legal in Arizona since 2010 and today more than 250,000 Arizonans are registered medical users. Campaign spokespeople say recreational storefronts will be tightly controlled and informed by a medical industry that's already proven successful.
Recreational operations will be regulated by the Arizona Department of Health Services, which also regulates the medical industry. The measure allows for over 100 storefront licenses, and established pharmacy owners will be the first in line to get them. About 20% are also reserved for owners from communities negatively impacted by drug policies.
Arizona joins a dozen other states where recreational use is decriminalized. Advocates say Arizona's law is also informed by mistakes made in other states.
To that end, the new law prohibits smoking in public places and gives city governments discretion to decide whether storefronts will be allowed in their jurisdictions at all. Some cities have already acted. The city of Sahuarita moved to ban storefronts there a week before the election.
Marijuana products will carry a 16% sales tax, the same as cigarettes and alcohol. Proponents say those sales will turn into hefty earnings for the state. They say some $2.3 billion in expected revenue will be directed toward public services like fire departments and community colleges.
And unlike the 2016 bill, Prop. 207 also gives people formerly convicted of a felony for certain marijuana-use crimes to apply to have their records expunged.
That stipulation drew support from the American Civil Liberties Union of Arizona and a handful of former law enforcement personnel. They point to data that shows the state's marijuana arrests and sentencing policies disproportionately affect communities of color, particularly Latinos, and say decriminalization will help address the problem.
But critics disagree. In the lead up to the election, some social justice organizations around the state that support marijuana legalization began turning away support for the bill. They argued expungement and other criminal justice stipulations stipulations didn't go far enough, and urged Arizonans to wait for a bill that did.
One reason for that is Arizona's voter protection laws, which prevent the Arizona Legislature or governors from drastically altering or ending a measure passed by voters. Critics argued that meant Prop. 207 would be implemented exactly as it was written and limited the state's ability to make additions.
The No on Prop 207 campaign raised the same concern, arguing state leaders could struggle to establish a baseline to determine whether a driver is too intoxicated to drive, for example.
Driving, boating or flying under the influence will remain illegal, but there's currently no roadside method to test THC levels on the spot.
The marijuana industry is a major funder of the initiative. Those who oppose the measure argue that will give the medical marijuana industry an immediate monopoly on recreational.
But advocates like Kris Krane, founder and president of medical dispensary consulting firm 4Ventures, argue the success of Arizona's medical industry can inform the future of recreational fronts.
Krane said since becoming legal in 2010, Arizona's medical industry is now one of the most robust in the country. Krane helped draft Arizona's recreational bill that narrowly failed in 2016. He said four years on, voters in the state have had time to see how legalization has worked in other places.
"Many people from Arizona have experience going to places and seeing what legalization looks like and seeing that the sky hasn't fallen and it's worked out well in those states," he said.
Arizona lawmakers are required to establish regulations for the recreational industry by April.