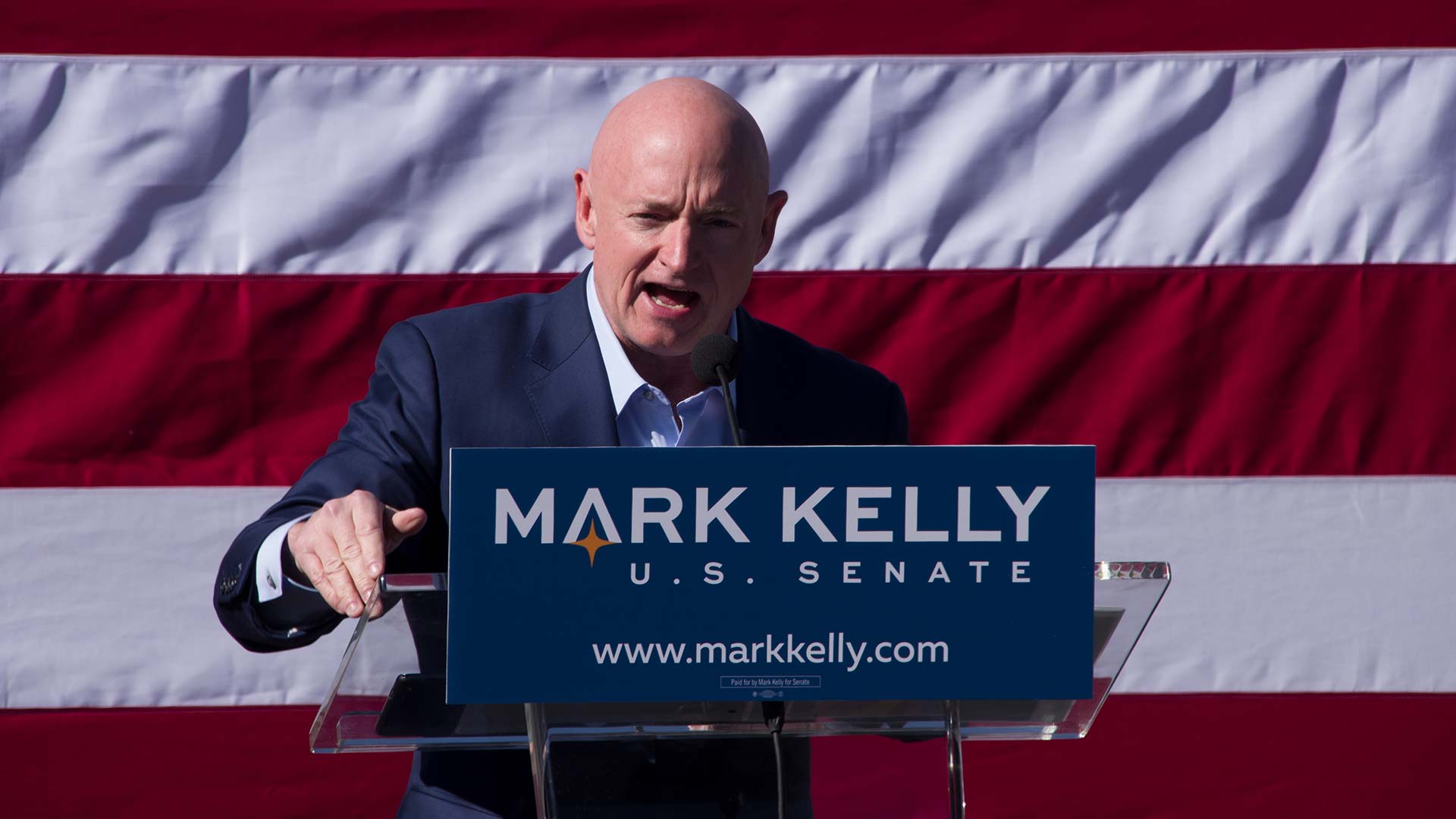 Democratic candidate for U.S. Senate Mark Kelly hits the campaign trail in Tucson. February 23, 2019
Christopher Conover/AZPM
Loading...
Arizona chose to elect a second Democratic U.S. senator, voting in Mark Kelly over Republican Martha McSally for the seat once held by the late Sen. John McCain.
The race for the U.S. Senate is Arizona was one of the most closely watched in the nation this year, as Democrats hoped to flip the chamber. Republican Martha McSally and Democrat Mark Kelly were vying to fill the remaining two years of the late Sen. John McCain's term.
Kelly held a consistent polling lead over McSally leading up to the election. After initial results gave him the lead in the race, he spoke to supporters in Tucson Tuesday night.
"Some of you watching tonight did not vote for me. That's OK. I'm going to be your senator, too, because our state doesn't need a Democrat or a Republican senator, we need an Arizona senator. A senator like John McCain," Kelly said.
McSally was appointed by Gov. Doug Ducey to fill nearly two years of McCain's term until an election could be held. Her appointment came in December of 2018, after she lost the U.S. Senate race to Kyrsten Sinema.
The race marked Kelly's first foray into the political arena as a candidate. For nearly 10 years, he has run the organization now known as Giffords, which lobbies for gun background checks. It also has a political arm that supports pro-background-check candidates across the country. The group is named after Kelly's wife, Gabby Giffords, who survived an assassination attempt in 2011 when she represented Southern Arizona in the U.S. House.
McSally represented the same district as Giffords for four years.

Before McSally was a member of Congress, she was an Air Force pilot. She was the first woman to fly in combat. She flew missions in the A-10 during Operation Southern Watch in Kuwait. McSally is also the first woman to command an Air Force combat unit. She was the commander of the 354th Fighter Squadron at Tucson's Davis-Monthan Air Force Base.
Kelly also has a military background. He is a retired astronaut who flew four space shuttle missions, spending a total of nearly 60 days in space. Kelly is also a retired naval aviator who flew combat missions in Operation Desert Storm.
Both candidates began their runs for Senate before the COVID-19 pandemic became a part of daily life. It changed the campaign as both candidates were forced to curtail many "normal" campaign activities.
Since much of the campaign took place during the pandemic, health care and the economy grew into major themes for Kelly.
"We had 500,000 thousand Arizonans lose their jobs through no fault of their own and so many of them now are trying to get by on $240 of state unemployment insurance payments each week. That's not enough. I've spoken to Arizonans across the state who have to make these crazy decisions about whether or not to pay their rent or buy groceries for the week, and these are impossible choices and it's up to the federal government to step up and come to an agreement," Kelly said.
McSally's second year in the Senate was dominated by the pandemic. She said she supported legislation to help people through the pandemic.
"I've gone to the Senate floor to extend the unemployment benefits. Unfortunately it was blocked by Chuck Schumer. I have voted 'yes' on a bill that would provide another over $200 billion of [Paycheck Protection Program] support to small businesses that are still being hurt. And also, additional unemployment support, an extra $300, to just help us get through this. Unfortunately, a lot of people voted 'no' on that and we just couldn't get past the threshold but I'm going to keep fighting for Arizonans out there to put food on the table for their families and get through this difficult crisis," McSally said.
The southern border is always an issued in Southern Arizona politics. McSally supports the hundreds of new miles of border wall being built by the Trump administration.
"I was down in Cochise County … and these fifth-generation ranchers will tell you that this border wall system is really a game changer for them. We know border security is national security and the cartels are well resourced trafficking people and drugs into our communities, and also the impact environmentally that illegal activity has. So, we can be good stewards while also ensuring border security for Arizonans. We see the system is not just wall. It's lighting, it's roads for Border Patrol to be able to patrol up and down the border," McSally explained.
Kelly thinks the wall is the wrong way to get control of the border.
"I served at NASA for 15 years. If you were to ask our space agency to work on the issue of border security, which is incredibly important, they wouldn't give you that 17th-century solution that you mentioned for a 21st-century problem. It would be apply the right technology in the right area after studying the problem," said Kelly.
The Associated Press contributed to this report.

Read more coverage of national, Arizona, and local elections at our 2020 elections portal,
Your Vote 2020
.