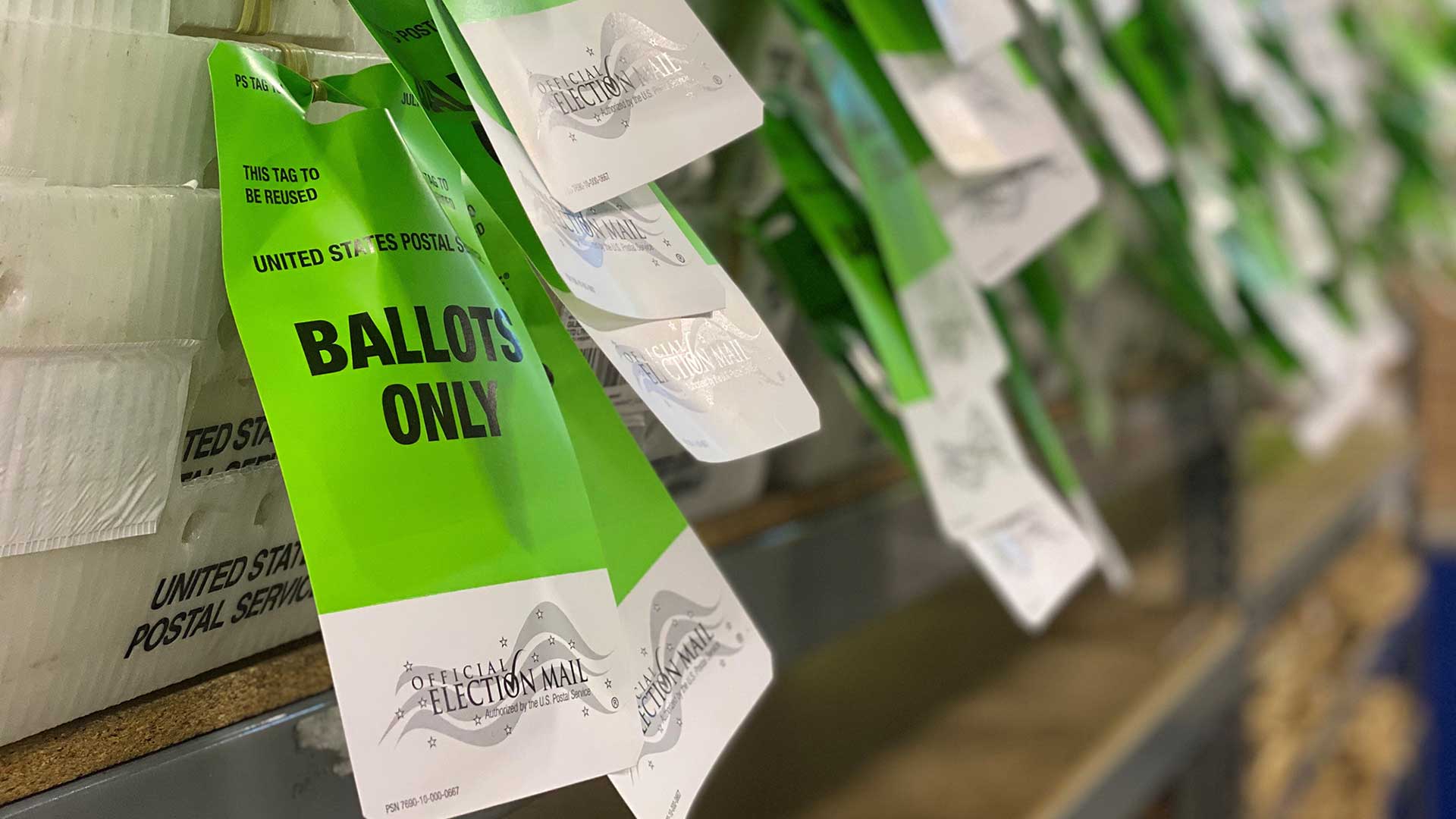 Postal bins with tags for ballots in the 2020 general election.
Courtesy Maricopa County Elections Department
The Arizona Senate received hundreds of emails after requesting tips regarding election fraud during the 2020 general election.
The emails were sent to an address set up for eight days in November by Senate President Karen Fann. The email address was an official legislative address.
Copies of the emails were sent to Arizona Public Media following a public records request. We reviewed the nearly 500 emails.
Nearly 75% fell into a category chastising, sometimes with the harshest language, Republicans for not accepting the outcome of the elections. Others in that group were mock complaints saying birds in cacti told people how to vote, and space aliens were observed casting ballots on Election Day.
"So you're looking for election fraud? It's easy to find. Just look in the mirror. If you want more evidence, look at your sidekick Mr. Finchem. The two of you are demonstrating clearly that there are no limits to your underhanded, perhaps illegal – certainly unethical and unfounded – efforts to overturn the clear will expressed by Arizona voters in an election that has produced absolutely no evidence of fraud on any level. Get over it," read one of the emails.
About a quarter of the emails were election complaints. Many complained about the use of Sharpie markers in polling places, concerns about the use of Dominion election equipment, or were calls for a forensic audit or hand count of the entire state's vote.
"Please do everything in your power to push an investigation in What (sic) these machines may have done to sway this election. Please do not allow certification until these machines have been checked to make sure they did not have a negative (sic) against our President," read an email.
Some of the emails did detail problems with voting machines that did not seem to tabulate votes, the inability to confirm votes were counted, and problems with the voter registration system.
A spokesperson for the Senate President said some of the complaints were forwarded to the Election Integrity Unit in the state Attorney General's office.
An attorney for the Election Integrity Unit told the Senate Judiciary Committee on Monday that they are still investigating claims.
Arizona Attorney General Mark Brnovich has said there was no widespread fraud in the election. A number of state and federal judges have also ruled that way in the last month.

Read more coverage of national, Arizona, and local elections at our 2020 elections portal,
Your Vote 2020
.