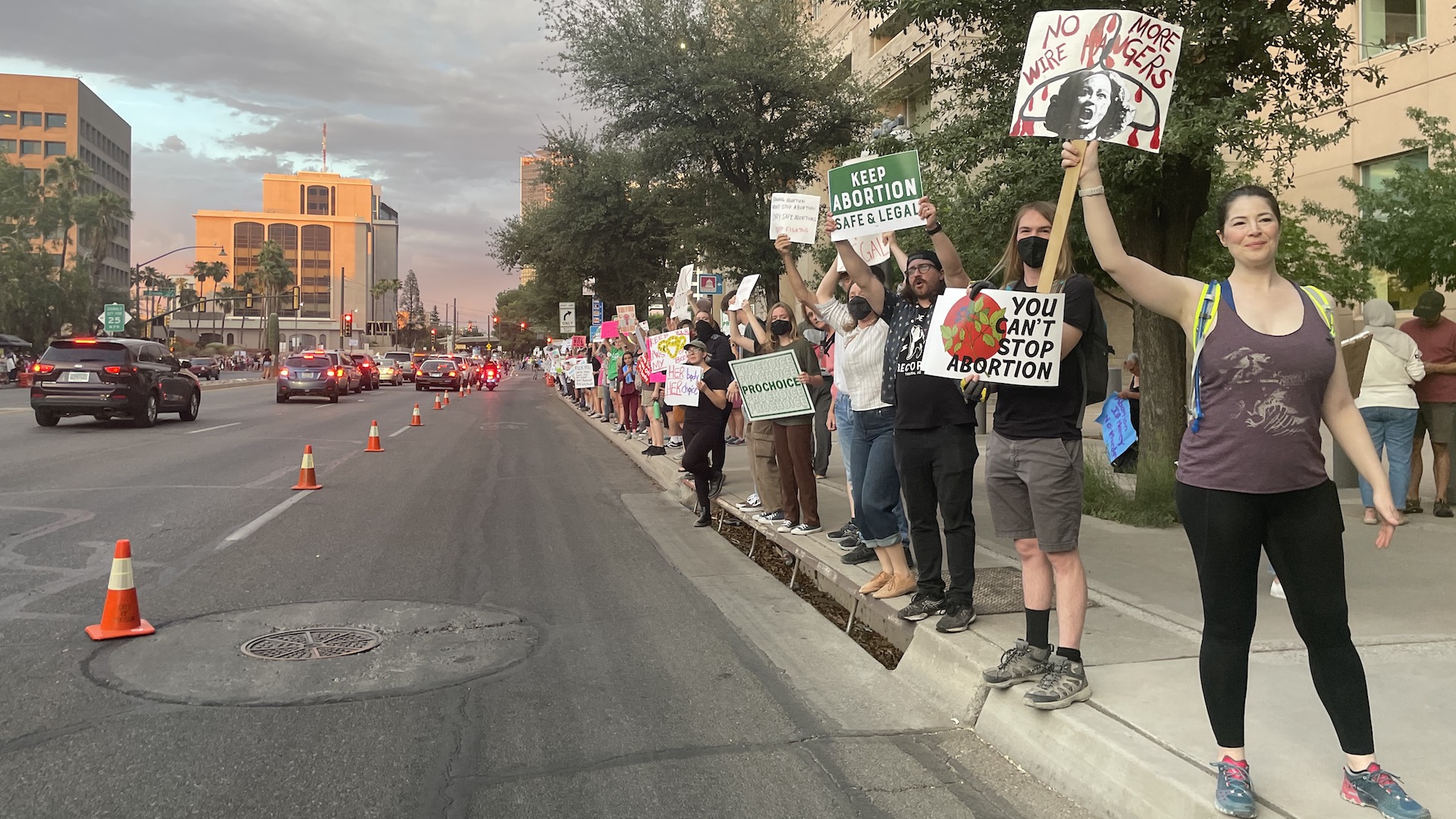 Protesters lined Congress St. after the U.S. Supreme Court decision to overturn Roe v Wade on June 24th, 2022.
Megan Myscofski/AZPM
About a thousand people gathered downtown near the federal courthouse in Tucson Friday night to protest the US Supreme Court's decision to overturn Roe v. Wade.

A speaker from Women's March Tucson rallied the crowd as people started packing into the corners of the Congress and Granada intersection.
"We are going to keep on fighting because the people who took away our rights today are counting on us being too tired to fight back tomorrow."
Protesters lined the streets with signs and noisemakers and some said being there felt disappointingly familiar.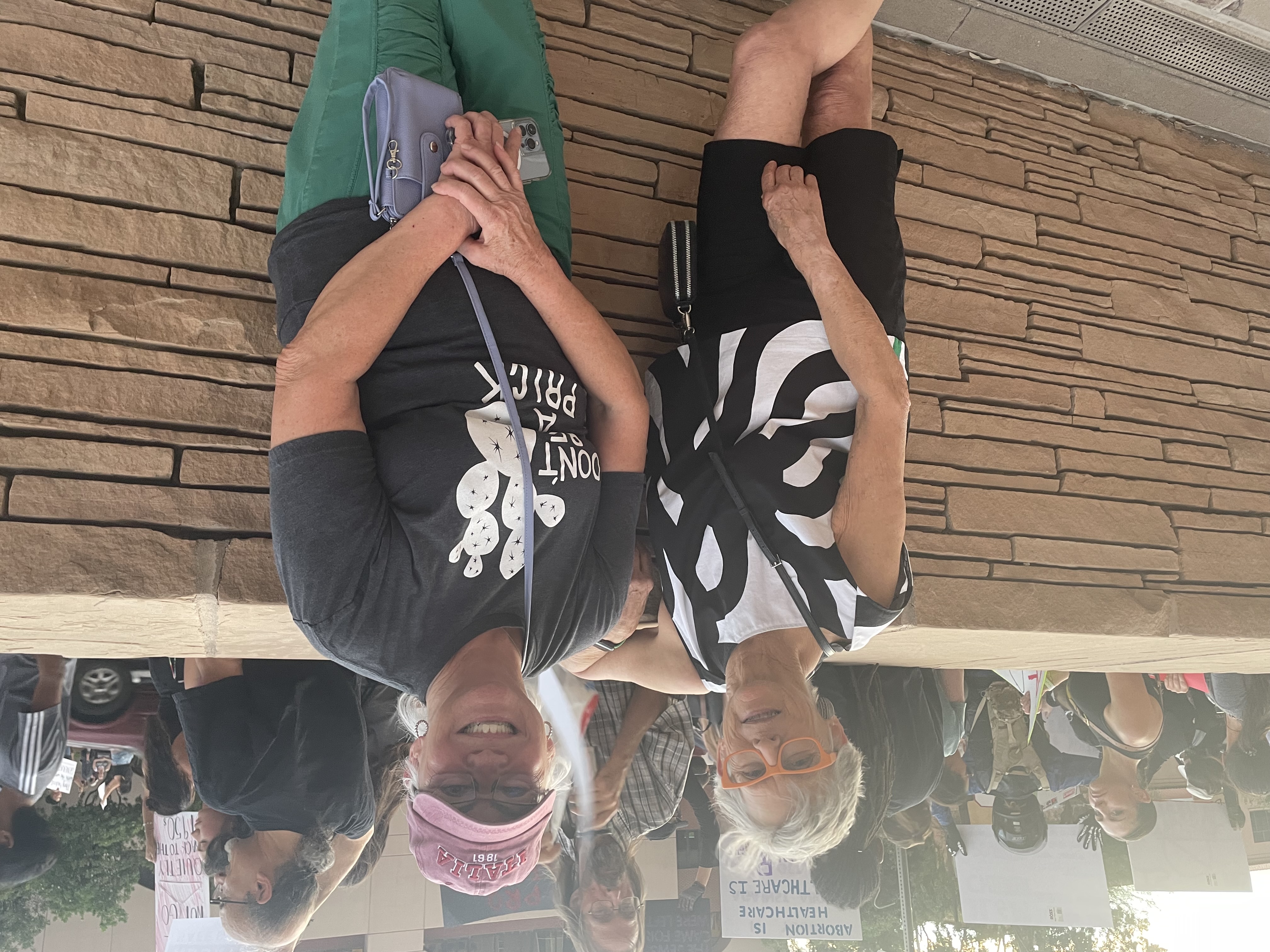 Nancy Lutz, 74, and Nancy Nagel, 71, said they were too sad to stay home after the U.S. Supreme Court overturned Roe v Wade on Friday, June 24, 2022.
Megan Myscofski/AZPM
Nancy Lutz, 74, and Nancy Nagel, 71, said they were too sad to stay home today.
"This is a miserable, miserable, sad day. And I think we just wanted to be with other people who felt the same way," Lutz said. "You wonder what's happening to our country. I do."
"How many times do we have to protest the same thing over and over again, for autonomy for our bodies?" said Nagel. "We're not worried about our generation. Obviously. We're not going to get pregnant. We're worried about the children and grandchildren behind us."
Josie Phillips, 21, was standing nearby on the curb along Congress St.
"I think it's just important," Phillips said. "I think it's really important to support abortion rights, especially during a time where women aren't valued or people with uteruses aren't valued enough."
She said when she heard the news earlier in the day, she cried.
"It's really disheartening to know that a political minority can overtake our politics to the point where people are left without healthcare."
Katie with Arizonans for Reproductive Freedom was there at the corner collecting signatures for a proposed AZ constitutional amendment to protect abortion rights.
"We knew this was coming, and so it was a lot of just putting things into action today. We've been preparing for this for a while. So today's a big push."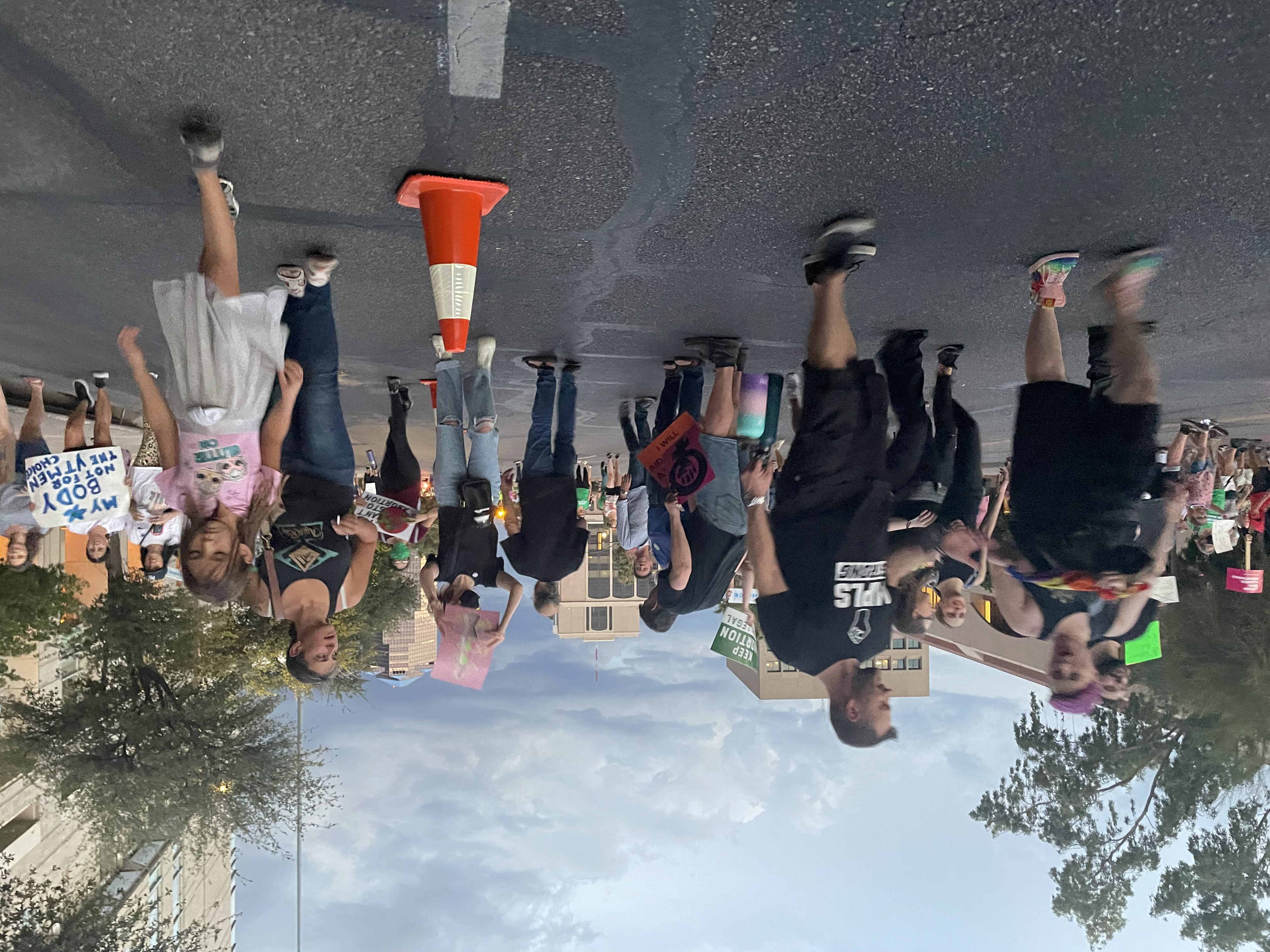 Protesters march down Congress St. and eventually make it to the on-ramp to I-10.
Megan Myscofski/AZPM
Protesters filled the intersection, then took it over to march down Congress St. Cars turned around, guided by police and the march started moving west on Congress.
A woman named Catherine, who was protesting with a group from the Tucson Deaf Community, said it was important for her to come to bring visibility to an overlooked group affected by the decision.
"Most people forget that there are people here with disabilities. People with disabilities also have that right to have a choice. So we're here being a part of this, to communicate our needs, and to have equal access to get the information and to share our beliefs with this group," she said.
The passion and frustration of the protesters felt similar to protests in 2017, but this time, it wasn't directed at one president or a small group of people. Many in the crowd voiced frustration with the government on the whole.
The crowd walked under I-10 and then turned onto the ramp.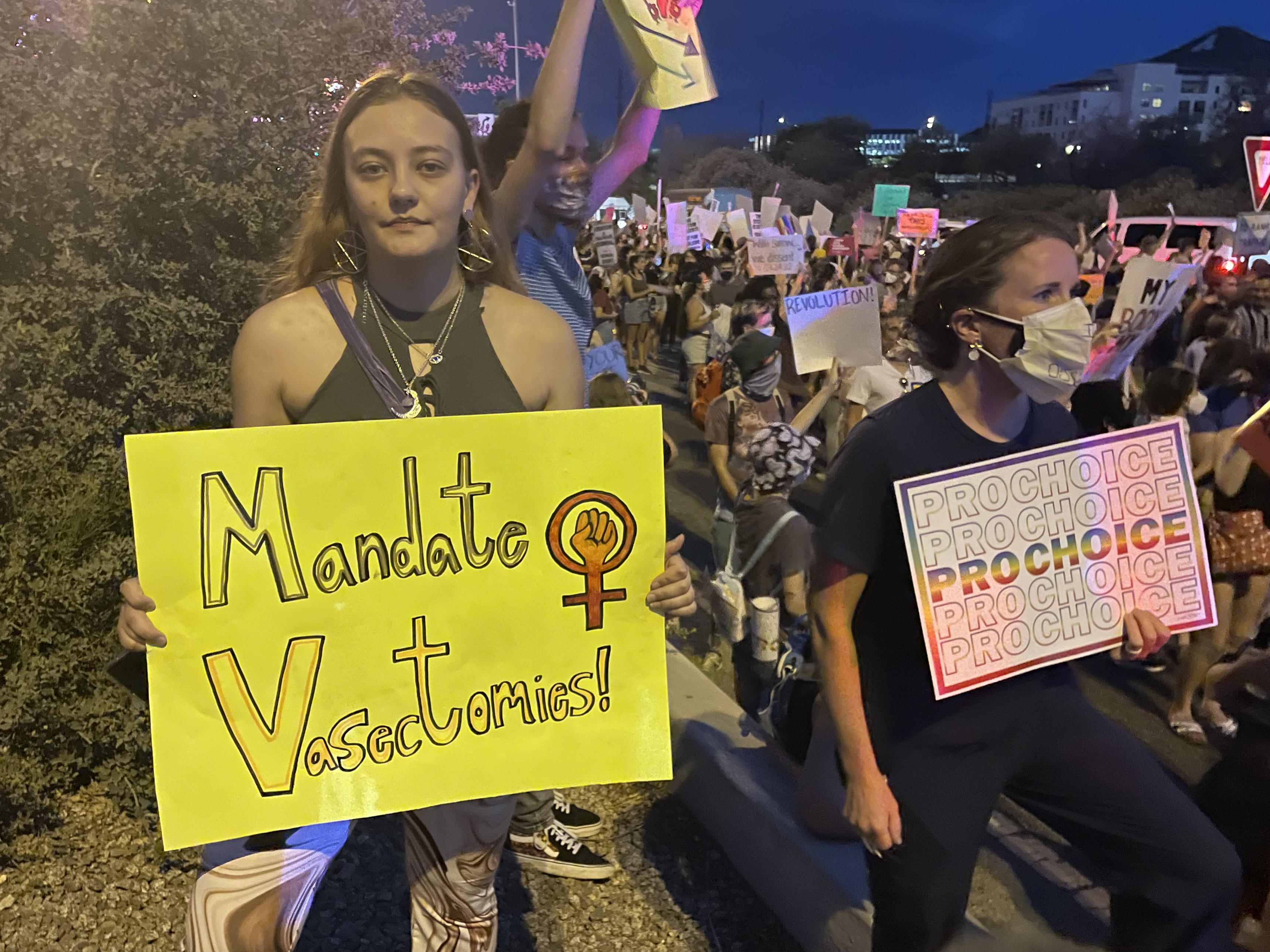 Heather, 22, stands near the on-ramp to the I-10 at Congress St., where protesters blocked cars from entering the highway.
Megan Myscofski/AZPM
Heather, 22, was alongside the ramp entrance, standing on a steep hill of gravel.
"We are blocking the freeway from any cars that are entering the freeway. We're trying to get our point across that we are not okay with what just happened today. We are not okay with it. We will not stand for it," Heather said.
A few made it to the edge of I-10, but there wasn't enough push to block traffic.