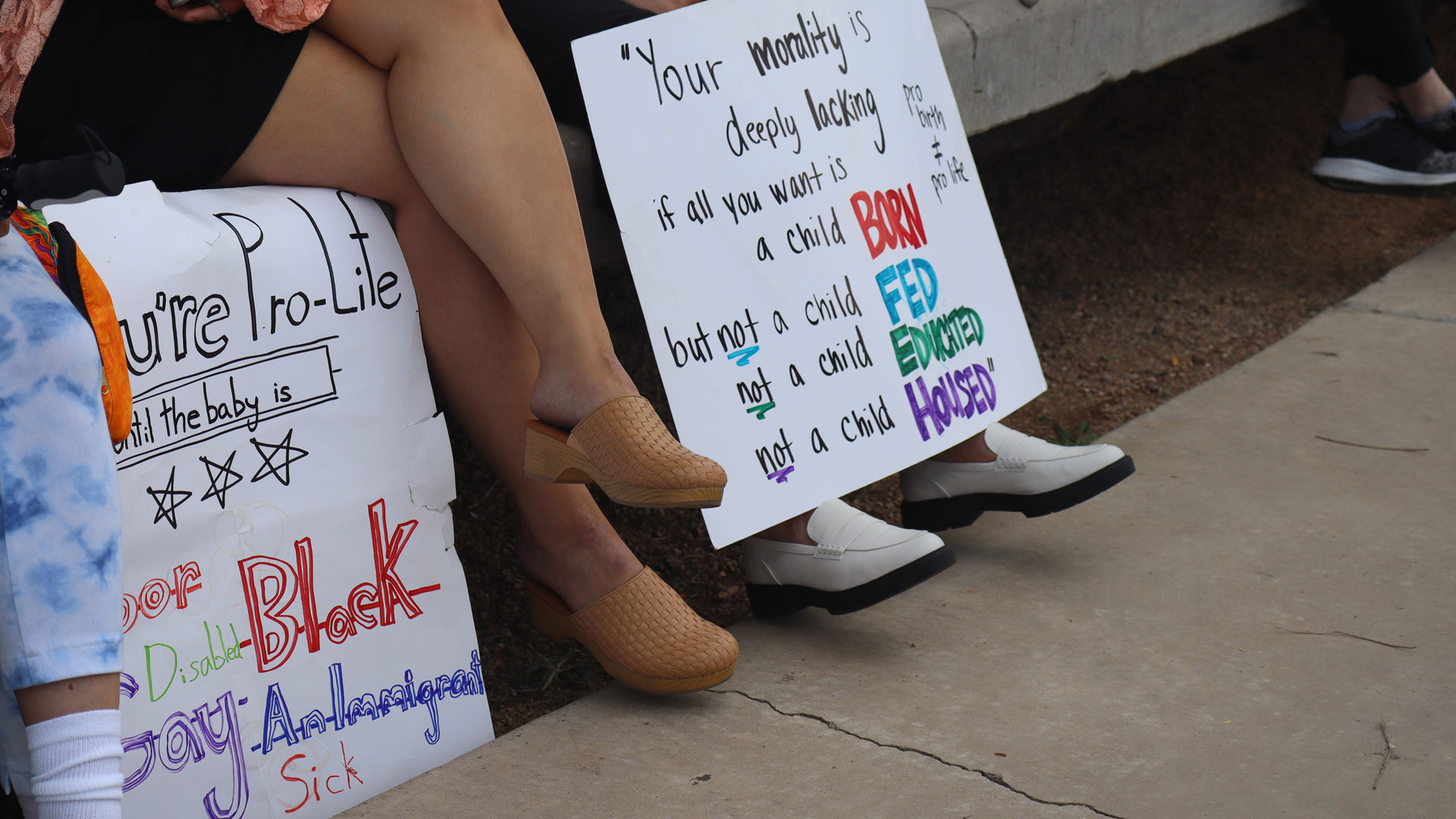 Protestors gathered at the Centennial Pavilion stage in Veteran's Memorial Park in Sierra Vista to protest the U.S. Supreme Court's decision to overturn Roe v. Wade. July 2, 2022
Summer Hom/AZPM
More than 100 people gathered in Veteran's Memorial Park in Sierra Vista on Saturday protest the U.S. Supreme Court's decision to overturn Roe v. Wade.
"I see that there are a lot of young people who have no idea what to do when it comes to politics, and I think that a lot of people who are voting right now are extremists on one side or the other," said Alicia Atencio, co-organizer of the protest. "So, my goal here is to get people educated and involved and confident with their ability to go out and vote if they feel like it."
"We have issues like the contraception bans coming up, we have issues like the gay rights, we have issues like the inter-racial marriage coming up — and these are things we want to prevent by getting groups of people and young people here to educate them about these topics and how to vote and who to go to in order to feel like they are educated enough to do these things and make these decisions," Atencio continued. "This is how I feel we on a local level can make a change and hopefully ignite fires within other people."
Colorful signs floated amongst the crowd as protestors gathered on the Centennial Pavilion stage in the park, many stating phrases like "I wish my uterus shot bullets, so the gov't wouldn't regulate it" and "you can't be pro-life and not care that women and girls will die. Bans off."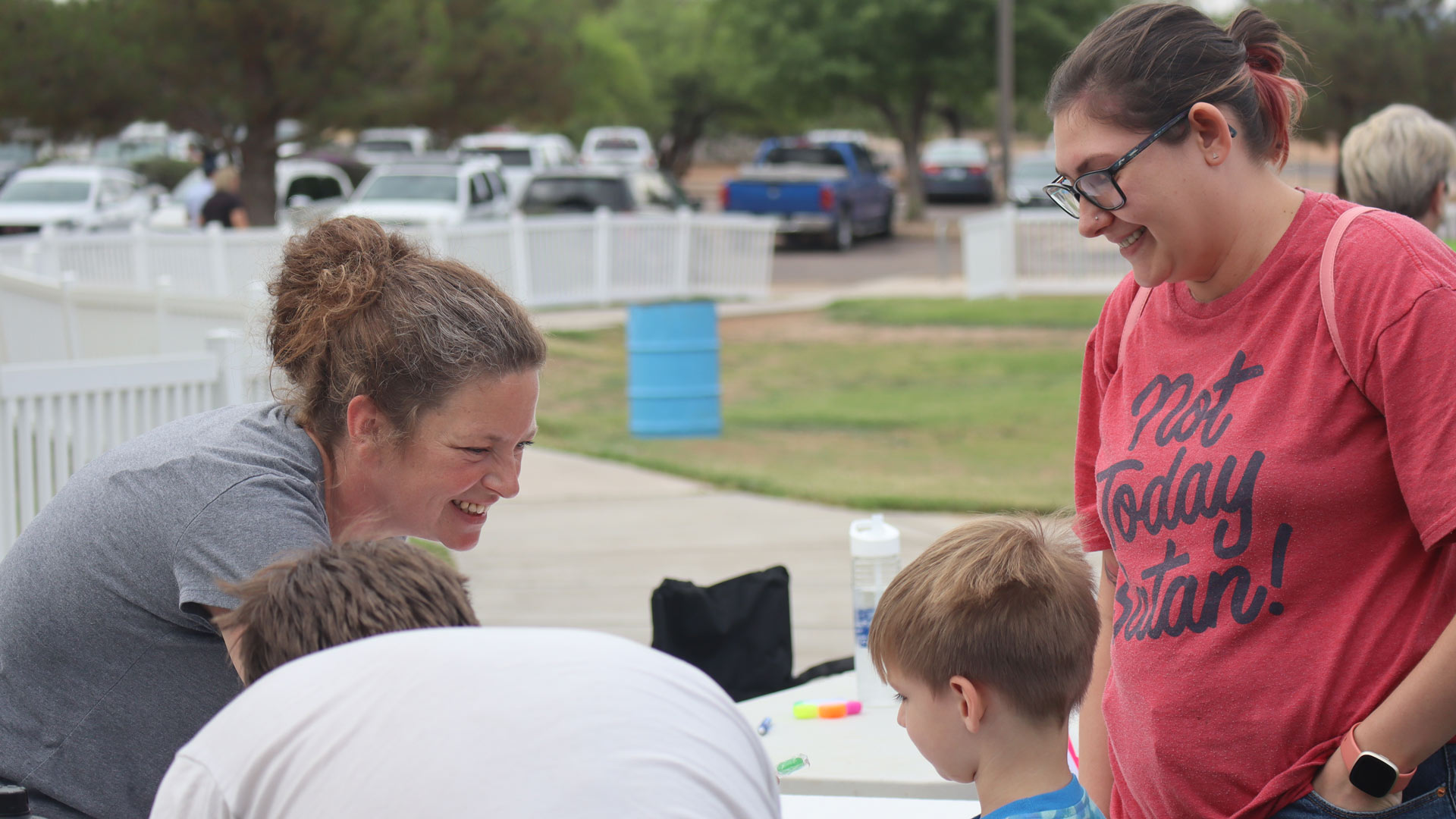 Alexa Jordan (far right) and her son Jake talk with a petition circulator during Saturday's pro-choice protest in Veteran's Memorial Park in Sierra Vista. July 2, 2022
Summer Hom/AZPM
Women, men, families young and old conversed, spoke about their experiences to the crowd, registered to vote, and signed petitions before marching through the park and onto Fry Blvd.
Attendees noted the importance of highlighting and furthering the discussion of access to abortion.
"I want to see awareness spread," said Bekah Charry, a pediatric nurse practitioner who attended the protest on Saturday. "We kinda all aware of the fact that this is a pretty conservative community. So, I think that mobilizing people who are like-minded in the community can do so much in of itself to really motivate us to do more. And I hope that we'll get people registered for voting, get them out voting and making decisions that can help change the leadership — and ultimately — change policy, which will change our lives."
Co-organizer of the protest Lauren Chapman said that she and Atencio planned the protest in just 72 hours.
"It's went from 'let's protest and let's get our voices heard' to 'hang on, how can we actually approach this with something that's going to make changes?' — which was getting people registered to vote, signing petitions, getting educators to speak," said Chapman. "It's just really naturally progressed over the week."
Atencio said that they wanted to approach the protest with a purpose — to educate.
"When Lauren initially asked me to work — she said 'we want to get a protest together' — my initial response was the same that I feel about many protests and that is 'what is this protest going to achieve?'" said Atencio. "Because are we going to be a group of angry people walking around the streets to tell drivers that we're angry, or are we going to actually make a change to do something about it?"
"So, that was just asking ourselves instead of walking around angry, because that's not the answer," she continued. "We're not going to get where we want to get angry. We need to organize ourselves and educate ourselves. And so, that's what we did."
Arizona has two competing laws regulating abortion. Attorney General Mark Brnovich is headed to court to get the one passed in 1901 put back into effect after is was put on hold in the 1970s.
The other law, which passed the legislature earlier this year, doesn't go into effect for three months.