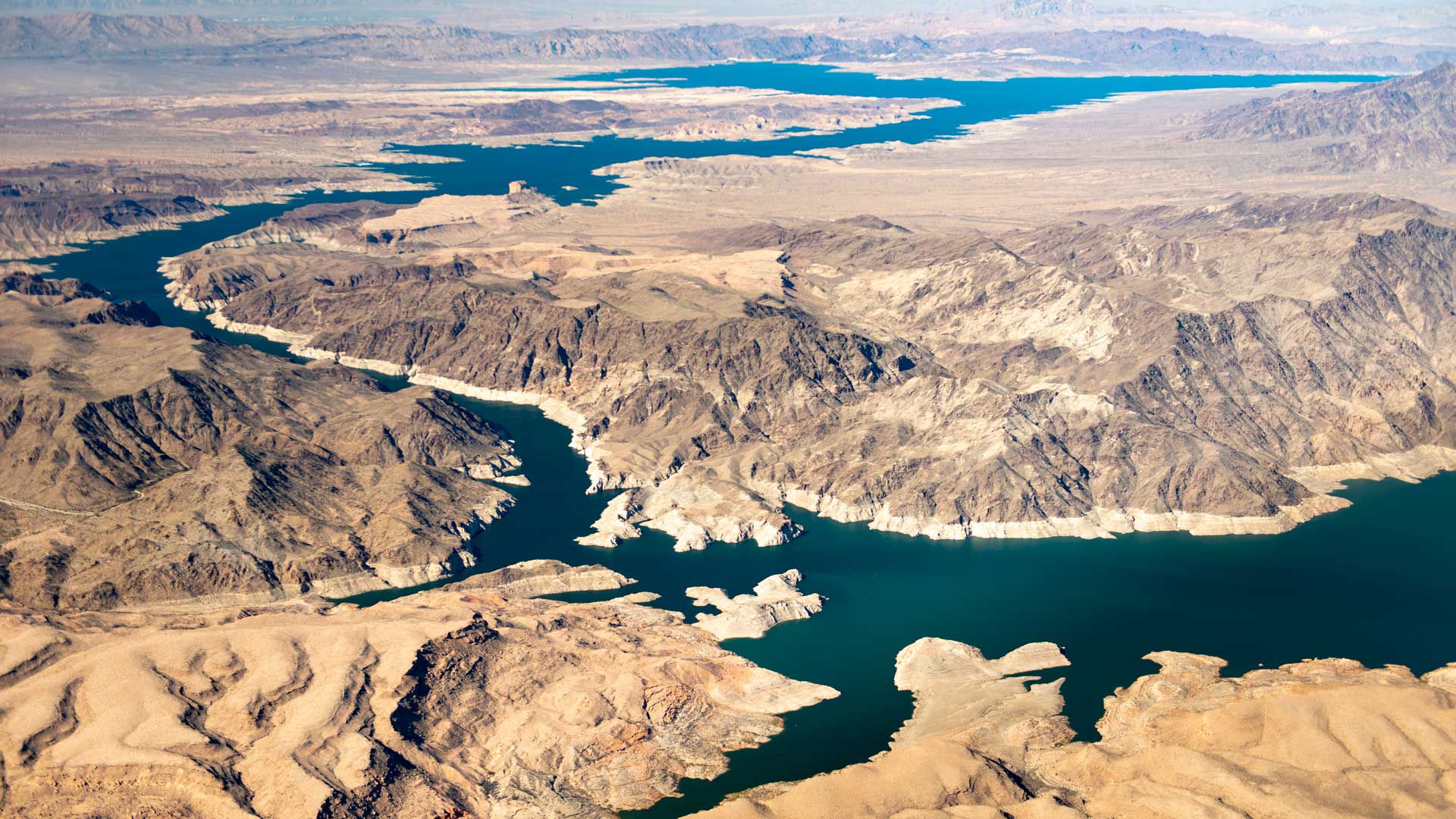 Lake Mead and the rest of the Colorado River system are shrinking rapidly. The U.S. Bureau of Reclamation has called for new conservation measures, asking states to conserve a tremendously large amount of water, and giving them a 60-day timeline to formulate a plan for those reductions.
Ted Wood/The Water Desk
Water worries continue to escalate throughout the southwest. As a federal deadline looms weeks away, state officials are starting their plan to keep a water shortage from becoming so severe that it damages the state's economy and way of life.
This week's episode of The Buzz begins with a look at the mid-August deadline set by federal officials that requires Arizona and the six other Colorado River Basin states to again cut their usage of river water.
The story comes from KUNC's Luke Runyon, and is part of ongoing coverage of the Colorado River from the station with support from the Walton Family Foundation.
As the states figure out how to allocate a cut in the available supply of Colorado River water, Arizona lawmakers are moving forward with efforts to solve the crisis.
One of the final bills to come through this year's legislature allocated $1.2 billion over three years to find new sources of water and further lower water usage in the state.
"I'm very excited that the state has made a financial commitment to water," said Sharon Megdal, director of The University of Arizona Water Resource Research Center.
"Over the years, they haven't really committed large dollars or many dollars at all to working on water projects [or] water conservation."
Megdal said that one key step that should be among the first taken by the new board established to manage the new fund for water is to figure out what is doable and what is not.
"Number one, you have to do some studies," she said.
"Somebody will say, 'Well here's Sharon Megdal at the University, and of course she's going to talk about studies because that's what university people like to do.' I don't care who does the study or the analysis, but we need to know what we're talking about."
She notes that some big project ideas, including building a desalination plant in the Gulf of California, have been studied at a conceptual level.
"It talked about opportunities rather than options," she said of that study.
Another often talked about subject is the idea of delivering water from major rivers to the east such as the Missouri or Mississippi.
Megdal said that her mind was changed about those ideas when she heard that the notion was to only take water when those rivers are at flood stage.
"They're talking about the potential for a win-win, not that Arizona is going to make a grab for some other state's water and that other state doesn't want that to happen. There may be opportunity for collaboration."
"This is the biggest thing we've done on water since the '80s," said Rep. Tim Dunn (R-Yuma), who is the chair of the Land, Agriculture and Rural Affairs Committee and sits on the Natural Resources, Energy and Water Committee.
He explained that the bill takes the Water Infrastructure Finance Authority, an existing part of the Arizona Finance Authority that mostly helps local governments use federal money and loans to do water projects, and made it a stand-alone entity.
WIFA will be run by an appointed board that decides how the money will be spent, and that money will be divided into four pots.
"The existing federal money that comes in for those loan programs for cities," Rep. Dunn said, "We have the new $1 billion . . . that's going into the augmentation fund, that money is allocated 75% has to go for new projects or big projects that are going to bring new water into the state, and 25% for new conservation efforts that also bring in new water. The other fund is $200 million that was added to a conservation fund."
There's also a water supply development fund that was established last year as part of the Drought Mitigation Board. That comes with another $200 million that was allocated last year for rural projects.
He says that this board will look heavily at big projects such as the desalination plant in Mexico or the siphoning of flood waters from large rivers farther east into tributaries of the Colorado River.
"Those are projects that seem like crazy ideas," he said while mentioning that he's already heard interest from companies and other entities outside the state.
"There's ideas that have been floating around for years. It just takes a synergy of money," he said. "If you take a billion dollars to start and you have the bonding authority, now you can parlay that into bigger projects."
MORE:
Agriculture
,
Arizona
,
Climate Change
,
Environment
,
Government
,
Legislature
,
News
,
The Buzz
,
U.S.
,
Water
,
Weather